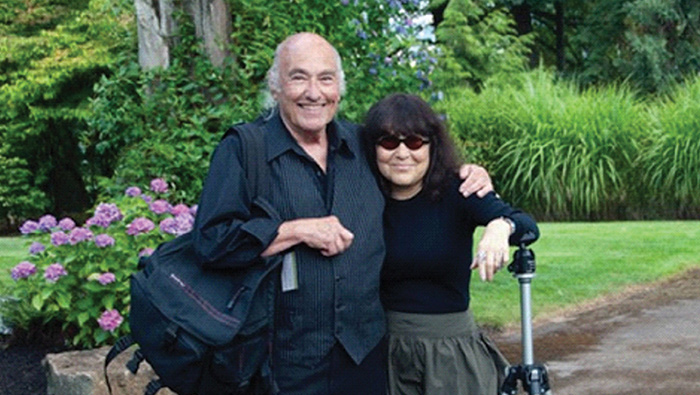 They started with one wedding and then it snowballed. Toot and Shoot, the father/daughter, musician/photographer team was a hit. Based in Los Angeles, they worked mainly in the entertainment industry doing weddings and bar mitzvahs for the stars.
When they moved to Portland in 1986, they continued commuting to Los Angeles and working locally. While both are independent professionals with their own clients, they still enjoy teaming up for a Toot and Shoot.
"One time my dad played a wedding, and I was the photographer," says Melody Saunders, the shoot half of the pair. "The bride introduced my dad as 'the one who plays at all my weddings.' This was her fourth! My dad and I had a circuit, a slew of Jewish people in the Bel Air area. For some families, we did all three of the kids' weddings and bar mitzvahs."
Melody's father, Dick Saunders, has been a musician since childhood, beginning as cantor for the New York synagogue where he attended Hebrew school. He plays the saxophone, clarinet and flute and has performed on television, radio and film. Focusing on swing, pop and Dixieland, he also works with Italian music and, of course, Yiddish and old klezmer tunes.
"I started like most musicians in New York," he says. "We played the borsht circuit (Catskills resort area) every summer backing up people like Red Buttons and Danny Kaye. It was very Jewish. We grew up on that stuff, and it never leaves you.
"I did shows for Jewish organizations like Hadassah and B'nai B'rith, and I played at George Burn's birthday party. When Milton Berle's daughter got married, he brought us in a day ahead. The tempo had to be perfect as she walked down the aisle and approached the chuppah. It was choreographed like a TV show."
Dick and Melody worked together for a Los Angeles company called Renta Yenta.
"They put on elaborate creative events," Dick says. "One time they brought people to the airport on an English bus, flew them to a San Francisco mansion for dinner and then flew them back. I had a violinist play as they got off the plane."
Like her father, Melody also found her passion during childhood. "My dad gave me a camera when I was a kid, and I've been photographing ever since," she says. "I love doing animals, portraits and events. My eye is pretty good. I shoot a party as if it were my own. A lot of fun things happen – things people are so happy to see later."
Melody aims to please whether her subject is human or animal.
"At one wedding the lady asked me not to shoot photos of the bride's and groom's families together because she knew they were going to get divorced," she says. "At another wedding, the son getting married was short and stout and his brother was tall and thin. Their mother asked me to make the short one look taller and the tall one look shorter. She was short and stout and wore a bright flowered dress. She asked me to make her look tall, thin and elegant. Anyway, they all seemed happy. They ordered lots of pictures and gave me a beautiful set of knives."
Today father and daughter are busy working together and separately. Melody has shown her work at the Lawrence Gallery and at a Faces of Greece exhibit at the Greek Cusina in downtown Portland. Dick works with the symphony, volunteers at the Lake Oswego Farmer's Market and plays at the St. Honoré Boulangerie to celebrate Bastille Day every July 14. He puts together bands of different sizes.
"I play anywhere from duo to six or seven people, and I have an 18-piece band available" he says. "I use different people. I did a duo for the Rotary Club one week ago where they auctioned off an Italian dinner. We used an accordion and flute, and they hired a chef from Italy."
Dick looks forward to an upcoming occasion at the Portland Yacht Club where he and Melody regularly work together at weddings. "This event is for the installation of the new commodore," he says. "That's the club's leader for a year. They have a formal march as the band plays 'Anchors Away.' "