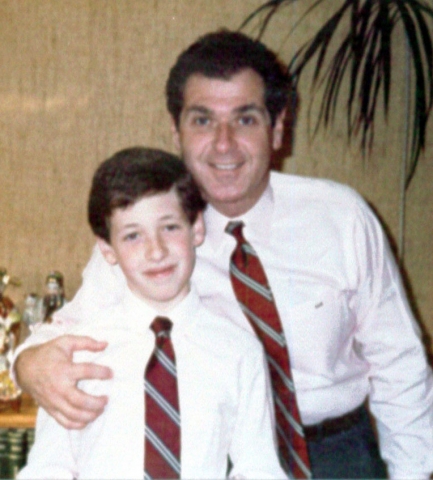 Albert Menashe co-founded what has become the largest family law firm west of the Mississippi. He decided to go to law school in the mid-1970s when law was a respected profession, but family law was not so highly regarded.
To some extent both of those perceptions have changed. Menashe believes the rise in family law status is deserved, but he doesn't believe law in general deserves the bad rap it has gotten.
"I think law is a noble profession," says Menashe, who after serving as managing partner of Gevurtz, Menashe, Larson & Howe, P.C., for 30 years has turned over that role to his son, Shawn. "I think lawyers for the most part really do help people and protect the rights we have as citizens."
He blames the changed vision of lawyers in part on the media that report on judges who get drunk-driving tickets and lawyers who pursue frivolous lawsuits.
"You don't read about the 99.9% of lawyers who do good work, who provide over $50 million of free legal services to the poor," he says. "The hard work almost all lawyers do every day is just lost to the general public."
He became interested in family law because he likes people. Family law and criminal law are the two people-oriented legal fields, and he didn't feel he was cut out to be a criminal lawyer. When he got a job clerking during law school, he had the opportunity to work on some family law cases and he was hooked.
As the editor of the law journal at Willamette University College of Law, from which he graduated in 1976, he suggested focusing the annual symposium issue on family law.
"It raised some eyebrows, but it was very successful," he says.
"Over the years we've been able to show no area of law touches lives, especially children's lives, more than family law."
He was a founding member of the Family Law Section of the Oregon State Bar in 1978. He served as OSB president in 2007. Through the years he has served on numerous state and national committees and panels related to family law.
"My sense of family has made me a better divorce lawyer," says Menashe. "I understand the importance of family and realize that after a divorce you are still a mother and he is still a father. So you're still a family – just reconstituted."
"My mom (Faye (Hasson) Menashe) and dad (Solomon Menashe) were great role models," he says. "They made it harder for me to be a divorce lawyer. I believe my dad loved my mom until the day he died. I was never exposed to the kinds of stresses so many of my friends related existed in their families."
He says he believes people should try to save a marriage when possible, but by the time people come to a divorce attorney, the relationship usually is broken.
"I try to remind parents that my job is to look out for the welfare of kids just as much as my client," he says. "I think settling cases is always best for kids. Statistics show people who settle have fewer problems down the road. I'm proud of my very high settlement record – close to 100%.
"I can try a good case, but if I do, who wins? Generally when you go to trial, the lawyers win."
Menashe grew up in a family steeped in Mediterranean culture with three grandparents from Greece's Isle of Rhodes and the fourth from Turkey. They were among the founders of Congregation Ahavath Achim, where he maintains a membership to this day. He and his wife, Julie, whom he has known since first grade, also are members of Congregation Beth Israel. His extended family all lived close together on the Park Blocks until his family moved to the Vermont Hills with the first wave of urban renewal in 1956. "My family was huggy, touchy and loud. It was a fun family."
To this day he loves the Mediterranean culture, visiting Italy as often as he can to enjoy the food, wine and people. And he maintains a strong sense of family.
He describes his happiest day as a father as the day he took his son to the beach to discuss which of two offers Shawn should accept from "fabulous" law firms. "He looked at me and said, 'I never told you, but I've wanted to work with you since I was 14.' That was a defining moment of parenting; it made all the work of parenting worth it," says Menashe. Shawn Menashe has been working with his dad for the past 10 years. The senior Menashe says he was again proud when the firm's partners voted to name his son managing partner.
Menashe's long list of accolades includes the most recent: 2013 Oregon Family Law "Lawyer of the Year" in the soon-to-be-published The Best Lawyers in America, a publication in which he has been included since 1989. In 2008 Worth Magazine listed him as one of the top 100 lawyers in America. But Menashe says he is proudest of being the 2010 recipient of the Edwin J. Peterson Professionalism Award from the Oregon State Bar.
"My mantra has been professionalism for 20 to 25 years," he says, attributing difficulties in many divorce cases to a lack of civility between opposing lawyers.
"You can disagree without being disagreeable," he insists.
Gevurtz Menashe now has 22 lawyers and a staff of about 50. In an effort to keep the family in family law, Menashe says "we are very sensitive to family needs; we allow modified schedules."
"I encourage people who like people to become lawyers," Menashe says. "America is still the most wonderful country in the world. Part of the reason is we have humane laws, and lawyers are partners in making that happen."