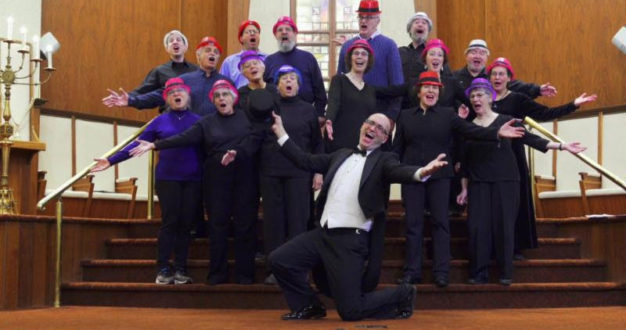 CNS 150 Concert June 2
In honor of its 150th anniversary, Congregation Neveh Shalom presents a gala concert  at 7 pm, Sunday, June 2, at Congregation Neveh Shalom.
The concert features musical performances by Cantor Eyal Bitton, Ilene Safyan, Michele Tredger, the Koleinu Choir, and the CNS Concert Band led by Chris Hardin, along with narration by Rabbi Eve Posen.
"I am confident that people will have a fantastic musical experience, a wonderful time," says Cantor Bitton. "There will be moments for toe tapping, moments for smiles, and also moments for reflection."
The concert is preceded by a light reception at 6 pm.
 Song of Miriam Awards June 2
The Jewish Women's Round Table will hold its 27th Annual Song of Miriam awards brunch on June 2, 2019. The Song of Miriam Awards honor women who volunteer their time and energy to ensure the continuity and vibrancy of the Jewish community of Oregon and Southwest Washington. The brunch will be 10 am-12:15 pm, June 2, at the MJCC.
The 2019 honorees are: Nancy Becker of Havurah Shalom; Tehila Derfler of Congregation Kesser Israel; Carmella Ettinger of Jewish Federation of Greater Portland; Karen Hyatt of Kol Shalom; Kim Kent of Beit Haverim; Evie Lerner of Temple Beth Tikvah-Bend; Emma Lugo of Congregation Shir Tikvah; Susan Milstein of Beth Israel Sisterhood; Gila Orniston of P'nai Or; Sarah Orzech of Beit Am-Corvallis; Cheryl Richards of Congregation Kol Ami-Vancouver, WA; Marissa Richardson of Congregation Neveh Shalom; Andrea Sanchez of Mittleman Jewish Community Center; Liz Stanley of Shaarie Torah Sisterhood; Abbey Vanderbeek of Temple Beth Sholom-Salem; Linda Veltman of Oregon Jewish Museum and Center for Holocaust Education; and Jennifer Zeidman of Portland Jewish Academy.
OJCF Annual Meeting and Legacy Celebration June 3
Oregon Jewish Community Foundation and its Life & Legacy partner organizations will celebrate legacy giving in our community at the OJCF annual meeting. The event will be at 5:30 pm at the MJCC.
The event will thank all legacy donors for their commitment to the future strength of our Jewish community. The annual meeting will also honor and celebrate OJCF's 2019 Legacy Society Honorees Arlene Schnitzer, Jordan Schnitzer and the blessed memory of Harold Schnitzer.
There is no cost to attend and there will be no fundraising.  However, reservations are requested: RSVP to Nate Smith or call 503-248-9328.
Federation's 99th Annual Meeting June 5
The 99th Annual Meeting of the Jewish Federation will be Wednesday, June 5, at 4:30 pm, at Congregation Neveh Shalom.
Congratulate Ed Tonkin, along with Mindy and Mark Zeitzer, for three years of incredible service as chair of the board and campaign chairs respectively, and welcome Lauren Goldstein as new board chair.
The meeting will also recognize Eve Levy as the recipient of the 2019 Laurie Rogoway Outstanding Jewish Professional Award in recognition of her contributions and leadership in the greater Portland Jewish community.