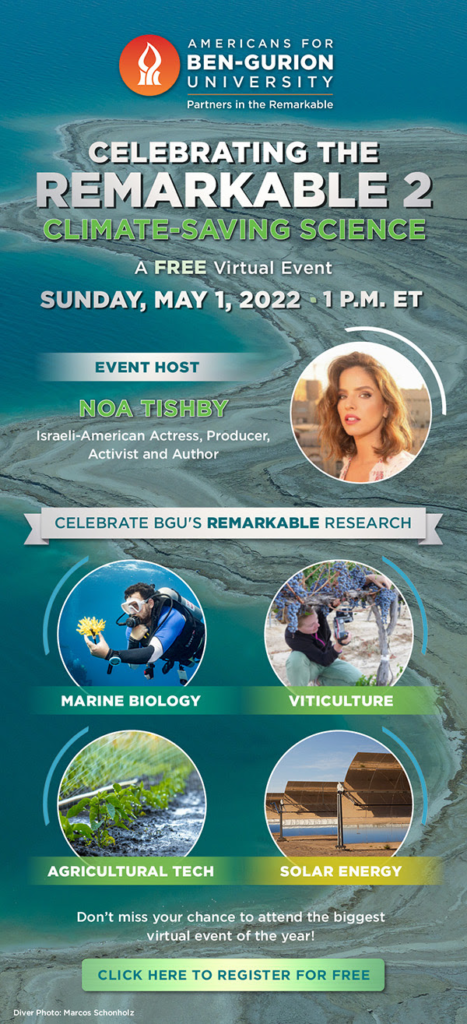 A new and alarming United Nations report declared that due to climate change, we are now "on track toward an unlivable world." With negative impacts inevitable (but with the need to limit them crucial), humanity is turning to scientists and researchers who specialize in issues related to addressing both the causes and effects of the warming of the planet. On this front, Israeli scientists have long been leaders in their fields.
On May 1, 2022, Americans for Ben-Gurion University (A4BGU) will host a virtual event to highlight the achievements of researchers related to climate change across multiple disciplines, including agriculture, marine biology and alternative energy. The event, Celebrating the Remarkable 2, is the second annual such showcase by A4BGU.
Free and open to the public, the event will spotlight work from Ben Gurion University of the Negev (BGU). Located in the Negev desert region of Israel, BGU has long been at the forefront of grappling with the survival of human communities in a hostile environment. The institution's historic expertise in adapting to a harsh climate has become more relevant globally as climate change encroaches on formerly temperate places and threatens human survival. BGU recently established Israel's first School of Sustainability and Climate Change.
This year's gathering will feature keynote speakers by leading experts in climate change mitigation research, including: Prof. Aaron Fait, an expert in plant metabolism and stress response in crops whose work is focused on climate change effects on agriculture; Prof. Nadav Shashar, a marine biologist who works with coral reef ecosystems and on the ways in which dolphins make use of information; Dr. Nina Kamennaya, who is currently working on methods to harvest efficient energy for electricity; Chigozie Joy Uja, an agriculture engineer with a specialty in soil and water engineering; Prof. Yaron Ziv, Ph.D., head of BGU's School of Sustainability and Climate Change and spatial ecologist whose focus is on conservation on endangered species and biodiversity; and Shimon Elkabetz, a leading weather scientist and startup founder
The event will be hosted by Israeli actress Noa Tishby, and all who are interested in attending can register here: https://www.eventbrite.com/e/celebrating-the-remarkable-2-registration-243949648967?_eboga=1634165836.1619290543.