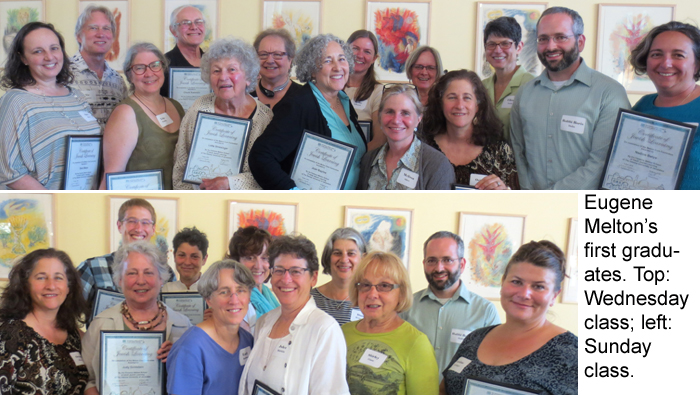 After two years of studying together, the first graduating class of the Florence Melton School of Adult Jewish Learning in Eugene gathered together with their families and friends on June 5 for their graduation ceremony.
The 30 Eugene graduates are part of 3,000 Melton students in 52 sites around the world graduating this season. Florence Melton School of Adult Jewish Learning, a project of The Hebrew University of Jerusalem, is the largest pluralistic adult Jewish education network in the world.
The Eugene Melton School opened in the fall of 2013. The students have enjoyed exploring Jewish texts and getting to know each other in their weekly classes. Melton graduate Vic Hansen reflected on his studies: "The Melton classes have totally enhanced my knowledge of Jewish literature, rituals, ethics and history. Many of the weekly topics were dense enough to solicit engaging discussions, and it was a joy to share the extensive knowledge of not only our discussion leaders/teachers, but also fellow participants."
"The plans for next year's Melton School are still in the works," says Eugene Melton School Director Nina Korican. "We do know we will be offering Scholars Courses from the Melton curriculum in the fall and hopefully a new cohort of first year Foundation courses."
Check www.tbieugene.org/page/meltonschool for more information and updates.