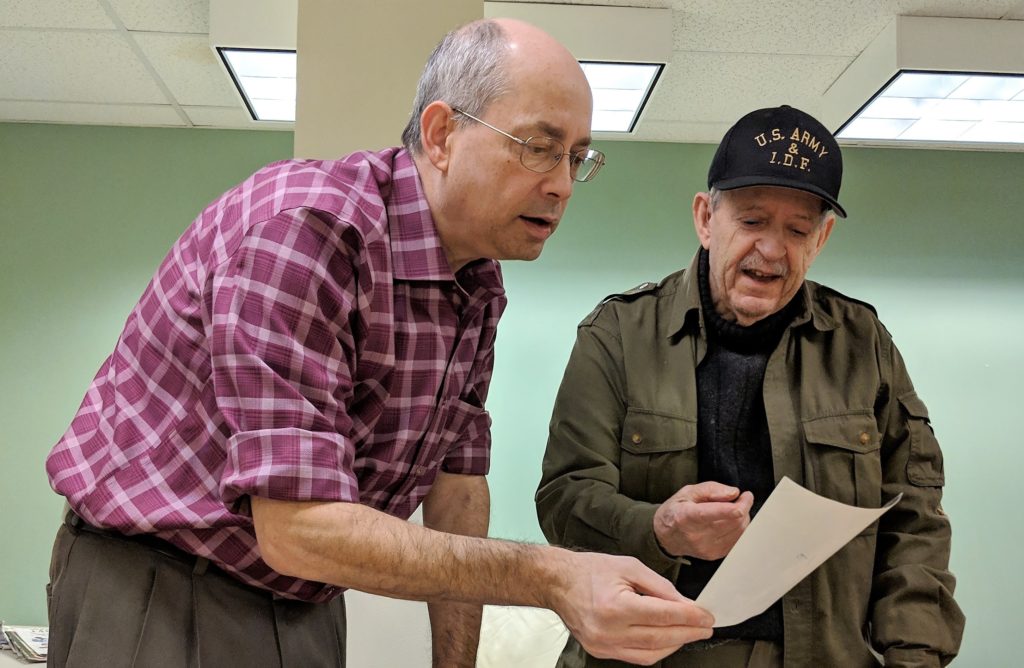 PHOTO: Avi Naiman, left, and Nathan Fendrich look at prints of photos Nathan took during the Yom Kippur War.
Nathan Fendrich and his Leica camera were swept up in the Yom Kippur War in 1973. As an American seventh-grader at that time, Avi Naiman was not fully aware of the war until his family moved to Israel two years later. But when the two men met in Eugene last year, their individual life journeys combined to send Nathan's intimate portraits of Israeli soldiers and battles to an appropriate home in the National Library of Israel.
When the library received the donated collection just before last Yom Kippur, it posted several of the photos (blog.nli.org.il/en/unknown-soldiers) with the following introduction:
"Shortly before Yom Kippur this year the National Library of Israel received a personal collection of photographs belonging to Nathan Fendrich, an 84-year-old Jewish resident of Eugene, Oregon. This rich and important collection includes hundreds of touching photos taken by Fendrich 45 years ago, when he coincidentally found himself in the midst of a war. …
"His photos captured the difficult battles, the crossing of the Suez Canal, the air strikes and the ground skirmishes, and the collection even includes some pictures of prisoners of war and casualties. But the most striking elements in the photographs are the soldiers themselves – young and old, active duty and reservists – all allowed themselves to be photographed, during fierce battles as well as in periods of rest, in meetings with the high command and in moments of casual comradery."
Born and raised in Eugene, Nathan says he had wanderlust and had traveled to Mexico and Cuba before he decided to go to Israel: "This is my homeland, and I wanted to see it." He spent a couple of months studying archaeology and persuaded a friend who worked at a local TV station to get him press credentials.
Nathan arrived in Israel a week before the war broke out; he had planned to take photos of an archaeological dig at Tel Qasile. On Yom Kippur he was sitting on the balcony of his hotel room and was surprised to see jet after jet take off from a nearby air base on such a solemn day. When he saw cars flooding the streets, he knew something was up. He grabbed his papers and camera and joined the flow of people. Told he'd need an Israeli press pass, he hitched a ride to military headquarters and presented his U.S. press pass and passport to a harried press officer, who gave him Israeli press credentials.
Bored by a tour of a Druse Village that the press corps was being treated to in Northern Israel, Nathan wandered over to some IDF soldiers he saw gathered nearby. Seeing his camera, the soldiers (some of whom spoke English) immediately began calling to him to take their pictures. As he was snapping photos, the soldiers said "come with us" and called to their commander, "let him come."
"The lieutenant let me," says Nathan, still sounding rather amazed after all these years. "I let the press bus know and … went with them to the Golan Heights."
From that moment till the end of the war 19 days after it began, Nathan says he felt a camaraderie with the soldiers unlike he had known before or since.
A couple of months after the war, realizing that learning Hebrew and finding a job was an almost insurmountable challenge, he reluctantly returned home to Eugene to run the family's Brenner Furniture Store. He ran the store for decades before turning it over to his son, David; his daughter, Sharon, lives in Portland.
Back in Eugene, the slides sat largely unseen for decades. Then Nathan met Avi at a lecture from the Osher Lifelong Learning Institute. The two struck up a conversation about their respective times in Israel, and Nathan invited Avi to come see his photos.
Avi had moved to Eugene that summer after visiting the area the previous year when he and his daughter went to see the solar eclipse in Madras. A semi-retired math and business professor, Avi was looking for interesting projects in his new home. He had lived in Israel during high school and again in 2007-08 with his children.
"His story of having found himself caught up in a war and choosing to document it resonated strongly with me, as I had gone through similar events in the Second Lebanon War," says Avi. After spending two weeks in Nahariya, Israel, Avi produced two documentary films about the war and its impact on Israeli civilians (both Jewish and Arab).
"I think his collection is unique because it comes from a foreigner who happened to be in the right (or wrong) place at the right (or wrong) time, was neither a journalist nor a photographer, but didn't let any of that get in the way of his documenting what was going on," says Avi. "Furthermore, rather than stick to the script of the typical photojournalist of the time, he embedded himself with fighting units – way before that became common practice. So he got to capture some up-close photos of action that were not typical of the foreign press in the Yom Kippur War."
Avi was also impressed by a letter (see below) Nathan had kept from the unit commander, who said that Nathan's presence boosted his soldiers' morale, fighting alongside them (even after being injured) with the only weapon he had at hand – his camera!"
Nathan says the photos would likely have ended up in the trash if not for Avi.
"I had the pictures for 45 years and did nothing, … Avi took one look and the wheels began to turn FAST," says Nathan. "It was totally Avi. In an amazingly short time, Avi convinced me I was sitting on a photographic treasure, not from any economic standing, but as a teaching tool for the National Library of Israel."

Through family and friends in Israel, Avi connected with the National Library of Israel and the Archives of the Israel Defense Forces, with both organizations quickly expressing interest in getting the original photos.
"When the NLI sent me their first email, they included the name of a photo service in Eugene for me to get the pictures digitized," says Avi, adding that made him realize how much they wanted the photos.
Nathan donated his collection and Avi donated his time to digitize the photos and help Nathan create PowerPoint presentations, which the two presented in Eugene Dec. 19 and plan to offer in other venues.
Translation of excerpt of letter from IDF Soldier Emmanuel Maisel to Nathan Fendrich
Ever since you left us, it's been a bit boring here. Here in our unit, the guys ask about you and send you warm regards. And they thank you profusely for the pictures you took during battle and sent them. Everyone remembers you and gives you a lot of credit. Everyone admires the unit's 'combat' photographer.
I want you to know that you really helped them by raising morale. When they were taking Ismailia, some of the guys were really exhausted. But seeing a foreign correspondent whose only weapon was his camera really raised their morale. One of the guys I spoke with a few days after the battle told me that he was shocked to see you enter the buildings with them – despite having been wounded (even if not seriously)!
If you remember Danny, the soldier who was injured in the face from shrapnel, he returned to the unit a couple of days ago, still a bit bandaged, but feeling great; it's good for him to be back in the unit. All the other guys who were wounded have returned to the unit, except for the one soldier who was wounded in the stomach, but even he's recovering.
I would be grateful if you could send a few more copies of the pictures of the guys, as some of the guys were in the field in the rain when the mail was delivered to them and with all the mud and water, some of the pictures got ruined.
PHOTOS AT RIGHT
TOP: IDF soldiers climb to the top of a building on the outskirts of Ismailia, to determine if there are any Egyptian soldiers inside. When the IDF soldiers gathered in a courtyard after securing the building, incoming mortar fire injured six of them. While assisting to evacuate a soldier to an aid station, Nathan was slightly wounded when a mortar hit a wall and a chunk of the wall hit him in the back.
MIDDLE: General Ariel Sharon with a photographer.
BOTTOM: IDF soldiers at rest between battles.