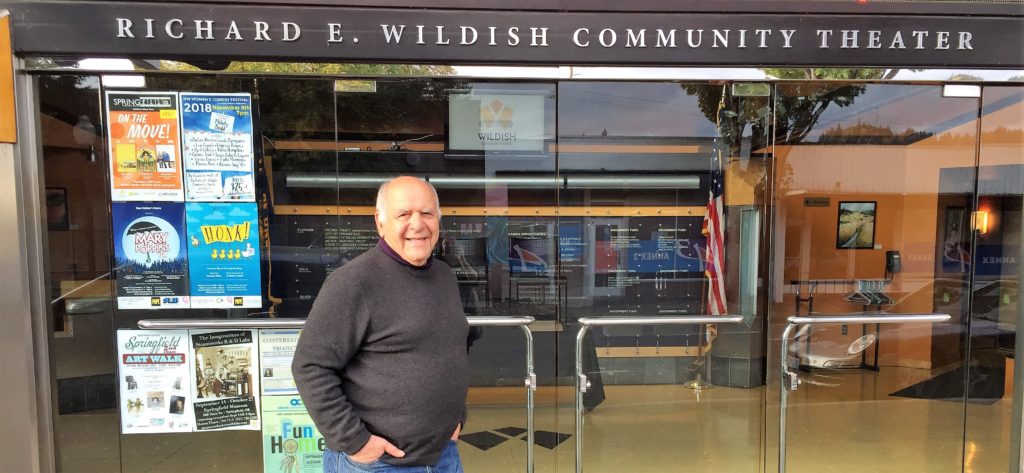 Photo: Otto Poticha, 84, stands next to the Wildish Community Theater in Springfield. The theater, which he completed in 2007, is one of Otto's favorite buildings.
By Aliya Hall
At 84 years old, Otto Poticha is often asked by his wife, Sharon, when he's going to retire. Splitting his time among his firm, teaching design studios at the University of Oregon and consulting with other firms, Otto stays very busy.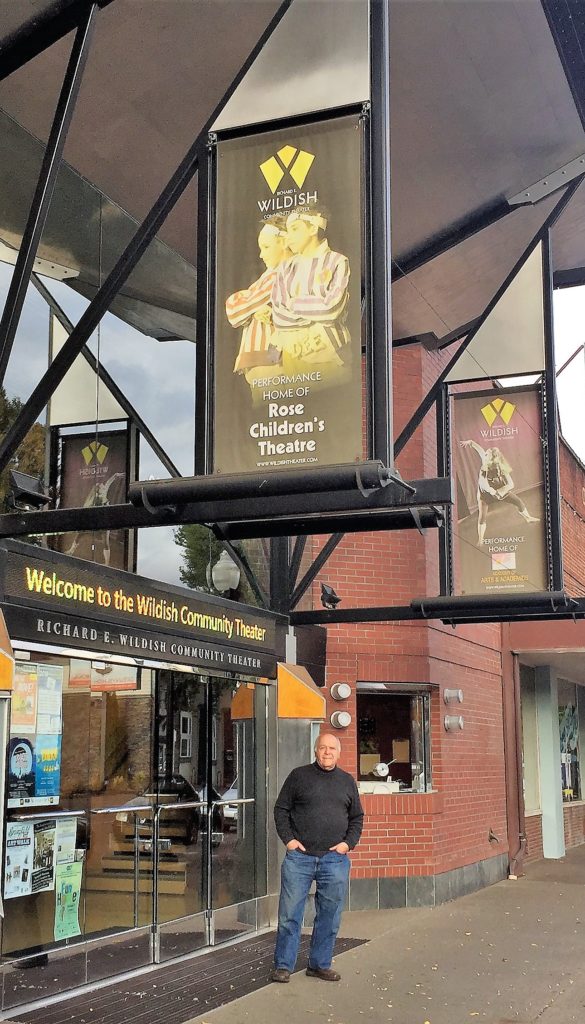 He says people retire from work. "I'm so lucky, I never thought about what I do as work. This is something I enjoy doing. I retired years ago from work."
A second-generation American, Otto lived a nomadic lifestyle until high school, when the family settled in Indianapolis. Before that, they traveled the country, only stopping in Chicago once a year for the High Holidays.
Otto says his father was "Orthodox when convenient." Otto had a bar mitzvah and would be enrolled in Hebrew school every time they moved; however, he never got further than learning how to read Hebrew, because each school made him start at the beginning.
The idea for pursuing architecture was inspired by Otto's mother who recognized his talent with art and drafting, as well as his capability in math.
Otto graduated from the University of Cincinnati in 1958 after six years. He graduated with a degree and three years of work experience. He had worked in architecture firms all over the country to earn his way through school.
Two jobs in particular stuck with him. He worked for an architect named Charlie Brown, whose only client was the Catholic Diocese of Indiana, where he was in charge of designing the liturgical items. Later, he worked under well-known Michigan architect, Alden Dow. During his year there, Otto says he met famous architects including Frank Lloyd Wright.
In 1959, Otto and his wife moved to the Netherlands, where their daughter was born. After gaining international experience, Otto says they decided to move back to America and "interviewed cities" from Denver to Vancouver, BC, before choosing Eugene.
"I liked the difference with Eugene and Oregon," he says, noting that within 100 miles, you can be "in the desert, coast, high Cascades, valley – there's a whole pallet. It makes it exciting and refreshing."
After working for a Eugene company for a year, in 1962 Otto started his own firm. Poticha Architects went through a few iterations: in 1968, he partnered with Dee Unthank and Grant Seder for 25 years; in 1986, Ed Waterbury replaced Grant Seder; since 1993 the firm has been simply Poticha Architects.
Otto says he was the only Jewish architect in town at a time when there were only "a handful" of Jewish families. "We supported each other," he says of those early days. "They might have kept me alive; I had a patron who was the first Jewish family that hired me to do something. First it was his beach house, then it was his house."
With his Orthodox background, Otto says he struggled to connect with the only synagogue in town, which accommodated all denominations. He sat shiva when his father died but otherwise hasn't been involved.
Otto has received 55 local, regional and national design awards for his firm's projects. In 2010, he was elected to the American Institute of Architects College of Fellows.
He was invited to teach at the University of Oregon in 1962; he accepted an adjunct professor title but turned down a tenured position. He says the thrill of teaching is working with students. The U of O dean of architecture says Otto's 57 years teaching are probably the record for the longest-term adjunct professor in the world.
One of Otto's favorite projects is the Wildish Community Theater in Springfield. As a 1940s-style movie theater, the design had to be creative and compact, which resulted in a steep rake for the seating to accommodate a lobby underneath.
"It was a fun project," he says. "We have the best acoustics in the state, including Ashland."
He says his favorite part of architecture is starting from scratch and interacting with people.
"I like getting input from clients; they're always wrong, but they stimulate me in a way. I never say 'no,' I say, 'we have to look at that,' " he says. "I try to be as creative as I can, but it's making my art, it's big stuff. It stands out on the landscape for a long time."
Aliya Hall is a freelance writer in Eugene.