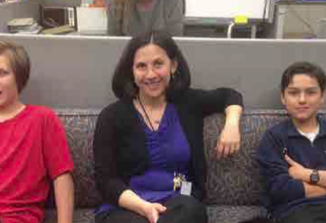 B'nai B'rith Camp and BBYO are just a couple of the highlights Emily Glasgow remembers from growing up Jewish in Portland.
After graduating from Lincoln High and finishing her M.A. at Amherst College in Boston, Emily began teaching third grade at an inner city school in Oakland, CA. Applying and getting into Harvard Graduate School of Education was supposed to be a one-year program and then back to her California classroom. But life happens. Emily met Craig Dorfman from New Jersey. They married and had two children, Amicha and Asa, named after Annette and Gene Veltman, Emily's grandparents. Fast-forward 10 years: Emily's career has moved from the classroom to the principal's office, and the family decides to move to Portland.
What brought you back to Portland?
We didn't mean to stay Boston, but we stayed a long time. Once we had our kids, I think we were realizing more and more that it would be valuable to have family nearby and a com- munity with deeper roots. Our choices were the New Jersey area or Portland, and we felt Portland would be a great place to raise our children. (Emily is the daughter of Bob and Lesley Glasgow.)
What are your husband's thoughts on leaving the East Coast?
It was a sacrifice for Craig. It was not easy for him to move away from his family, who live in the New Jersey/New York area, but he was excited to move to Portland, where he now teaches at Open Meadows High School. He's always loved his visits out here. It is great that my parents now have grandkids nearby, and we'll definitely be making visits back east to stay connected with the other side.
How did you begin the job search?
We spent a year figuring out if we could find jobs in
Portland. We put our house on the market. I wanted to be in the district I grew up in and also felt committed to working in urban diverse schools, in underserved populations. Portland was going to be the most likely place for me to find the kind of school that made the most sense to me.
Where did you work in Boston?
I was principal at a pre-K through eighth-grade school in the Boston Public School District called The Roosevelt K-8, which was a really diverse urban school both racially and socio-economically. Prior to that, I was in an East Boston charter school that was all kids of color and English language learners. I have always worked in large urban school districts.
What is the biggest challenge in those populations?
Urban schools are the place where equity and education meet. We have a lot of underserved kids suffering from all the symptoms of poverty. We have terrific families who work hard to support their kids, but many are challenged by money, language, employment and more. Our job at school is to work with the community to provide our students with opportunities equal to those available to kids all over the city. Our kids often come with less, therefore we have to provide more. Ultimately the hope is our kids will achieve at the same levels as kids who come to school with more. That's equity.
What was the process to get your job?
It was a long and thoughtful process with several rounds of interviews. Over the course of a year, there were three trips, several Skypes and phone interviews.
I was really excited that Portland Public Schools was able to work out this great match with Vestal, a kindergarten through eighth-grade school on 82nd and Glisan. We have 400 kids, com- ing from homes that speak 21 different languages. It is a really diverse group, about two-thirds are kids of color and about 75% of the children are on the free or reduced lunch program. It is a great school with a lot of needs and potential.
How is your second year as Vestal principal going?
I love Vestal. It is a great match for me. For the most part it is the same challenges and same priorities as Boston, but everything runs a little differently.
What are class sizes like?
In Massachusetts there were really clear class size maximums for every grade level in the teachers' contracts. In Portland, class sizes are larger and unlimited. Vestal is somewhat under-en- rolled. We are working hard to get families in our neighborhood to choose us. Vestal right now does not have a great reputation, and we are trying to change that. We are bringing in new pro- grams and advertising ourselves better. Our class sizes are on the low end for Portland ranging from 20 in one grade and classes of 27 or 28, but most classes are 20 to 25.
What are your thoughts on the teacher strike that was narrowly averted last spring?
I understood it from all sides. It was unfortunate from all sides. I was really impressed with the teachers in my building. They were committed to what the union was asking for, but they were also super-committed to their kids. And they really didn't miss a beat. With all the possible disruptions, they kept positive attitudes and stayed focused on teaching and learning. I am just glad it didn't happen. And they were glad it didn't happen.
Do you have a vision for Vestal?
In the seven years I was at my school in Boston, we grew immensely. We brought in several partnerships and became a full-inclusion school for students with disabilities. It just be- came this robust, powerful, energetic public school that people wanted to come to. That is my vision for Vestal. It might not take the same path to get there. We may not bring in the same programs, but I want Vestal to be on the map. I want it to be a place that people of any socio-economic status want to send their kids if they live in the neighborhood.
What are the steps to accomplish your goal?
My school advocated being part of the afterschool Sun Program, and we are now part of the Sun Network. We needed it and we are proud we have it.
We have a great program at the middle school level called AVID, which stands for Advancement Via Individual Determination. It is a national college prep program for kids. We are going to be one of the first public schools in Portland to pilot AVID in the elementary school. We are going to give our kids the organizational and critical thinking strategies they need to succeed in college.
Another program we are working on is PlayWorks. It brings a coach to the building who teaches the kids cooperative play through recess. They learn how to solve problems together through recess activity, but it kind of bleeds into the rest of the day. It boosts the social and emotional climate of the building. We are working to get financial support for this program. We have some donors and will fund some of it through our budget. It will be an ongoing fundraising challenge needing continued support. By bringing these competitive programs to the building we will be able to sell ourselves.
What are your impressions so far?
It has been great. The teachers have been wonderful. The culture in Portland is embracing. I felt really well-received by the community at the school and by the school district. My colleagues, people in Portland are extremely friendly, which is a big difference from Boston. It has been easy. It has been refreshing to start over as a smarter principal.
Has your Jewish upbringing played a part in your life as an educator?
I think for me, my Jewish upbringing was a lot about tzedakah and equity and learning. My parents instilled those things in me, camp instilled those things in me. BBYO was about those things. We were always doing community service projects. I do think all of that has fueled my interest in public education. This is something my husband and I think about – how we will instill those values in our kids?
Will your kids be future campers?
I hope so.I went to BB Camp from the time I was 7 till 21.I worked there every summer before college. That is where I spent my summers – 13 years at camp. That is where all my memories are. Yes, I would love for my kids to go.