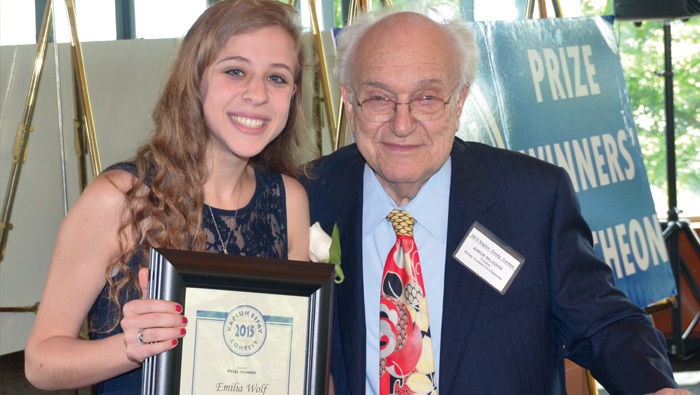 Emilia Wolf, 17, drew on her grandfather's story as "a symbol and a reflection of the history of Jewish people in the diaspora" to write an award-winning essay earlier this year.
Emilia's essay was one of six high school essays out of 500 entries to be honored by the Morris J. and Betty Kaplun Foundation's annual essay contest. The contest is part of the foundation's effort "to encourage young people to treasure our Jewish heritage, reflect on our Jewish values, and better understand our contribution to civilization and culture."
A senior at Lake Oswego High School, Emilia is a 4.0 student and belongs to the National Honor Society in addition to being a ballroom dancer and active member of Portland's Jewish community. The family belongs to Congregation Shaarie Torah, where Emilia attends Wednesday Night School. She is on the board of the NCSY Portland chapter. She used the $750 prize to help pay for her NCSY trip this past summer. She spent a month in Poland and Israel on The Jerusalem Journey Ambassadors Poland. Her grandfather Moishe Wolf was born in Poland and lived there till fleeing to the Soviet Union to escape the Nazi invasion.
WINNING ESSAY:
What is it that Jews of all degrees of religious observance have in common that binds us together?
One weekend in November, I, along with four other girls from our synagogue religious school, went to a workshop at the Oregon Coast. In the cold, stormy weather we sat inside by the fireplace with our hot chocolate and blankets, ears wide open to a unique speaker from Stand With Us, an American Israel advocacy organization. She was from South Africa and she came to the United States with her family for a better life and for college. She gave us a cursory overview of the history of ancient and modern-day Jewish people. Our education director, an Israeli herself, created a very Jewish environment; we celebrated Shabbat and concluded it with the Havdalah ceremony, ate matzah ball soup and Persian chulent, and sang the Birkat Hamazon (grace) after all meals together. Looking around the table during Shabbat dinner, I couldn't help but notice that all the girls were so diverse: Filipino, Israeli, Russian, South African, reform, conservative, etc. As the weekend came to an end, I realized that no matter where Jews are from or what they believe in, they share a common historical narrative and can trace their roots back millennia, back before the Jews lived in the diaspora, as a tribal nation with a distinct culture and certain values. Today, though we live amongst people of different nationalities and backgrounds, where most consider Judaism a religion, we continue to self-identify as a people regardless of our religious affiliation, including those who are not religiously affiliated or who are even atheist; many of them drive to synagogue only on High Holy Days to pay homage to the traditions of their great-grandparents and grandparents who walked to their synagogues on those very same High Holy Days. Those people still buy canned gefilte fish just because they know that their great-grandmother made it by hand from scratch and that it was a tradition to eat it on Rosh Hashanah. Heritage (tradition, culture and history) is what keeps Jews bound together.
In the early 1990s, my life-to-be was greatly affected by a few American Jews who understood their responsibility to all other Jews in the world, and for that I will be forever grateful. My parents lived in a harsh anti-Semitic environment in the former Soviet Union. They were unable to attend services at synagogue, were forced to have secret Bar Mitzvah and Chuppah ceremonies, and were discriminated against in many aspects of societal life. Getting accepted into college and finding a suitable job was harder for a Jew living in Soviet Russia. Soon, they had my older sister and decided that it was time to seek a better future for their little girl. It was extremely difficult to go through the legal process of immigration, and it is only thanks to the enormous efforts of those American Jews that thousands of Russian Jews were able to immigrate to the United States. American Jews from all denominations of Judaism were fighting for the religious and cultural freedom of people on the other side of the world who were not able to enjoy such liberties. These valiant men and women did not do any of this as a favor to someone they knew or because they pitied people. They did this because they realized that only when Jews unite and support each other can they prevent catastrophes such as pogroms and the Holocaust. After my parents finally concluded their treacherous journey and made it to the United States, they were greeted warmly and were provided many helpful resources to get them on their feet and to help them adjust to life in a new environment. Now, as successful members of the Jewish community, they themselves are giving to those in need and instill values of philanthropy in their children. Concern for those in need in the community is another fundamental value that all Jews, historically, can relate to.
With the establishment of the Jewish State of Israel, the nation's ancient dream came true; "L'shana Haba'ah B'Yerushalaim! Next Year in Jerusalem!" No matter where we live today, we feel as though we are all interconnected as a true nation, because every Jew knows that there is a place that he can call home; a place that welcomes him with widespread arms and accepts and protects him, no questions asked. That is why it is important that Jews, regardless of degree of religious observance, stay engaged with, advocate for and support the people of Israel, so that the Jewish nation will continue to thrive. This is why this summer I decided to go on an Israel ambassadorship program for five weeks through my youth group, NCSY. Though run by Orthodox rabbis, NCSY accepts all Jewish youth from various denominations and backgrounds. I am on the board of the Portland NCSY Chapter and feel that the organization is a vivid example of the unity of Jews as a people rather than as a religious entity, which inspires youth to be the Ner Tamid, the everlasting flame of Jewish tradition that has kept us alive throughout the ages.
For me in particular, my grandfather's personal history is a symbol and a reflection of the history of Jewish people in the diaspora. He was 72 when he immigrated to the United States with my parents. He was born in Poland into a strictly Orthodox family and was preparing to become a rabbi. During the first days of the occupation in Poland, he was unfortunately forced to flee at the age of 17, lost and alone, to Soviet Russia. With no money, family or even knowledge of the Russian language, he had to adjust to life in the unknown; this strictly religious young Jewish boy had to survive in an anti-Semitic, atheist, brutal, totalitarian regime. For him, however, even in such conditions it was very important to keep some level of tradition. With the help of fellow Russian Jews, he established a new life for himself and became a successful doctor, scholar and professor, meanwhile supporting the remnants of Jewish culture in the Soviet Union by giving money to Jewish causes, publishing articles in Yiddish periodicals and secretly keeping traditions in his home, passing them along to his children. When he finally came to America, he kept sharing Jewish values with his grandchildren and became a prominent member of the Portland Jewish community. His love for Israel was also an important part of his Jewish identity. His life story taught me about common Jewish values that helped him survive as an individual and that are all parts of the bond that keeps the Jewish people thriving and connected, regardless of their degree of religious observance.