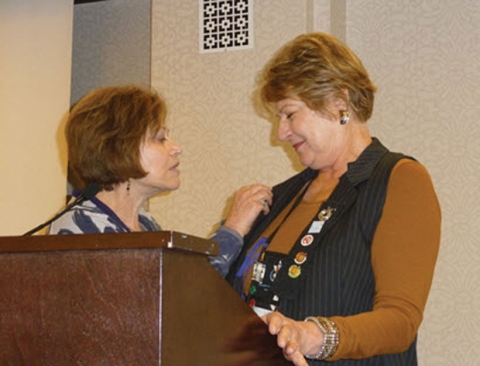 Ellen Bick didn't know anyone when she arrived in Portland. That was 1997, and much has changed. After joining Congregation Beth Israel and enrolling her daughter in religious school, she discovered a world of friends and fulfillment at Women of Reform Judaism/Beth Israel Sisterhood. Now, as the newly installed WRJ Pacific District president, she looks forward to helping others become involved with the organization that has meant so much to her.
WRJ North America includes eight districts, 500 sisterhoods and 54,000 members. Bick's diverse area runs from Texas to Hawaii to Vancouver, BC, and includes 12 states and two Canadian provinces. "The number one reason women join WRJ is to connect with their communities," she said. "Then, they learn what sisterhood does. In addition to making wonderful friends, they are part of something much bigger."
The big picture includes 100 years of history. Founded in 1913 and originally called the National Federation of Temple Sisterhoods, WRJ first focused on providing scholarships for rabbinical students. "In 1913, we were a young movement, and if we wanted Reform rabbis, we needed to educate them ourselves," Bick said. "We built a dormitory on the campus of the Hebrew Union College. It's still called the Sisterhood Dorm."
Yearlong WRJ centennial celebrations fall within Bick's term, including the major convention in San Diego. "When I was asked to be president, I thought, 'Wow, not only is this an honor but I'll be president of the host district during the convention,'" Bick said. Her job will include recruiting volunteers and planning a special Shabbat service for the occasion.
Bick also hopes to connect geographically isolated sisterhoods, facilitate continuing education for new leaders and emphasize the social action programs CBI's sisterhood does so well. Here, members support fund-raisers for the religious school and camp, provide regular dinners at a nearby homeless shelter and even have led an award-winning anti-bullying seminar for parents.
"There are a variety of ways women can get involved in WRJ," Bick said. "And, something many don't realize is that sisterhood is for women of all ages. In our synagogue, members range from their 20s to their 80s. I love working with younger and older women. Each brings their own perspective, and they have totally enriched my life."
Read more on Women in Reform Judaism Pacific District at www.wrjpacific.org.