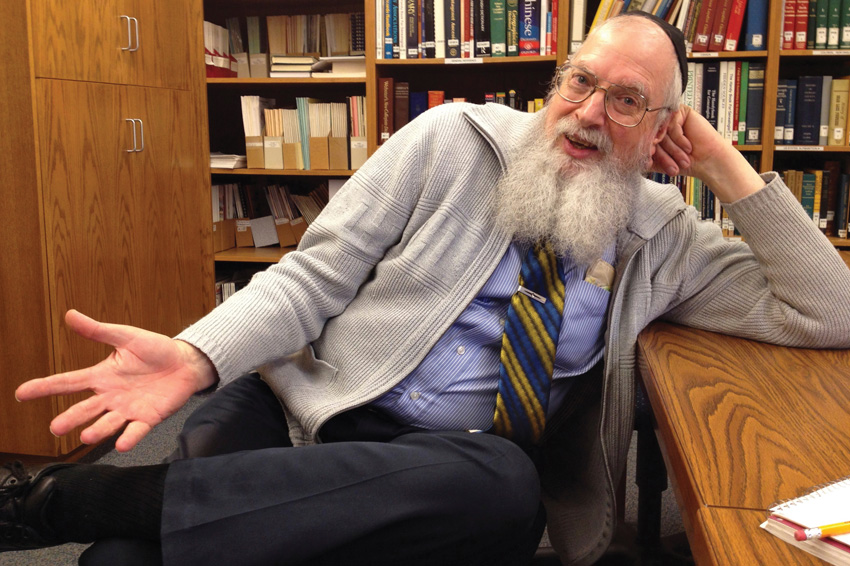 Eliezer Froehlich loves history and family – and solving puzzles posed by both.
He has traced his own family back to the conversos of Spain, to early Oregon Jewish immigrants from Bavaria and Baden, Germany, and even to soldiers in the Revolutionary War. But he didn't stop there.
He sought links between his family and others, and today spends anywhere from four to 15 hours a week researching the history of Oregon Jewish families and their early communities. So far, he's assembled a collection of 25,000 names – specializing in the period before 1900, though including later eras, as well.
"I refer anyone doing family research to him," says Anne LeVant Prahl, curator of collections at the Oregon Jewish Museum and Center for Holocaust Education, who often seeks Froehlich's help with detailed genealogical questions. "We share any new information about Oregon Jewish families that either of us comes across – I even designed a database in our research collection to track what he sends us."
Sometimes Prahl sends Froehlich her own questions. A recent example: She found files on men with the same name but with different wives. Were they the same person – a prominent businessman? An email to Froehlich brought the response: Same man, divorced and remarried in the 1930s.
"He deserves a lot of credit for everything he knows and is willing to share," says Prahl, who notes that Froehlich plans to bequeath his database to the museum.
Froehlich also makes periodic donations from his personal collection to the museum. Among recent additions are a thick pencil, most likely dating to the 1860s, promoting Cohen & Schlosser, wholesalers of "Tobacco, Cigars, Cigarettes and Pipes" in Albany, OR, and leather "scrip" issued by the A. Sternberg Saddlery and Albany Tanning during the 1930s Great Depression.
He contributes in other ways, as well, including transcribing the museum's copy of a journal kept by Rabbi Jacob Bloch (Portland's Congregation Beth Israel, 1884-1900), recording marriages, circumcisions and conversions Bloch officiated at throughout the Northwest.
Froehlich has volunteered with many other historical groups, including the Benton County Historical Society and both Oregon Jewish genealogy societies. A resident of Corvallis, he is also the archivist for the Waverly Jewish Cemetery in Albany, established in the 1870s.
He's particularly intrigued by Jews who settled, even for a short time, in small towns around the state. That's an interest that comes naturally – his roots in Oregon are deep and broad.
One ancestor, an uncle to Portland philanthropist Ben Selling (also named Ben Selling), came to Salem in 1852. Other members of the Selling clan, bachelor cousins or brothers, found their way to La Grande, Pendleton, Union and Walla Walla, WA.
"They'd come in the early 1800s to Mississippi, Louisiana and Alabama," Froehlich explains. "By the 1840s they were in Texas, then the younger sons went to California for the Gold Rush before the Civil War. Then they came up to Oregon from San Francisco."
Other ancestors, including the Wertheimers, Levys and Sommers, also found their way to Oregon in the 1850s, and, like his Selling family, often settled in small towns.
Born in Salem, Froehlich, now 60, remembers growing up listening to his great-grandmother Bertha Wertheimer and grandmother Dora Schwabbauer tell stories about the country stores their families owned, and listening, too, to family friends who had clear memories of childhoods in the late 1800s.
"When I was 12, I dragged my Mom around as a driver," he recalls. "I'd just want to talk to people and ask them questions."
After graduating from Oregon State University, Froehlich worked briefly at the Robison Home in Portland before moving to Israel, where he met and married Chaya Quarnstrom in 1982 – and also began exploring her family's history.
Before their marriage, Froehlich decided to have a formal Orthodox conversion "just to be on the safe side." Like many other early Jewish families, there had been some intermarriage in his. "Sadly, many relatives no longer even identify as Jewish," he says. "I just wanted to be sure."
Chaya died in 1984, some time after their son, Nisseem, was born, and Froehlich returned to Corvallis in 1989.
He and his son – "two bachelors," Froehlich jokes – live in a comfortable family home built in 1902, sharing space with two cats, Webster and Wojzeczk.
When they can, they attend religious services at Chabad in Salem or Ahavas Torah in Eugene.
The genealogical sleuthing is an avocation. Froehlich now makes his living doing property title research. He did try taking on genealogy clients for a time, but didn't find it satisfying.
"People don't necessarily appreciate how much time is involved," he says. If Prahl refers people with specific questions to him, he requests that – rather than pay him – they make a donation to the museum.
His biggest challenges? Keeping accurate records of people in large families – the Menashes or the Nudelmans, for example. And what if husband and wife have the same original last name? It's another puzzle.
There are sad or potentially embarrassing discoveries, too – a few murders, a few women making a living on the shady side of the law. But then there is some comfort, even in the midst of family tragedies.
"When little babies died, there are these little teeny markers, especially at Shaarie Torah's cemetery," he says. "There's a satisfaction in being able to connect these children with their families."
Froehlich's research also has helped expand the historical record. For example, he discovered that Bernard Goldsmith, though elected Portland's first Jewish mayor in 1869, wasn't an Oregon first. Morris Jacobs of Corvallis, who began the first of his three terms in 1868, predated him. And historian Ellen Eisenberg notes that in 1864, Max Muller effectively became Jacksonville's mayor when he was elected president of that city's trustees, or city council.
"West Coast Jewish history is very different from that in the rest of the country," Froehlich observes. "We were here at the beginning, as pioneers, and were accepted without issue." Though there was discrimination later on, early Jewish arrivals were part of the "Blue Book" social register. "From the very beginning," he says, "West Coast society was not as stratified."
For now, Froehlich continues to work on his database, adding to and digitizing his records. "It's like a mystery hunt, a treasure hunt," he says. "It's a labor of love, and it's my passion."
Sura Rubenstein is a Portland writer.