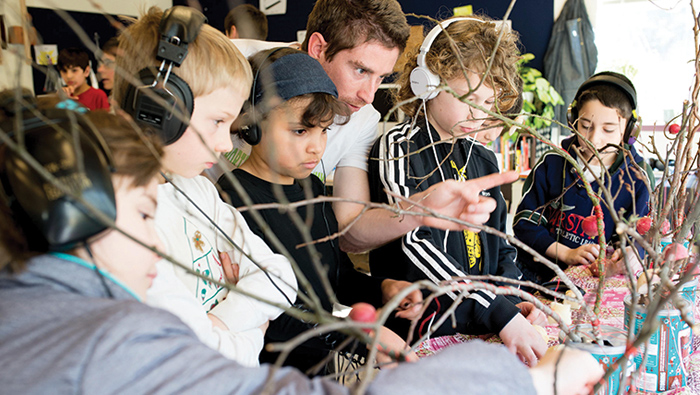 Stretching back to the biblical commandment for parents to teach their children, Judaism has emphasized the importance of education.
Known as People of the Book, Jews have supported learning and flourished through education.
David Grubin's 2008 PBS series and companion book Jewish Life in America reflects on the importance of education in Jewish life: "In America, education is the great leveler; it is the one thing that Jewish Americans immediately embraced as a path to opportunity for themselves and their children."
That embrace of education remains strong. In 2013 Pew Research Center's study on Jews in America reported: Most Jews are college graduates (58%), including 28% who say they have earned a post-graduate degree. By comparison, 29% of U.S. adults say they graduated from college, including 10% who have a post-graduate degree. That emphasis reflects the same reality in Israel, where a 2015 Pew study reported 96% of Jews in Israel said that a good secular education was important for their children.
Portland's Jewish institutions have made education, both religious and secular, a priority.
"Knowledge is the power that connects us to our past and our creator," says Rabbi Tzvi Fischer, dean of the Portland Kollel, which uses an education-focused mind-set to enhance Jewish life in Portland. "Learning is power.  … Increasing knowledge and creativity is a way to combat apathy."
The Oregon Jewish Community Foundation administers three scholarship funds: the Krichevsky Fund for students attending Jewish day school, and the Tarshis and Kailes scholarships for Jewish college students. Another college scholarship, the Sussman Fund, is administered by the Jewish Federation of Greater Portland.
The JFGP also provides grants and tuition assistance for children in preschool through day school. Families who send a child to a Jewish preschool for the first time are eligible for up to $2,000 in tuition assistance. All three of Portland's Jewish day schools receive funds through the federation's annual allocations process: Maayan Torah Day School, $29,100; Maimonides Jewish Day School, $21,800; and Portland Jewish Academy, $216,430. The three schools also received a $20,000 grant to work with a consultant on enhancing education for students with special needs.
In addition to monetary support for Jewish education, the JFGP also provides programs for children and educators.
As JFGP's director of educational initiatives, Rachel Rothstein Nelson oversees programs that impact learning from the earliest years, including the Right Start preschool grants mentioned above. She also coordinates PJ Library, which sends free Jewish books and music into the homes of children aged 6 months to 8 years, and PJ Our Way, offering books to children through age 11.
Locally, more than 1,300 kids receive PJ Library books each month with another 150 youth participating in PJ Our Way.
A major part of Rachel's work deals with coordinating Portland Area Jewish Educators. Under volunteer leadership, PAJE operated sporadically for decades. But for the past two years with a dedicated staff person (Rachel), PAJE has become a reliable resource for professional development opportunities for educators. Every other month PAJE brings together formal and informal educators from the day schools, supplemental schools, youth groups, camps and the JCC. The group has brought in national speakers and last fall hosted a Yom Limmud program with presentations by 20 educators.
"The Jewish Federation places enormous emphasis and importance on formal and informal Jewish education," says JFGP President and CEO Marc N. Blattner. "This is the building block for Jewish continuity and our Jewish future. Moreover, we do this to not only teach Jewish texts and traditions, but to also provide immersive experiences for our youth to garner and use their Jewish knowledge, understanding, tools and perspectives to make an impact on the world."