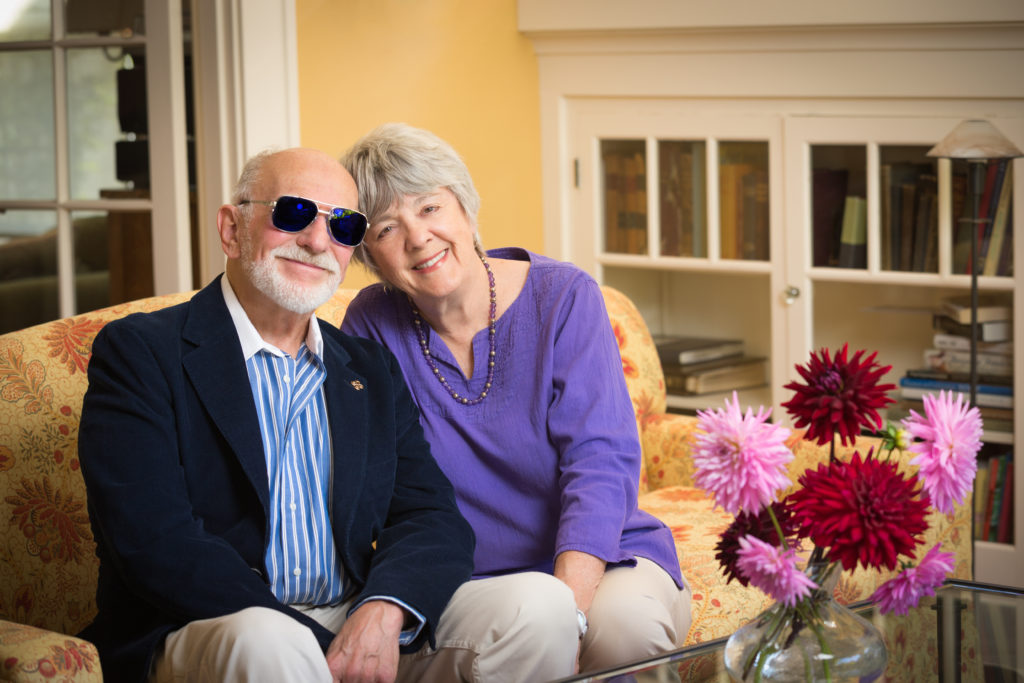 Photo: Larry Levy and his wife  Pamela Lindholm-Levy are sponsoring a May symposium at Portland State University dedicated to the theme of Jews and violence in antiquity.

MJCC hosts College Info Night and Fair
College Info Night and Fair is set for 6:30 pm, Jan. 15, at the Mittleman Jewish Community Center, 6651 SW Capitol Hwy., Portland.
All teens and parents curious about options after high school graduation are invited to the program. Join Julia Surtshin from College Ahead, as well as a wide array of other professionals, who will share the ins and outs of life after high school. Come learn about the college admission process, financial aid, as well as non-traditional post-high school program opportunities. Learn more about Jewish life on college campuses too. Presenters/booths include: Julia Surtshin, College Ahead; Tim Tank, Morgan Stanley Financial Planning; Andy Gitelson, Oregon Hillel; Hannah Sherman, PDX Hillel; Dov and Chani Bialo, Chabad at Reed College; and Rabbi Ozer Moskowski, Akiva at University of Oregon.
Additionally, information about two gap year programs will be available. Adinah Miller will be on hand to discuss Tivnu, a Jewish building and social justice gap year program based in Portland. Materials from Masa Israel will be available for gap year programs in Israel.
For more information, call 503-244-0111.
Riverdale education available to out-of-district families
Some families are surprised to learn that it's possible for their children to receive the top-rated Riverdale School District education, even if they live outside the district boundaries. In fact, limited spaces in kindergarten, first, second, third, ninth and 10th grades are available for out-of-district students for the upcoming 2019-20 school year. Requests for enrollment must be completed by Feb. 15.
Riverdale offers the best aspects of independent schooling in a public school setting, with small class sizes, outstanding teachers and challenging academics. Guided by the principles of the Coalition of Essential Schools, Riverdale students experience a collaborative, small-school learning environment imbued with a climate of trust, decency and high expectations.
Riverdale schools compete successfully against the Portland-area private schools based on strong academic programs, a personalized approach and a wide range of student activities – leading to graduates who gain admittance to the colleges and universities of their choice, and excel once there. Plus, Riverdale is often a more affordable choice – with options for inter-district transfers, tuition and financial aid.
Learn more and apply at riverdaleschool.com. Parents can also sign up for the Jan. 25 K-Third Grade Coffee Q&A or schedule a High School Shadow Day for their interested student.
P'nai Or expands children's education program
Congregation P'nai Or has expanded its children's education program. The Hebrew School program for  elementary school aged children grades 1-4 started in Fall 2018.  Additionally the Renewal congregation has a Tot Shabbat service for little ones, babies up through 6 years old
The Tot Shabbat service includes a gratitude practice, stories, songs and prayers followed by kiddush with challah and grape juice. An hour of play time follows in the congregation's wonderful indoor and outdoor park playspace.
The Hebrew School Program focuses on teaching Hebrew language and prayer through music, Jewish holidays and values (middot) and Shabbat using a hands-on, multi-sensory approach and learning by doing. A pre-b'nai mitzvah program is being planned.
Both Tot Shabbat and Hebrew School meet on the first and third Saturdays each month from 10 am to noon. P'nai Or is located at 9750 SW Terwilliger Blvd., Portland. No pre-registration is required for Tot Shabbat, but an email RSVP is requested. Registration is required for Hebrew School.
For more information, to register for Hebrew School, or to RSVP for Tot Shabbat, email P'nai Or Education Director Barbara Hanawalt at bhanawalt@gmail.com.
PSU Judaic Studies announces scholarhips, Levy event
The Harold Schnitzer Family Program in Judaic Studies at Portland State University is still welcoming applications for the new Harold Schnitzer Family Scholarships. The scholarships provide $5,000 a year towards tuition and fees for up to four years for students majoring in Judaic studies. The Harold Schnitzer Family Program in Judaic Studies fosters academic achievement, leadership skills and civic engagement through the interdisciplinary study of Jewish history and culture.
The deadline for students seeking admission for the 2019-20 academic year is Feb. 1, 2019. For general information about admission to the University, visit pdx.edu/undergraduate-admissions/apply-to-psu
The department also is planning the fourth annual Levy Event, which this year will take the form of a symposium dedicated to the theme of Jews and violence in antiquity. Mark your calendars for April 14-15, 2019.
Larry Levy and his wife Pam established the "Lawrence Levy and Pamela Lindholm-Levy Judaic Studies Program Fund" to support speakers, performances, symposia and other programming. In creating the endowed fund, they hope to distinguish the Judaic studies department at Portland State University as a leader among West Coast colleges and universities.
For more information on the Levy lecture, visit: pdx.edu/judaic or email
Introduction to Judaism class begins Jan. 17
The Winter/Spring 2019 Session of the Introduction to Judaism class begins Jan. 17.
This 18-week course is taught by members of the Oregon Board of Rabbis, representing a variety of Jewish affiliation. A carefully constructed curriculum includes Jewish history, life-cycle events, holidays, ritual and daily practice, theology, study of Torah and contemporary Jewish America.
While not a conversion class, most OBR members consider it a prerequisite for students beginning study for conversion.
Classes meet 7-9 pm, Thursdays, at rotating Portland area synagogues.
The course fee of $360 includes class materials. For registration information, visit the website oregonboardofrabbis.org/introduction-to-judaism-class or contact class facilitator JoAnn Bezodis at 971-248-5465 or info@oregonboardofrabbis.org.
Maimonides earns third accreditation
Maimonides Jewish Day School received accreditation for kindergarten-eighth grade from Middle States Association Commissions on Elementary and Secondary Schools Dec. 1.
According to the website msa-cess.org, the Middle States Association is a worldwide leader in accreditation and school improvement. For more than 130 years, Middle States has been helping school leaders establish and reach their goals, develop strategic plans, promote staff development and advance student achievement. MSA accredits more than 2,500 schools, systems and learning service providers in 106 countries.
MSA accreditation begins with a self-study conducted by the school and requires input from a coalition of school leaders, teachers, parents and students. Following the self-study, a team of volunteer educators from Middle States-accredited schools conducts an on-site peer review. The team's recommendation then undergoes a multi-level review by some of the best educators in the field before being approved. The accreditation of MJDS is for seven years.
In October MJDS received accreditation of both its general studies and Judaic curricula from Merkos L'Inyonei Chinuch, and from the National Council for Private School.
Weekend in Quest registration open
Registration is now open for 13th Annual Weekend in Quest presented by The Institute for Judaic Studies. The March 1-3 event will be at the Holiday Inn Express in Astoria.
Professor Naomi Sokoloff will be the weekend scholar speaking on:Poems and Prayers: Modern Jewish Writers Reinterpreting Tradition.
Sokoloff joined the faculty at the University of Washington in 1985, has served as chair of the Jewish Studies Program and as chair of the Department of Near Eastern Languages and Civilization. Her research interests cover a range of modern Jewish writing.  She is the author of Imagining the Child in Modern Jewish Fiction. She has edited or co-edited a number of books including: Gender and Text in Modern Hebrew and Yiddish Literature; Traditions and Transitions in Israel Studies: Books on Israel; Boundaries of Jewish Identity; and most recently  What We Talk About When We Talk About Hebrew (And What It Means to Americans).
The weekend also includes Kosher-style catered meals, a Saturday evening program and
Shabbat services led by Ilene Safyan of Congregation Neveh Shalom and Havurah Shalom.
Early registration is recommended as the event has been sold out in previous years.
weekendinquest.org | mimiepstein42@comcast.net
Lecture series explores science and spirituality
Congregation Neveh Shalom presents a monthly lecture series on science and spirituality.
What is the relationship between scientific understanding and spiritual belief?  CNS Director of Congregational Learning Mel Berwin and CNS Senior Rabbi David Kosak created a new lecture series this year to explore how these fields influence each other. The series asks what the fields of medicine, genetics, physics, aeronautics and brain science can and do offer to the fields of religious ideology, practice and spiritual care – and vice versa.
The series kicked off with guest speakers Dr. Sally Segel (CNS member and maternal fetal medicine physician) and Bonnie Davis (Congregation Beth Israel member) on genetic diseases, including Tay-Sachs, which predominantly affect Jewish populations. In October, Senator Elizabeth Steiner Hayward, who is also a physician at OHSU, spoke about mental health from the medical, spiritual, political and personal perspectives.
Spring lectures include topics on Environment and Sustainability (Jan. 9) and Epigenetics: how trauma affects both our nature and nurture (April 3).  Presentations are on select Wednesday evenings from 7-8:30 pm.  More information is available online at nevehshalom.org/science-spirit/.