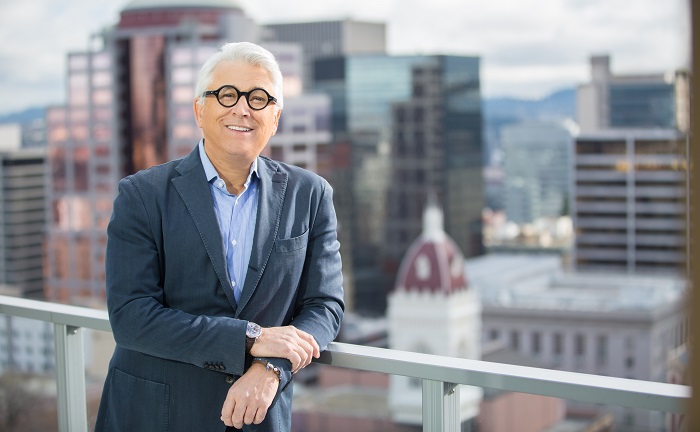 COVER PHOTO: Ed Tonkin. Photo by Brian Gareths
Ed Tonkin always knew the Jewish Federation was important, but it wasn't until he joined the board of the Jewish Federation of Greater Portland in 2014 that he understood just how and why it is so vital.
As he has learned about all the programs, agencies and people who benefit from federation, he has made it his mission to share that knowledge with the community in his role as chair, a two-year post he accepted in 2016. He recently agreed to serve a third year, which will begin at the annual meeting June 14.
"When I joined the board, I really didn't have much idea of what federation did," says Ed. "I knew it existed, I knew it was important, I knew it needed community support, but I really couldn't tell you what they did. I think that's true of many in our community… They should know how their support is impacting people in real world situations. There are many needs in the community right here in our own backyard, and it stretches from birth until death."
He wants people to be aware of the local programs supported by JFGP that stretch across the lifecycle to enhance Jewish life here. The new Rachel's Well community mikvah is available for all lifecycle ritual needs. For children, PJ Library provides free books, Right Start helps parents send tots to a Jewish preschool, Happy Camper provides summer camp scholarships, three day schools meet educational needs and the Mittleman Jewish Community Center offers programs for all ages. Hillels support college students, and Moishe House offers a place for young adults to socialize in a Jewish setting. Jewish Family and Child Service has resources for all ages, and Cedar Sinai Park provides housing and resources for the community's elderly and adults with disabilities. Oregon Jewish Museum and Center for Holocaust Education provides cultural and educational exhibits and programming to the entire community. Ed has created a video series (see box) to highlight some of those who benefit from the programs.
His increasing awareness of the federation's role in the local and global community has also opened his eyes to the richness and diversity of Judaism. Interacting with observant board members such as Marshal Spector inspired him to begin studying Jewish traditions with Rabbi Kenneth Brodkin of the Orthodox Congregation Kesser Israel. While he considers his religious friends role models, he says he does not aspire to emulate their observance.
"They are role models for me, and I look to them for encouragement and, at times, guidance even, as I learn more about my own relationship to Judaism," says Ed. A lifelong member of Reform Congregation Beth Israel, he describes himself as deeply spiritual rather than religious.
"I'm learning you can view Judaism through different lenses – that can be a strength and a weakness," says Ed. "A strength because it allows for creative thinking. The dogmatic approach can be oppressive. Diversity allows for challenging beliefs as the world changes. … The weakness, in my opinion, is … if it becomes a free-for-all and you can justify anything through faith, that is not constructive."
When he joined the federation board in 2014, he may have been uninformed about all the agencies, programs and people it benefits, but he was well versed in the requisites of leadership.
FAMILY
Ed was born Nov. 1, 1954, to Nancy L. and Ronald B. Tonkin. His mother died in 1985 and his father died in 2014. He is the middle child of three sons: Barry, Ed and Brad.
His father launched his first dealership, Ron Tonkin Chevrolet, in 1960. The business ultimately grew to 21 dealerships, and Ron, Ed and Brad became recognizable to many Oregonians, thanks to the television commercials they starred in over the years.
Ed says he and Brad enjoyed doing the branding ads for the Ron Tonkin brand. They would write a year's worth of ads and then go to Los Angeles for a couple of days to shoot them.
"The more fun we had, the better they came off," he says. "I loved the western spots. We did those in the western town that has been used back to 'Gunsmoke.' "
Ron started the tradition of holding a family meeting every year to discuss the family's annual donation to the Jewish federation. Ed has continued the tradition of consulting with other family members.
Ed describes a meaningful encounter he and his daughter, Nancy, 32, had during a Cedar Sinai Park tour of the four new Greenhouse households. While in the Nancy and Ron Tonkin Household, which  the family sponsored in honor of his parents, the daughter of one resident came up to them and said, "I can't thank you enough for what it means to me and my mother and family for the beautiful home she has here."
Ed turned to his daughter and said, "This is why we do this."
Nancy and Nate Zoucha are the parents on Ed's only grandson, Bennett Zoucha, age 2. Ed says his grandson's birth two years to the day after the death of his father "underscored for me the whole concept of a beautiful world continuing to evolve: one life goes out and another comes in."
In 2016 the group sold 16 of its 21 dealerships to Spokane-based Gee Automotive Companies. Ed's son, Adam, 35, runs the Ron Tonkin Chevy dealerships for the new owner.
Without telling Ed, his long-term companion, Michelle Poli, took the Oregon Board of Rabbis 18-week Introduction to Judaism class.
Noting Michelle did not grow up with any faith, he says she "loves the values she has seen in Judaism." The two agree celebrating Shabbat on Friday evenings is something they would enjoy adding to their lives.
"The act of going and getting challah, and saying the blessing over candles and bread and wine is grounding," says Ed. "It is time for reflection."
Ed's cousin, Cheryl Tonkin, provided his first real interaction with federation. She persuaded him to co-chair the 1999 federation gala that brought Henry Winkler to town. Ed says he agreed because "Cheryl is a rock star." But he didn't really become personally involved in federation until Cheryl persuaded him to join her again to chair the four-day Food for Thought friend-raising celebration in 2013.
"My cousin Cheryl was terrific," says Ed. "The Food for Thought was her idea, and I was glad to be a part of it. I love working with her."
The multifaceted celebration, which featured a smorgasbord of events including comedy, health, politics, books, food, films, art, music and more, also introduced Ed to the hardworking, enthusiastic staff and volunteers who make federation a success.
"I have always felt that "enthusiasm is contagious," something I practiced in business," says Ed. "Commitment and enthusiasm is infectious, and I caught some of it when I saw people working at federation to help support our community. It motivated me to want to be a part of that."
"My relationship with Marc (Blattner, JFGP CEO and president) is wonderful," he adds. "We work very closely together and have a great time doing so. We are very fortunate to have him here in Portland leading our federation. He is without a doubt a major reason I took on the role as chair."
LAWYER AND BUSINESSMAN
Ed has lived in Portland all his life except for seven years in Seattle to attend undergraduate and law school at the University of Washington. He practiced law with a large downtown Portland law firm for a few years before joining the family automobile dealership business.
He rose to national prominence in 2010 when he was elected chairman of the National Automobile Dealer Association, a post his father held in 1989. NADA represented 19,000 new car and truck dealers "during the most difficult time in our industry's history – economic collapse and automaker bankruptcies and bailouts."
"I guess you could say it's part of my nature to get involved and serve."
He says his term as NADA chair provided experience he has been able to draw on as chair of JFGP.
"Every experience we have helps shape us, and that experience helped me immeasurably," says Ed. "Planning strategy and running a very large board gave me great experience."
"I gained great experience lobbying on Capitol Hill. In that effort I had to advocate many positions on many issues. I spent many hours on Capitol Hill lobbying senators and Congressmen and Congresswomen, many not from Oregon. Because of the GM and Chrysler bankruptcies, I met with executives from each company every week for the better part of the year in House Minority Leader Steny Hoyer's office in the Capitol. I was in Washington 46 of 52 weeks during my year as chairman. Further, I worked with President Obama's Car Czars (Steve Rattner and Ron Bloom) in the Treasury building regularly, trying to save dealers from being wiped out in the bankruptcies."
He traveled to countries including Brazil, France and India to speak to industry dealers and manufacturers.
He also appeared several times on CNBC, Bloomberg, CNN and the News Hour with Judy Woodruff, where he was told he was the only person to make her laugh during an interview. Judy was interviewing Ed and a University of Michigan professor about the auto industry; when the professor said he had not bought a car in many years, Ed retorted, "Do you want to buy one from me? I'll ship it to Michigan." He says Judy later told him that had never happened before on her show.
"We accomplished a tremendous amount during the most difficult time in the history of our industry," says Ed, adding that the accomplishments were a joint effort with "a very fine intelligent, active and committed board and staff, just like at federation. I was the one who was privileged to work with and serve them and my industry/community."
HAVING FUN
Making Judy Woodruff or anyone else laugh is not an anomaly in Ed's life. He finds humor and fun are great assets in life. "I believe you can accomplish great things and still have fun," says Ed.
In addition to keeping work fun, Ed has multiple hobbies and interests.
His biggest passion is watch collecting. He has many friends in Switzerland; each year he attends the Geneva Watch Fair, which is geared toward executives in the watch industry.
Fly fishing is another passion, though he says he doesn't have the patience to tie his own flies.
He also enjoys reading nonfiction, especially history, and great literature.
The Portland Farmers Market is a regular stop in his week when he is in town. Cooking healthy meals with fresh foods is another pastime he enjoys.
He's always loved to travel, and now that he has retired from the auto industry, he travels as much as he can. "I want to do it while I'm healthy," he says. He's been to Africa three times and is a frequent visitor to Asia and Europe. Last year he visited Israel for the first time.
YEAR THREE: LOOKING BACK AND CHALLENGES AHEAD
Ed agreed to accept a third year as federation chair because, "There's still unfinished business; challenges remain. There will always be challenges, but there is more work to do on the issues that I am passionate about: educating the people in our community about the many things federation does, why it exists and why it is so vital to our community. Also, the very important task of bringing along the next generation who will be responsible to care for our Jewish community, who will have the opportunity (and burden and great responsibility) to carry the baton and preserve Jewish life here."
In his first two years, he is proud of the board's many accomplishments.
Programs "to bring along the next generation who will be the custodian of our Jewish community and work to continue to grow it and strengthen it" are especially dear to his heart. The PDX Pathways program to mentor young adults, Hillel and Moishe House are vital programs. Strengthening these programs as well as those for children is one of the major accomplishments of his first term.
He is excited about the community mission to Israel for federation's 100th anniversary in 2020. Planning is furiously under way to take 500 people to Israel for touring, education, celebration and fun.
Other accomplishments include building and opening a beautiful new community mikvah; growing the campaign to $4.4 million last year (he credits campaign chairs Mindy and Mark Zeitzer for a marvelous job); increasing funding to Overseas Special Projects; expanding allocations to include Portland Kollel and Chabad Northeast; and increasing funding for teens to travel to Israel.
"What makes me most proud is that the board truly is what I call a functioning board – it works and it works well," he says.
That is due in no small part to Ed's focus on ensuring everyone comes to meetings prepared and discusses issues respectfully.
"We enjoy vibrant discussions with differing points of view," says Ed. "Each person can offer their point of view, whether or not the others agree, and engage in spirited debate before arriving at a consensus, and doing so in a respectful environment."
Marc Blattner attributes that environment to Ed: "Our community is blessed to have such incredible leadership that cares and always has the overarching Jewish community's best interest front and center. And, although he does not like it when I do this, I must give credit to the superb leadership of our Chair Ed Tonkin. In so many ways, it is his style that creates such vibrant and open meetings."