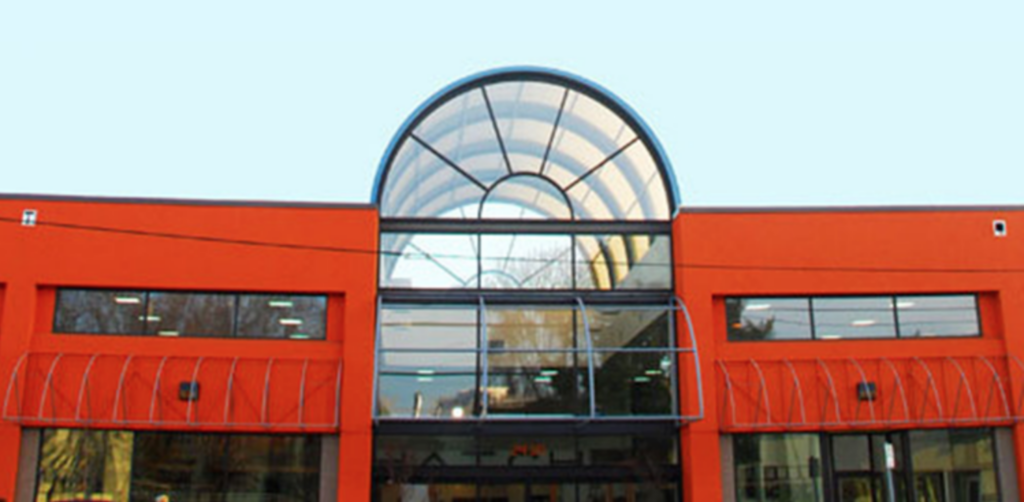 Photo: The building for the Eastside Jewish Commons was a former car dealership.
The Eastside Jewish Commons has been a work in progress for the past several years and will have a "soft opening" in July. The goal of the EJC is to establish and sustain a vibrant and inclusive Jewish community space on Portland's east side.
The way that history has evolved in the area, most Jewish institutions are located on the west side of the Willamette River. However, a number of Jewish groups have rented churches and houses in the area. For years, these organizations have individually tried to figure out how to establish more Jewish infrastructure on the east side.
About six years ago, a group of Jewish leaders came together and decided to try a different approach – what about a collaborative space? For the past four years, Mia Birk has been the president of the board leading this group.
"We have a board of directors, a stakeholder council of about 60 community leaders and ambassadors, and more than 20 different community partners all engaged," says Mia.
"We have set up this project as a collaborative with Jewish Portland, so essentially we are a convener of all the other organizations, most of Portland's Jewish organizations."
In January 2021, Congregation Shir Tikvah member/founding EJC board member Michael Hanna, along with his wife Mary Ruth Hanna and their business partner Tod Breslau, approached Congregation Shir Tikvah with the opportunity to rent their building at 2420 NE Sandy Blvd. in Portland. Shir Tikvah has been located on Portland's eastside since its inception 18 years ago. Shir Tikvah has been energetically promoting the concept of Eastside Jewish Commons for many years, stemming from a deep belief in the elegance and logic of shared space, community engagement and collaboration.
Shir Tikvah and EJC then began a journey to jointly occupy the space, with EJC leading the effort to bring in the many other organizations they call "community partners" to offer programming and activities. These community partners to date are:
· The Alberta Shul
· B'nai B'rith Camp
· Cedar Sinai Park
· Congregation Beth Israel
· Congregation Neveh Shalom
· Congregation Shaarie Torah
· Jewish Family and Child Service
· Jewish Federation of Greater Portland
· Havurah Shalom
· Mittleman Jewish Community Center
· OneTable
· ORA NW Jewish Artists
· Oregon Jewish Museum and Center for Holocaust Education
· Oregon NCSY
· P'nai Or of Portland
· Portland Jewish Academy
· Portland Kollel
· Tivnu
· Tisch PDX
· Tree of Life Montessori
Additional organizations who have offered support include: Oregon Board of Rabbis, Oregon Jewish Community Foundation, Congregation Kesser Israel, and Moishe House Portland. All these organizations have committed to EJC's mission and are intending to offer activities and programming at EJC.
The 13,000-square-foot space was initially used as a car dealership until 2013, and then it was used as a coworking space for social justice organizations until the pandemic hit. Its location makes it convenient for people to walk, bike or drive to.
The goal is to engage individuals and families from a broad spectrum of the community in whatever way is meaningful. Activities will include Friday night services, Havdalah, tutoring, social activities, support groups, yoga and movement classes, cooking classes, and all kinds of different for Jewish life – all under one roof.
Mia explains that the EJC is different than a Jewish Community Center and that the Mittleman JCC is one of their partners. "A typical JCC is a membership model where they run their own programming and often have a gym and a pool," she says. "We don't have a gym or a pool, and we are not a membership organization. We are more like a theater where we provide the stage and the other organizations produce the plays and activities."
Most of the organizations involved have a presence on the westside of Portland, and Mia is hoping that they will mirror their programming and share events at the EJC. Shir Tikvah has begun offering in-person services and is thrilled to have their offices, programming and activities under one roof for the first time. Also, B'nai B'rith Camp will hold three individual weeks of day camp there in July and August.
"There are some missing things in Jewish Portland that we are trying to catalyze by bringing organizations together," says Mia. "It's come to our attention in doing outreach in the community that Portland is lacking in significant senior programming, so we have partnered with Cedar Sinai Park to offer that."
The space also has a large atrium area that will be perfect for art installations and musical performances. "We would love to have an artist in residence program," says Mia. "We have a number of musicians who are excited to have a music series. We haven't really seen a Jewish music series in Portland before."
There are many organizations around the country trying out models similar to the EJC; some of them are Jewish some of them are not. For example, the Sixth & I Synagogue in Washington, D.C. has a similar model, and Shalom Austin in Texas has a vast campus that houses a JCC and many synagogues.
"We have a lot of lessons we can take from Sixth & I and from and a couple of different organizations that are not Jewish," says Mia. "There's an arts organization in Seattle that has a constant reuse space, there's an institute in Portland that's Islamic that does something similar, then there's the world of coworking which we are learning from, and then another overlay is events. So it's like a combination of those things all put together."
They've had to do some upgrades to the building, security being the most significant undertaking, along with modifying the kitchen and setting up the space reservation system. The space will also be available for Jewish professionals to rent as a coworking location. The many rooms and the addition of modular furniture lend itself to constant repurposing.
They have also hired their first Executive Director, Cara Abrams, who will be starting on July 6. Up until now, it has been an all-volunteer-led effort.
Cara is a native Oregonian from Eugene who has been in Seattle for the past five years. She describes herself as a "Jewish communal leader and educator working to build community that is inclusive, innovative, and intersectional." Her most recent experience is director Of education with the Kavana Cooperative and co-chair and board member of Limmud Seattle, a global movement of 90+ grassroots and volunteer-run learning festivals connected by mission and values.
EJC has expressed gratitude for both the generosity of the landlords as well as the leadership and support of Congregation Shir Tikvah; without them, this exciting new phase of Jewish life on Portland's growing, thriving eastside would not be possible. They are also grateful to their many donors, stakeholders, and community partners, without whom none of this would be possible. For more information on Eastside Jewish Commons, visit ejcpdx.org.