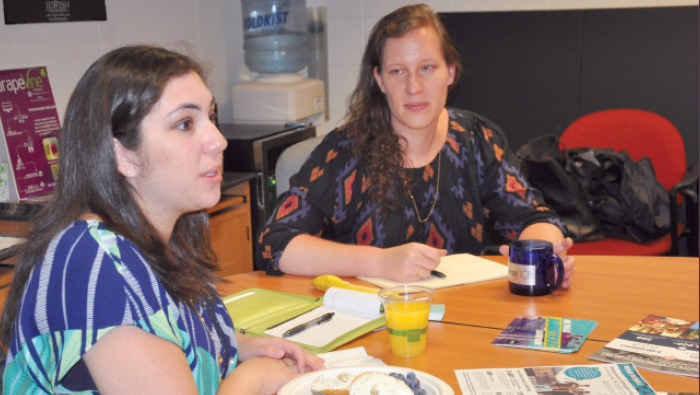 Repair the World staffers Amy Goldsmith and Danielle Kirshenblat were in Portland July 17-19 to encourage local participation in a new national campaign to inspire a different kind of High Holiday "service" this fall.
As part of September's Hunger Action Month, Repair the World is recruiting volunteers to raise awareness about food justice, while fostering stronger local food systems, self-reliant communities and a healthier environment.
"We don't yet have any committed projects in Oregon to report on but there is a lot of interest," said Amy in early August.
While in Oregon, Amy and Danielle also spent the weekend at Cedar Ridge Conference Center in Vernonia, facilitating workshops at the Moishe House Repair the World Learning Retreat.
Repair the World is seeking passionate individuals and organizations to help build this movement around the country. Working with Repair the World, movement leaders will help organize food justice volunteer opportunities between Rosh Hashanah and Yom Kippur (Sept. 13-23), host a Turn the Tables dinner and help inspire service.
Repair the World movement leaders will create meaningful opportunities for service, promoting the High Holidays as a time for both attending services and doing service in your community.
Anyone can participate as a volunteer and a Turn the Tables dinner host. To volunteer, visit weRepair.org/InspireService.
Repair the World inspires American Jews to give their time and effort to serve those in need. For more information, visit werepair.org.