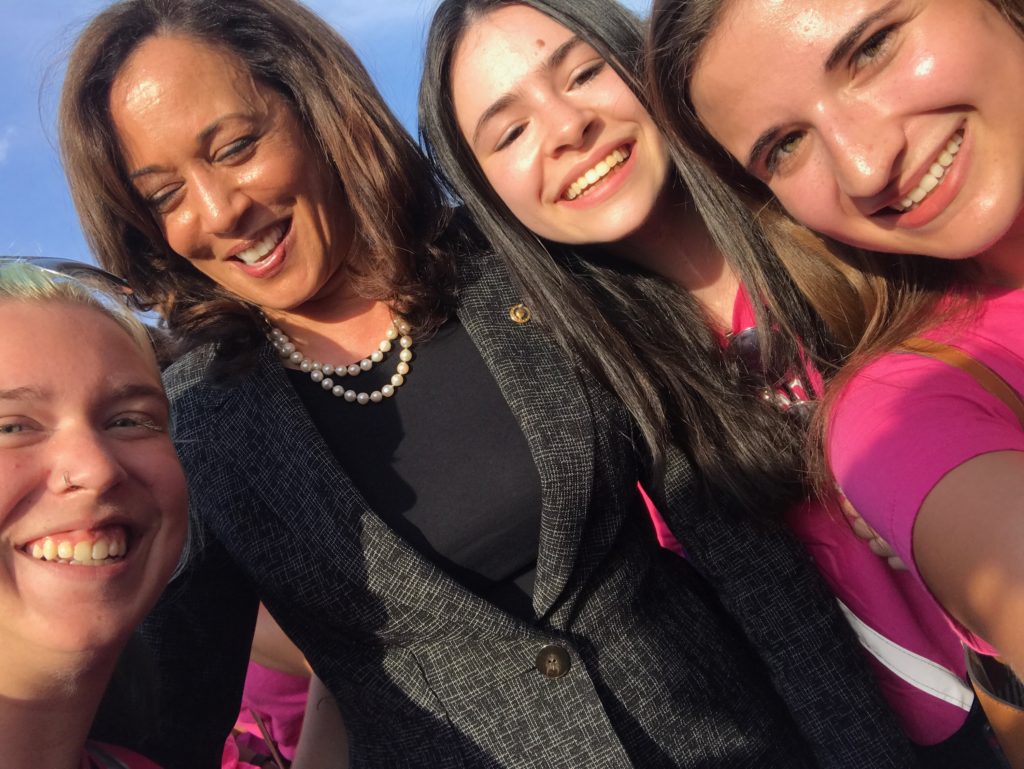 PHOTO: Sen. Kamala D. Harris (D-CA), second from left, poses with three Planned Parenthood summer interns at in Washingtion, D.C., including Melissa Diamond of Portland (second from right).
Two Portland sisters are spending their summer on opposite sides of the country, but both are serving internships with Planned Parenthood.
Melissa Diamond, the daughter of Tom and Julie Diamond, is a summer intern in Washington, D.C. Julie is the president and CEO of the Oregon Jewish Community Foundation.
Melissa is living at the George Washington University dorms while she works at Planned Parenthood Federation of America as a data management intern, part of a group of summer interns. She's in the thick of the healthcare bill drama, In addition to meeting legislators such as Harris, she's also met Cecile Richards, the CEO of Planned Parenthood. It's very exciting for her.
"Working at Planned Parenthood this summer in Washington, D.C. has been really exciting and rewarding, especially given the current political climate," says Melissa. "In addition to the work I've been doing with data analysis, I've had opportunities to go to rallies on Capitol Hill and see senators speak about the dangers of the new GOP healthcare bill. I've really enjoyed doing both of these activities because I've been able to learn how higher level organizing work such as data management can translate into direct, grassroots action."
Melissa's 18-year-old sister, Rachael Diamond, is serving as a Summer Fellow with Planned Parenthood in Portland. She's doing canvassing, data entry and phone banking until she leaves for college in late August.
"The girls motivate and support one another and are excited for each other," says Julie. "Naturally, I'm proud of my girls working to make a difference in access to women's reproductive healthcare and putting into action the social justice values that are woven into our Jewish educational experiences, those of tikkun olam and tzedakah."
The Diamond family belongs to Congregation Neveh Shalom. Both girls went for years to Camp Solomon Schechter. They both attended Portland Jewish Academy for elementary and middle school and went on the eighth-grade Israel trip with PJA. Both were in the Oregon Jewish Community Youth Foundation during their high school years as their main teen connection to Jewish life.
Melissa will be returning to the University of Washington in September for her junior year. She is a double major in computer science and philosophy. Rachael just graduated with honors from Sunset High School and will be attending Scripps College in Claremont, CA, in the fall. She is interested in the environmental analysis program.