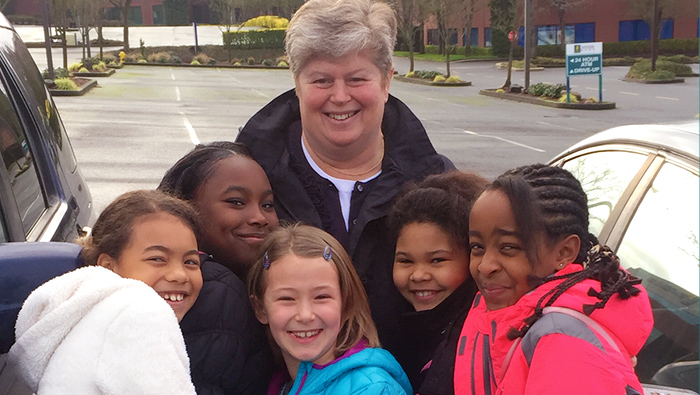 A self-described product of Portland's Jewish community and Portland Public Schools, Deanne Froehlich has been named the 2017 Principal of the Year by the Portland Council PTA.
Deanne was nominated by the parents, community and students of Hayhurst Elementary and Odyssey School in Southwest Portland. "One of the most important parts of my job is to be connected to all three of those components," says Deanne. "It's a tremendous honor that my community feels like this is something they wanted to recognize me for."
A PPS principal for 18 years, Deanne has served as principal of the two schools for eight years. Until last year, the two schools shared the Hayhurst campus, but as more young families have moved into the neighborhood, the elementary school needed all of its space, and the focus school moved to the campus that formerly housed East Sylvan Middle School. Odyssey is one of Portland Public School's Focus Option Programs. Open to all PPS students in kindergarten through eighth grade, the school focuses on Living History Education for Young Explorers.
"One of the biggest transitions has been (that) over the last year Odyssey moved to East Sylvan," says Deanne, who continues as principal of both schools now on separate campuses. "We were one big family. With all the work that went into the separation, it was a successful transition."
In addition to establishing each school in its own building, the Odyssey campus had to be transitioned from a middle school into a K-8 school.
"They are both great schools with generous parent participation and kids who come to school ready to learn; both are strong and moving forward for the new school year," says Deanne. "It's wonderful to be a principal in this community."
Deanne says her commitment to education and community building are based in her Jewish values. She was raised at Congregation Neveh Shalom and spent summers at Camp Solomon Schechter. Later she became a camp counselor at the summer camps at Mittleman Jewish Community Center.
"My years as a camper and camp counselor supported my desire to be part of building a community," says Deanne. "Building relationships and providing an educational experience we can be proud of is part of my Jewish values."
She says she gained an understanding of the importance of education as a member of the Jewish community and a student of Portland Public Schools.
"I want to create a community with a love of learning where everybody feels success," she says. "Education is important. I want to make it a positive experience for everybody."
Deanne is also a former board member and current committee member of Cedar Sinai Park, where her father, Walter Froehlich, z"l, lived until his death last fall. "His care was fabulous till the very end," says Deanne of his years living at CSP's Robison Jewish Health Center.
In addition to Neveh Shalom and CSP, Deanne says she also supports the work of the Jewish Federation of Greater Portland. "I value the work federation does for our community and for the global world community."
Students, parents and her community obviously recognize that Deanne is a special person who is helping make learning a positive force for the future.