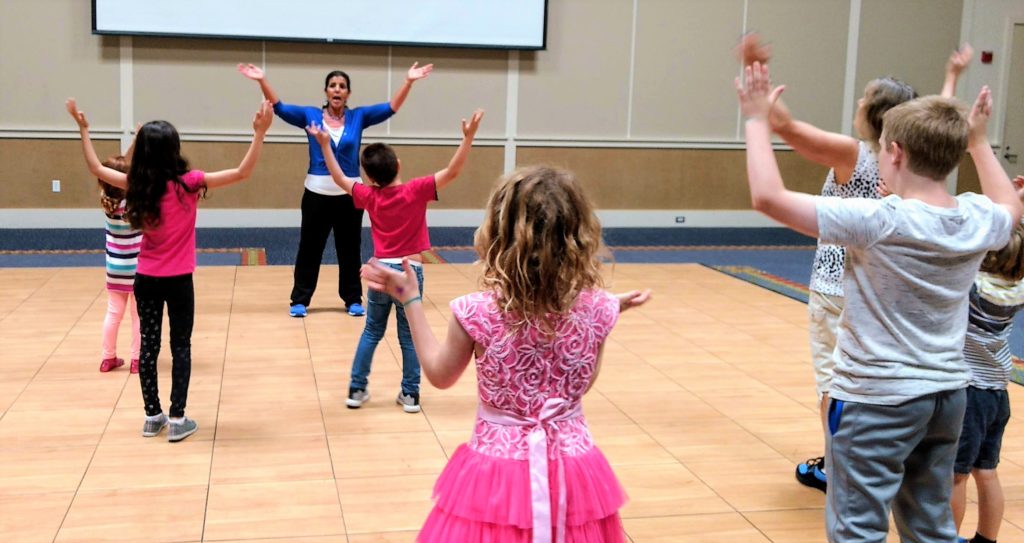 Photo: Ruti Keenan leads a group of enthusiastic and energetic children at the family session of Israel@70: A community celebration through dance.
More than 70 enthusiastic dancers – from ages 4 to 70+ – celebrated Israel's 70th anniversary at the Mittleman Jewish Community Center on June 23 from 4 to 11 pm.
Last spring when the Jewish Federation of Greater Portland invited groups to join in and help celebrate Israel@70 throughout the year, Debbi Montrose and her sister Sue Wendel said what better way to continue the celebration than through Israeli folk dance, music, food and camaraderie.
There were break-out sessions for family and partner dancing, and for those who love the classics and the modern line dances. A scrumptious Israeli buffet prepared by Century Catering and a festive dance party rounded out the event. Sessions were led by Israeli dancer extraordinaire from Los Angeles Lior Haykeen and local dance leaders Ruti Kenan, Avi Tayar and Duane Robbins.  Lior led the welcome session, masters class, line dance and party. Ruti lead the family dance, Avi the partner dance and Duane the classic dance.
The event was made possible by the generous support from the JFGP, MJCC and the many volunteers who helped that day.
Sue Wendel and Debbi Montrose were co-coordinators of the event. Volunteers who helped with registration, other tasks at the event and hospitality included:  Deb Montrose; Abby Menashe; Elise Montrose; Sarah, Zack and Michelle Coblens; Hy and Myra Jackson; Alan Montrose; Sasson and Rikki Nouri; Rut Hen; and Gary Sherman. Diane Betcher created the display the History of Portland Israeli Folk Dance.
Israeli folk dancing has been a vibrant aspect of Jewish life in Portland for nearly 50 years. Each week there are local dance sessions around the metro area to enjoy. Local dances include Sunday evenings at the Fulton Park Community Center; 1st, 3rd and 5th Monday nights of each month at Leedy Grange led by Sue Wendel; and two options on Thursday – Cafe Shalom intermediate class and open dancing led by Allison Victor, and couples dancing led by Avi Tayar. A weekly beginners class led by Allison  starts July 11 at the MJCC. For more information about Israeli dancing opportunities in the metro area, visit PIFD News at sites.google.com/site/pifdnews.