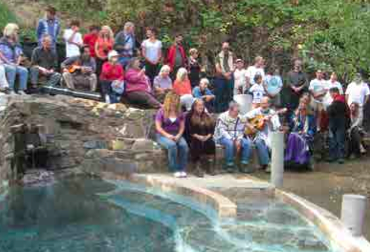 Dr. Dale Oller never thought about the mikvah outside of one Neveh Shalom Sunday school field trip. Life went by, marriage, children, medical school, her psychiatric practice, and then one New Year something changed.
"Only after reading an article in a Jewish Women's Magazine from Mayim Hayyim, the Mikvah project in Boston, did I find this ritual of interest," she says. "I put together a tiny group to attend the mikvah yearly, using a lovely immersion ceremony for the New Year." Indeed, around the country groundswells of women are adapting an ancient ritual for the Jewish community of today. In addition to traditional mikvah uses such as immersing dishes, women's monthly cycle, conversions, and pre-wedding and holiday ceremonies, women are finding the observance meaningful during life's many transitions.
"We go through life detached from our physical self," says Naomi Malka, who is the director of the Adas Israel Community Mikvah in Washington, D.C. She, Dale and several others spoke on Exploring Themes of the Mikvah at the May 4 Women's Day of Jewish Learning held at the Mittleman Jewish Community Center.
"It's fair to say that most Jewish experiences are abstract and disembodied," Naomi says. "The ritual of mikvah is the only one I know of in Judaism that we do entirely with our body.
"The mikvah guides us through life's inevitable changes and helps us do that mindfully," Naomi says. "It's crossing the bridge, becoming a big sister, childbirth, your 40th birthday, the empty nest, retirement – from unready to ready. The message of mikvah is, 'your body is holy.' "
Like Naomi, those involved with Open-Minded Mikvah encourage users to write their own ceremonies, sing and chant. Dale and her friends read poems and prayers.
"We talk about what the waters might wash away from the past year and what kavanah, or intentions, we might have for the coming year," Dale says. "We read the ceremony as each of us walks slowly into the mikvah. It has become one of my most spiritual times of the year."
Dale's ancient/new tradition extends across the sea. Several years ago while in Israel for the High Holidays, she asked her friend, Rhisa, where she could visit a mikvah. Although local mikvah would not welcome a nontraditionally observant American, Dale's obvious disappointment gave Rhisa an idea.
We stayed up until midnight schmoozing and then drove to the beach, Dale recalls. "There, sitting on a blanket were five friends of Rhisa's. They had a candle, a glass bottle, slips of papers and pencils. One of the women had prepared a beautiful ritual in which we wrote our prayers, placed them in the bottle, stripped off our clothes and ran into the warm waters of the Mediterranean.
"The next evening we had dinner with a large group of Rhisa's friends, including her son, Adi, who was in the Israeli Navy," Dale says. "With a straight face he announced, 'Last eve- ning, the Israel Navy had an incident as they saw seven people in the Mediterranean Sea. They called off the alarm when they realized it was seven naked middle-aged women bobbing up and down.' We all had a good laugh. But the sweetest part of the story is that every year since, the same women gather in the same spot for the same ritual. They call it Dale's Mikvah."
For more information about nontraditional mikvah use con- tact Dale Oller at 503-203-1777 or visit mayyimhayyim.org.
Dale Oller speaking on nontraditional mikvah use at the Women's Day of Jewish Learning. Photo by Polina Olsen