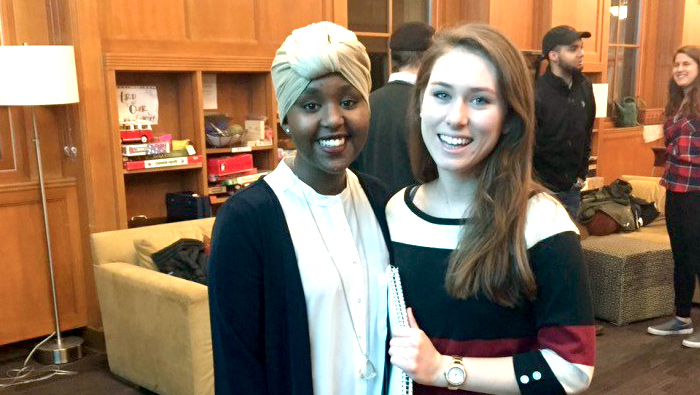 By Yvette Alex-Asensoh
Niccolo Machiavelli once said, "It is better to be feared than loved." Whether it is the news or social media, the sentiment seems to be the same. Fear and divisiveness are the things grabbing eyeballs and driving ad dollars. Near the top of this list of fears is xenophobia.
In light of the San Bernardino shooting and calls to ban all Muslims, the climate of xenophobia has only heightened, including here in Oregon. This fear-mongering has spilled over into instances of anti-Muslim violence. So what can we do to counter this growing xenophobia before it gets any worse?
At the University of Oregon, we believe that our power to touch people in our everyday lives is more powerful than any divisive news story, hateful social media post or coward posting bigoted fliers in the night. We embrace our role in creating a warm and inclusive campus for all, including Muslim and Arab communities. This starts with fostering love, respect and community.
For example, Oregon Hillel has developed a seven-part series entitled Manzil Midrash (house/study) in partnership with the Muslim Student Association and the Arab Student Union. (See sidebar below)
Following this interfaith series last year, class of 2016 student Fahma Mohammed had this to say: "This was the first time ever that the Muslim Student Association took part in working with the Jewish Student Union to learn more about the similarities and differences between our two religions. This event opened my eyes to some of the similar experiences that we have shared while living in the United States. I know that this is just the start to a beautiful relationship. Our organizations will continue to grow while we teach one another new things about our shared life experiences."
According to Drew Williams, the religious director of the Muslim Student Association, "This experience has been profoundly impactful to myself and both the Jewish and Muslim communities here on campus. I believe that our work on educating and informing both the wider University of Oregon community and ourselves has truly bettered the environment on campus and created a more open and understanding situation for all."
In addition to this series, which will be expanded this year, Oregon Hillel has worked with the Office of Equity and Inclusion to establish an interfaith program to help foster dialogue and education about different religions and provide support for Muslim students in particular.
The example Oregon Hillel is setting is a powerful one. As members of the UO community, it is our responsibility to be proactive in creating a more diverse, equitable and inclusive campus.
Hate and division can only flourish in a climate of ignorance. We cannot change every mind or open every heart overnight, but we can spread humanity and understanding in our spheres of influence. That is how we do our part. That is how love overcomes fear.
Dr. Yvette Alex-Asensoh is vice president of equity and inclusion at the University of Oregon.
Spring Manzil Midrash Programs
Oregon Hillel has brought together a diverse group of students for a series of student-created and student-facilitated campus conversations – Manzil Midrash (Manzil is Arabic for house and Midrash is Hebrew for study). Now in its second year, the project uses two components to foster interfaith understanding and cross-cultural encounters and promote open and respectful discourse. Manzil Midrash sessions include learning alongside experiential education; Conflict Conversations, led by Manzil Midrash leadership team students, primarily discuss different aspects of the Palestinian-Israeli conflict.
Tentative dates for spring term programs follow.
April 7: MM: "Famous Muslims and Jews" presented by Alex Reasoner of the Muslim Student Association and Ethan Brutzkus of the TAMID Israel Business Group.
April 14: CC: "Historical Narratives of Israel" presented by Awab Rawi of the Arab Student Union; Lev Silberstein of Oregon Hillel; Erin Horwitz of the Jewish Student Union; and Drew Williams of the Muslim Student Association.
April 21: MM: "Muslim-Jewish Relations" presented by Drew Williams and Abbey Bell of Oregon Hillel and J Street UO.
May 12: CC: "The Impact of Terrorism on Jews and Muslims" presented by Drew Williams, Erin Horwitz, Awab Rawi and Lev Silberstein.
May 19: MM: "Cultural Culinary Event" presented by event co-chairs Terra Zicklin of Oregon Hillel and Erin Horwitz.