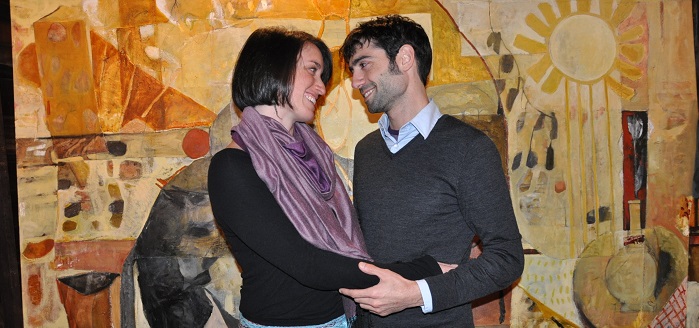 Introducing artist Aithan Shapira and coffee activist Debra Rosenthal
Thanks to the draw of a young woman with deep roots in social action and Portland, the Rose City is now home to a rising young artist who already has made a big splash in the international art world.
Aithan Shapira – like his heroes – Rembrandt, Goya, Matisse, Picasso – is both a painter and printmaker. His works have hung in museums and galleries on four continents and are permanent fixtures in numerous private collections including those of Jewish philanthropist Harold Grinspoon and actor Kevin Spacey.
Northwesterners will have the chance to see Aithan's work in March when Froelick Gallery (714 NW Davis, Portland 97209) hosts a one-man show and in May when five of his paintings will be part of a botanical art show at the Seattle Art Museum Gallery.
After a two-year long-distance courtship during which they racked up thousands of text messages, emails, phone calls and frequent flyer miles, Aithan moved to Portland last August to join his fianceé Debra Rosenthal.
The couple first met in 1999 when as Brandeis University students they sang in different a cappella choirs at the school, even going head to head as dueling choirs in a Lincoln Center performance.
Recently they invited me to join them for dinner, a tour of Aithan's studio and a visit to Debra's office at Sustainable Harvest Coffee. As we sat around Debra's grandmother's dining room table, Aithan chatted animatedly as we enjoyed an artfully arranged tray of appetizers. Then as Aithan disappeared into the kitchen to prepare a dinner of salmon encrusted in herbs common in his mother's birthplace of Iraq, Debra filled me in on her work supporting fair trade and organic coffee farmers in Central and South America and East Africa.
When Aithan reappeared, he carefully arranged the meal on each plate creating yet another masterpiece – this one of colors, aromas and flavors rather than paints.
"Aithan never does anything halfway – art or dinner," says Debra.
As they took turns sharing their stories, it was clear that foundations and tradition are important to both. Pyramids figure prominently in their descriptions.
HIS STORY
Aithan was born in New Jersey, but spent much of his childhood in Israel when he wasn't in school. In New Jersey, his father Arie co-owned a factory that cut the fabric for women's designer wool coats. His mother Sara arrived in Israel from Iraq in the early 1950s and married into a family with a long history in Jerusalem.
Aithan is a first-generation American who has what he calls the typical immigrant belief that "if you work hard you can build something."
So when he went to Brandeis University in Boston, the first member of his family to go to college, he says, "I worked really hard."
He finished all his math and science pre-med courses in two years and then decided to explore a variety of offerings including philosophy and, notably, drawing.
"That drawing class changed my belief in nearly everything," says Aithan. "In pre-med, they grade on a curve and the goal is to be better than everyone else; I could do that. In art, I had to be better than myself. That's the most difficult thing I've ever had to do."
Except, perhaps, the phone call to his mother to tell her he'd decided to study art instead of going to medical school.
But if he was going to study art, Aithan wanted it to be with one man – John Walker, head of the graduate painting program at Boston University, who takes only a limited number of students, gives them a studio and mentors them.
Walker tells his students that on 10 fingers he can trace back through a line of students and their mentors stretching back to the great Renaissance painter Titian.
"Within five fingers, you are in Michelangelo's studio," marvels Aithan, who notes that his father's family also counts back on 10 fingers to the first generation to live in Jerusalem.
"Know where you come from so you know where you are going," says Aithan. "For me, tradition is not about living in the past, it is living now and using where you came from."
Aithan describes himself as standing at the apex of a pyramid where his painting rests on all the history below him. He says that his peers who only look to the future risk making art about ideas that don't stand on anything; they must have substance.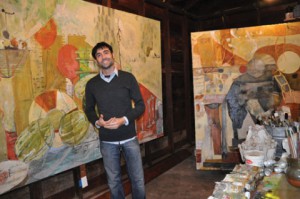 For Aithan, looking at the past means wondering what Cezanne might paint if he were looking out Aithan's studio window today.
As a graduate student, he says he was looking for something meaningful to inspire himself. He recalls how impressed he was by the way his father's employees created blueprints that efficiently included all the pieces of a designer's pattern without wasting fabric. So he called his dad and got the blueprints of coats he had watched his father cut out when he was growing up. He hung the patterns around the walls of his graduate student studio and absorbed the shapes as he painted. Many of those shapes – a sleeve, a front panel, coattails – show up in his paintings today.
After two years, Walker told Aithan he needed to go to the Royal Academy in Great Britain.
At the Royal College of Art, Aithan began to study print making in addition to painting. He was able to work on a press built for the Great Exhibition of 1851.
After earning a master's degree in printmaking, Aithan pursued his Ph.D. at the Sydney College of the Arts in Australia, in a joint mentorship with the Royal College of Art. No university in the United States offers a doctorate in painting, so Australia became his home for three years.
He spent about half his time there among the Aborigines. From the Aborigines, he learned about their connection to the earth and caring for the land, the importance of symbols and stories, and their view that art reveals what is already there. He also learned to make paint from soil. He still uses that skill, mulling soils from Israel to create paint for some of his works.
He spent part of 2008 on a residency at the Bezalel Academy of Art and Design in Jerusalem, which is where he began working with Israeli soil. He also collected fallen olive branches and charred them to make charcoal for drawing.
After he earned his doctorate, he says he was delighted that John Walker invited him to return to Boston to work with his graduate students.
"As a young artist, I want to earn the respect of people I respect," says Aithan. "John Walker asked me to come back and critique his grad students, so of course I came back in 2009. I was there two years."
While in Boston, he also gave a lecture series at Harvard talking about "music and art and how they inform each other." And he taught a workshop in bookmaking for graduate students studying painting and sculpture.
For Aithan, art isn't about rules but it does rest on tradition.
Paraphrasing a quote from Antoine de Saint-Exupery, Aithan says, "If you want to teach a person to build a sailboat, you really ought to teach him to fall in love with the ocean … they will build something bigger than you could imagine."
Noting he teaches art in the same way, Aithan says, "Tradition teaches us. … You define history by what you do today. Knowing this comes with a big responsibility."
HER STORY
Raised in Portland, Debra was born into a family who also has a strong sense of the importance of tradition and a commitment to social action.
Her father, Elden Rosenthal, is a well-respected civil rights lawyer who twice served as co-counsel in cases that drew national attention – a civil suit against Tom Metzger, leader of the White Aryan Resistance, for his role inciting the beating death of Ethiopian Mulegeta Seraw; and a suit for the FBI's wrongful arrest of Brandon Mayfield, the Oregon attorney mistakenly linked to a terrorist bombing in Madrid.
Debra's mother Margie Rosenthal has won numerous national awards for her CDs of lullabies and Jewish children's songs recorded with Ilene Safyan. A former special education teacher, Margie co-founded the Portland Reading Foundation, which provides professionally trained tutors for children struggling to learn to read.
Debra graduated from Brandeis with a double major in sociology and journalism, then worked for two Portland nonprofits serving children – SMART and Stand for Children. Wanting to use her language skills (she'd learned Portuguese during an exchange program in Brazil), she moved to Oaxaca, Mexico, to immerse herself in Spanish.
Through friendships made playing Ultimate Frisbee, she met Laura Tilghman who worked for Sustainable Harvest, a coffee importer with international headquarters in Portland. Back in Portland, Debra asked Laura for an introduction to company leaders here.
"I knew it was an international company doing great work," Debra says, noting that though Sustainable Coffee is a for-profit corporation, it's actually more of a hybrid company that pumps 60% of its profits into helping the growers.
She now serves as Sustainable Harvest's technology director developing high-tech solutions to help low-tech producers maximize their production.
"We give folks more cost-effective methods. We bring tools and teach growers and co-ops to grow high-quality coffee," she says, noting she has helped create a video library of training programs that growers can access on iPads.
One of the community trainers who received an iPad in Tanzania, but no training other than the use of the installed training videos, figured out how to film her own practices to maintain healthy coffee trees. She emailed her video to Sustainable Harvest to share her knowledge.
"This woman proves the point that people in developing countries with little formal training can be users of the most innovative technology in the world," says Debra. "We are leading the charge telling people at the bottom of the pyramid that this technology is accessible to them and they should have access to it so we can all progress together."
Debra has indeed put her language skills to good use. Last year at a meeting in El Salvador, she sat at a table with the social mission coordinator from Ben & Jerry's (which uses coffee extract from beans imported by Sustainable Harvest to flavor its coffee ice creams); a leader of a coffee coop from Vera Cruz, Mexico; and a farmer who sells coffee to that co-op.
"Ben & Jerry's is interested in the telling the story of fair trade coffee and of farmers' lives and how they are connected to their customers," says Debra. "These men had a business relationship but there was a language barrier. I was able to translate and help them talk about how they can use technology to share stories."
Debra says social justice is her top priority. She wants consumers to know the people at the beginning of the supply chain and see how many hands and how much time and energy go into producing their morning cup of coffee.
"What I see Debra doing every day for people in other countries who are struggling to survive … I respect her so much for that," says Aithan.
THEIR STORY AND FUTURE
Though they met at Brandeis, Aithan and Debra lost touch while they pursued their lives. In 2009, they reconnected "thanks to the marvels of modern technology (the Internet)."
For two years, they talked on the phone, texted, emailed and flew across the country. They visited Aithan's family on the east coast and in Israel. They spent time with Debra's family in Portland and at their vacation home in Sunriver. They talked about their belief in tradition and their ties to their maternal grandmothers.
"One of the only sad things about our relationship is both of us had strong connections with our grandmothers … it's sad we didn't get to meet them (each other's grandmother)," said Debra. "But we talk about them a lot."
So when Aithan flew to Portland last May, he visited Debra's sister Rachel, who wears their grandmother's triple ring of engagement, wedding and anniversary bands. He asked if Rachel would split the ring so her sister also could have one band. He then asked Elden and Margie if he could have their daughter's hand in marriage. Three days later, on bended knee, Aithan proposed to Debra with the band from her grandmother, a solitaire diamond he had spent months finding and a drawing of how he envisioned the combined engagement ring.
In August he moved to Portland to become part of a community and a family. Now he's working to meet the art community and the Jewish community. In July, Rabbi Joey Wolf of Havurah Shalom, where Debra grew up, will formally unite the couple.
"Portland has me for the next 50 years of my life – or however long I have," says Aithan, noting that Portland is rich in the things that are important to him – art, music and education. "I'm excited to see ways I can contribute to that richness here."
"I want to plant a seed and make it grow," he says. "That spirit is Judaism."
Migration and nature, both of which are big in his own life now, have become major themes in many of his current paintings.
When he's not in his studio, where he frequently works 12 to 14 hours at a stretch, he typically draws the natural beauty he finds in Portland's parks and gardens.
"The botanical theme is relevant to a very significant body of work I am pursuing for my career: the Botanical Gardens project in Jerusalem that will travel to gardens internationally," says Aithan. After funding is secured, he will work on a permanent installation for the gardens at Mishkenot/Shaananim, a prestigious artist colony in Israel.
He is incredibly excited about the project and hopes to finalize funding for it "from those who like my work and want to support the blossoming of special things – hope-filled gardens of Israel, art and botany that teach through metaphor of the profound ways we need one another to grow together – simultaneously strengthening our roots in the earth and toward the sun. Much of the botanical inspiration for this project comes from what I see every day, my surroundings – the rich parks and gardens in Portland."