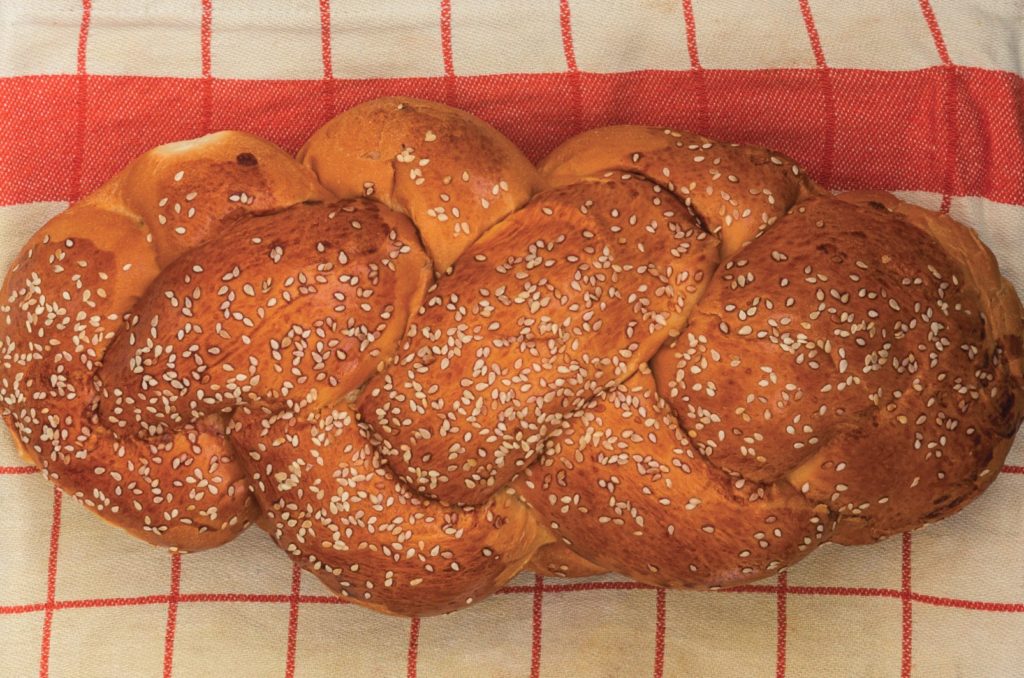 By J. Wandres
Summerfield, a 55-plus community in Tigard, is home to some 1,600 residents living in houses, townhomes, condos and apartments on a 200-acre campus. There's a clubhouse, swimming pool, tennis courts and a nine-hole golf course that's open to the public.
My wife, Judi, and I moved from New Jersey to Portland 2012 and bought a townhouse in Summerfield in 2016. At a clubhouse social, we met Karen and Marty Zwerling and discovered we had lived in adjoining towns in New Jersey. "Ah, Lantsmen!" we exclaimed.
We met other Jewish families at Summerfield, and in 2017 Karen suggested we start a Jewish studies group. That May a dozen of us from five or six families came together to launch our havurah study group. At the clubhouse we gathered around a table artfully laid with plates of delicacies and bottles of wine. Karen called for silence, and we all began the blessing: "Baruch atah Adonai …"
We were a community now, but we had to decide what our havurah would be like. Did the group want to encourage others to take part in the havurah? What direction, if any, should the group take? Religious study? Political action? As Susan Keroes wondered aloud, "Or are we just the Jewish drinking and eating society?"
Marvin and Judy Geer came to Summerfield in 2010 by way of Philadelphia. In Portland they joined a Conservative shul whose havurah structure and content, Marvin said, was defined and led by the rabbi. For Michele Seligman (who raised her family in New Jersey), Summerfield let her be closer to children and grandchildren on the West Coast. Brought up Conservative, she said, "Our havurah will let me keep in touch with my Jewish roots."
The havurah movement flourished in America during the socially turbulent 1960s. "Jews, especially Baby Boomers born after (World War II) coming to maturity, channeled rebelliousness and assertiveness … into programs that would transform and strengthen American Jewish life," wrote Jonathan Sarna in American Judaism: A History.
Havurah as community emerged in 1968 in Somerville, MA, at Havurat Shalom. Theodore Roszak's The Making of a Counter Culture explained that havurah would guide a "revolutionary force devoted to fellowship, peace, community and a 'new model of serious Jewish study.' " Community-style havurot followed in several other cities.
The evolution of the Summerfield Havurah would develop wherever the discussion took us. We had come from all over the geographic, social, political and professional compass, but we held in common a belief in Judaism and a willingness to share our point of view with others and to hear others' views, too – and to regularly partake of the grape and grain. We would lean in and look out for each other.
When Caren Masem went to OHSU for a complicated surgery, several of the group in rotation furnished a cooked meal for her family each night she was in hospital. Caren and her husband, Paul, were grateful for the group's caring. "At our havurah, I do not feel ignored," she says.
My wife considers herself a cultural Jew. Soon after settling in Portland, we attended High Holy Day services at various synagogues. Yet the experience and need for commitment left Judi wanting. "Havurah means family. If I need someone to hear me, I know there will be someone for me to talk to," she says.
On a personal note, I was confirmed as an Episcopalian but did not find a connection between the scripture and myself. I wandered, spiritually, until I met Judi and we married (second marriages for both). Though I choose not to convert, I feel comfortable in the lessons of living within the community. Our havurah is community.
By late 2017, the group chose to meet at members' homes in rotation. For Paul Masem, the havurah worked because the group didn't want to build a synagogue. (This prompted a wry comment: "That's just because Paul doesn't want to head up the building fund.")
The group has been enthusiastic about gathering for a Shabbat meal on the first Friday of the month. As Judy Geer puts it, "All Jews need their mishpacha to celebrate the good times as well as the bad. We need to break bread, laugh and support each other."
J. Wandres is a frequent contributor to Oregon Jewish Life.