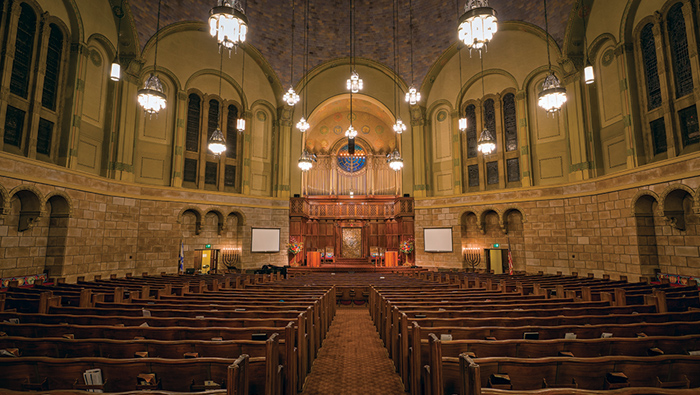 Almost from the moment Jews arrived in Oregon, they have sought to meet the spiritual needs of the community.
The first Jewish New Year services in the Oregon Territory were held in 1856 in the gold-rush boomtown of Jacksonville in  southern Oregon, where German-Jewish immigrants had moved
from the California gold fields.
During the first 100 years of Jewish life in Oregon, congregations emerged, merged and evolved to meet the ever-changing spiritual, lifecycle and community needs of an increasingly dispersed and diverse population.
Congregation Beth Israel, the first Jewish congregation west of the Rocky Mountains and north of California, was founded in Portland in 1858 and continues today as the state's largest
Reform congregation.
Congregation Ahavai Sholom, a Conservative congregation, was founded by Jews originally from Prussia, in 1869. Congregations Neveh Zedek and Talmud Torah began in 1892 and 1893, respectively, and eventually merged with Ahavai Sholom in 1961 to form Congregation Neveh Shalom.
In 1902 Congregation Shaarie Torah organized as an Orthodox
congregation, purchasing its first building in 1905. (The congregation is now affiliated with the Conservative movement.)
By the 1960s, Oregon's synagogues had stabilized to include today's Congregations Beth Israel, Neveh Shalom, Shaarie Torah, Ahavath Achim and Kesser Israel, all in Portland;
Temple Beth Israel in Eugene; and Temple Beth Sholom in Salem.
Corvallis had to wait until 1974 before Beit Am arrived. That same decade, Portland saw its first new congregation in many years – Havurah Shalom, founded in 1978.
The decades since have seen continued growth and diversity within Oregon's Jewish community, with vibrant new congregations in the greater Portland area and throughout the state and region offering options from Jewish Renewal to Chabad Hasidism and Humanistic Judaism.
On the following pages, you can find the congregations and outreach groups that now serve the Jewish communities of Oregon and Southwest Washington.
CHABAD
CHABAD OF OREGON
Rabbi Moshe Wilhelm, Executive Director
2317 SW Vermont
Portland, OR
503-977-9947
Rabbi@ChabadOregon.com
ChabadOregon.com
You are a part of the Chabad #Mishpacha, where every Jew is family! Chabad is dedicated to providing every Jew, regardless of background, philosophy or level of commitment, an open door environment for enriching Jewish life. Through outreach, education and a range of social services we aspire to help every individual and family enhance their awareness, experience and practice of Judaism. Each Chabad center is supported by the community it serves.
CHABAD HOUSE-SW PORTLAND
Rabbi Motti Wilhelm
Rabbi Chayim Mishulovin
2317 SW Vermont
Portland, OR
503-977-9947
RabbiMotti@ChabadOregon.com
ChabadOregon.com
Catch the spirit at SW Portland's Chabad! We are warm & welcoming community where young and old, singles and couples find joy, meaning and relevance in their Judaism.
CHABAD OF SE PORTLAND
Rabbi Dov & Chani Bialo
3355 SE Steele St.
Portland, OR
503-236-6642
Rabbi@seportlandchabad.com
SEportlandChabad.com
We offer a very special, welcoming space for the Southeast Jewish community. Our programming is designed to make you feel at home no matter what your level of observance or Jewish knowledge. Come check us out!
CHABAD OF NE PORTLAND
Rabbi Chaim & Mushkah Wilhelm
2858 NE Sandy Blvd.
Portland, OR
503-309-4490
Rabbi@JewishNortheast.com
JewishNortheast.com
CHABAD OF CLARK COUNTY
Rabbi Shmulik & Tzivie Greenberg
9604 NE 126th Ave.
Vancouver, WA
360-993-5222
JewishClarkCounty.com
Facebook.com/JewishClarkCounty
A community center for families and individuals looking to enhance their awareness, experience and practice of Judaism. Our synagogue, preschool, Hebrew school, women's group, day camp, holiday events and Shabbat dinners are open to the community.
CHABAD JEWISH CENTER OF HILLSBORO
Rabbi Menachem Rivkin, Director
Mrs. Chaya Rivkin, Co-Director and Educational Coordinator
965 SW Brookwood Ave.
503-747-5363
Rabbi@ChabadH.com
ChabadH.com
The first and only Jewish center in Hillsboro & Washington County, we serve the entire community's Jewish needs – Shabbat services & kiddush, Sunday Hebrew school, bar/bat mitzvah classes, weekly classes, women's club, holiday programs and activities.
CHABAD OF SALEM
Rabbi Avrohom & Fruma Perlstein
1370 Crowley Ave. SE
Salem, OR
503-383-9569
rabbi@chabadsalem.com
JewishSalem.com
CHABAD OF EUGENE
Rabbi Berel & Rivkah Gurevitch
239 E 14th Ave.
Eugene, OR
347-272-5845
rabbi@jewisheugene.org
jewisheugene.org
CHABAD OF CENTRAL OREGON
Rabbi Yitzock and Mimi Feldman
Bend, OR
541-633-7991
jewishbend.com
CONSERVATIVE
ANSHE SHALOM
Klamath Falls, OR
541-892-3268
CONGREGATION NEVEH SHALOM
Fred Rothstein, Executive Director
Wendy Kahn, Membership and Development Director
Mel Berwin, Director of Congregational Learning
2900 SW Peaceful Lane
Portland, OR
503-246-8831
info@nevehshalom.org
nevehshalom.org
Portland's welcoming and egalitarian Conservative congregation, Neveh Shalom offers a dynamic array of religious services, the finest Jewish education program from preschool through adult, social justice opportunities, and many cultural and social activities. CNS creates and deepens relationships to Judaism and our community. Come find your place with us! Our Senior Rabbi David Kosak, Cantor Deborah Bletstein, Rabbi Eve Posen, Rabbis Emeritus Daniel Isaak and Joshua Stampfer, and our community look forward to welcoming you.
CONGREGATION SHAARIE TORAH
Gary Fifer, Executive Director
Rabbi Joshua Rose
Dorice Horenstein, Education Director
Elizabeth Fleishman, Preschool Director
Eleyna Fugman, Member Engagement & Outreach
920 NW 25th Ave.
Portland, OR
503-226-6131
cst@shaarietorah.org
shaarietorah.org
Shaarie Torah is revitalizing Conservative Jewish life in the heart of Northwest Portland. An inclusive, egalitarian and multigenerational synagogue since 1905, Shaarie Torah offers innovative Jewish programming, services and activities for every age and interest. Join us for a Shabbat, Saturday morning Kiddush or just stop by and say hi!
HUMANIST
KOL SHALOM
1509 SW Sunset Blvd., Ste. 1E
Portland, OR
503-459-4210
info@kolshalom.org
kolshalom.org
Kol Shalom, Community for Humanistic Judaism, offers a way to be Jewish from a humanist perspective. We welcome all who identify with the history, culture and fate for the Jewish people. We offer a way to celebrate Jewish  identity without requiring belief in a supernatural being or adherence to prescribed rituals. Our purpose is to foster community by celebrating Jewish holidays, festivals and lifecycle events; providing education for all ages; and supporting social justice.
INDEPENDENT
AD OLAM
PO Box 10651
Eugene, OR
541-344-7945
BEIT AM
625 NW 36th St.
Mail: PO Box 1143
Corvallis, OR
541-753-0067
BEIT SALMON
Astoria,OR
CENTRAL COAST JEWISH COMMUNITY
c/o David Gomberg
PO Box 113
Neotsu, OR
541-921-1281
COLUMBIA GORGE HAVURAH
Hood River Valley and Mid-Gorge Region
541-806-0069 (Evenings only!)
CONGREGATION SHIR TIKVAH
Rabbi Ariel Stone
Debbi Bodie, Executive Director
Katie Schneider, Education Director
7550 NE Irving Ave.
Portland, OR
503-473-8227
info@shirtikvahpdx.org
shirtikvahpdx.org
Congregation Shir Tikvah is an independent congregation on Portland's Eastside. We accept Jews from all different backgrounds and acknowledge different ways of practicing and living Jewishly. In addition to services every Friday and Saturday, we have lively Shabbat Torah study, engaging children's education programs for Pre-K thru b'nai mitzvah and festive celebrations. Our open, thought-provoking approach invites you to live Judaism with us through study, prayer, music and acts of social justice.
JEWISH COMMUNITY OF CENTRAL OREGON/SHALOM BAYIT
21555 Modoc Lane, Bend
Mail: PO Box 1773
Bend, OR
541-385-6421
MAYIM SHALOM
Southern Oregon Coast
PO Box 307
Coquille, OR
541-266-0470
NORTH COAST SHABBAT GROUP
Meets at: Bob Chisholm Center
1225 Ave. A
Seaside, OR
503-244-7060
PORTLAND WOMEN'S TEFILLAH
Meets in: Beit Knesset at PJA
6651 SW Capitol Hwy.
Portland, OR
503-246-3185
TEMPLE EMEK SHALOM
1800 E Main St.
Mail: PO Box 1107
Ashland, OR 541-488-2909
UMPQUA VALLEY HAVURAH
PO Box 1821
Roseburg, OR
541-677-0575
ORTHODOX
CONGREGATION KESSER ISRAEL
6698 SW Capitol Hwy.
Portland, OR
503-222-1239
AHAVAS TORAH SYNAGOGUE
2935 Onyx St.
Eugene, OR
541-844-1340
OUTREACH
JEWISH ENCOUNTER GROUP
Portland, OR
503-349-5381
GESHER – A BRIDGE HOME
10701 SW 25th Ave.
Portland, OR
503-246-5070
PORTLAND'S UNSHUL
Portland, OR
503-396-9191
RELIGION OUTSIDE THE BOX
Portland, OR
503-908-4472
RECONSTRUCTIONIST
HAVURAH SHALOM
Rabbi Joseph Wolf
Deborah Eisenbach-Budner, Education Director
Ilene Safyan, Music Coordinator
825 NW 18th Ave.
Portland, OR
503-248-4662
info@havurahshalom.org
havurahshalom.org
Havurah Shalom is a vibrant, diverse and engaged Jewish community. Steeped in Jewish values, Havurah promotes spirituality, learning and acts of social responsibility. In the spirit of giving back to our community, Havurah's High Holiday services are open to the public and free of charge. We hope you will join us for Shabbat, holiday celebrations and High Holiday services.
TEMPLE BETH ISRAEL
1175 E 29th Ave.
Eugene, OR
541-485-7218
TEMPLE BETH SHOLOM
1274 Cunningham Lane S
Salem, OR
503-362-5004
REFORM
BEIT HAVERIM
Mark Newman Co-President
Don Spear Co-President
Rabbi Alan Berg
Services: 1111 Country Club Road
Mail: PO Box 311
Lake Oswego, OR
503-310-9184
office@beithav.org
beithav.org
Beit Haverim is an open, inviting and spiritually alive Jewish community just outside of Portland in Lake Oswego. Beit Haverim welcomes everyone to our Reform congregation of Jews by birth, Jews by choice and Jews at heart. We invite you to visit our congregation, where families and individuals experience the sense of Jewish belonging that comes from shared worship, religious instruction, tikkun olam and social events not too far from home. Affiliated with Union for Reform Judaism.
CONGREGATION BETH ISRAEL
Michael Z. Cahana, Senior Rabbi
Josh Kashinsky, Executive Director
Ben Sandler, Education Director
1972 NW Flanders St.
Portland, OR
503-222-1069
resources@bethisrael-pdx.org
bethisrael-pdx.org
Congregation Beth Israel, affiliated with Reform Judaism since 1879, is a vital center of Oregon Jewish life. Our historic campus serves as a house of prayer, a house of study, and a house of assembly, hosting religious services, celebrations, and ceremonies; preschool, religious school; and opportunities for congregants of all ages to engage in education programming, social action, and advocacy on local and national levels.  CBI's beautifully maintained cemetery is located in southwest Portland.
CONGREGATION KOL AMI
Rabbi Elizabeth Dunsker
Lauren Trexler, Director of Education
Robin Hayden, President
7800 NE 119th St.
Vancouver, WA
360-896-8088
admin@jewishvancouverusa.org
jewishvancouverusa.org
Congregation Kol Ami brings together a Jewish community for worship, learning, social events and tikkun olam. Our worship services are inclusive and energetic, blending traditional with contemporary in prayer and song. Services on all major holidays, Friday Shabbat service, Saturday Torah study and service, and monthly Tot Shabbat service. We have a monthly potluck Shabbat meal. Everyone of all ages is welcome to attend and participate in our services and Shabbat meals. (See Education listing).
OR HAGAN: LIGHT OF THE GARDEN JEWISH COMMUNITY
PO Box 5582,
Eugene, OR
541-520-3434
TEMPLE BETH TIKVAH
PO Box 7472
Bend, OR
541-388-8826
RENEWAL
HAVURAH SHIR HADASH
185 N Mountain Ave.
Mail: PO Box 1262
Ashland, OR
541-488-7716
P'NAI OR OF PORTLAND
Bob Lowe, President
Gayle Lovejoy, Administrator
9750 SW Terwilliger Blvd
Portland, OR
503-248-4500
president.pnaior@gmail.com
admin@pnaiorpdx.org
pnaiorpdx.org
P'nai Or is a vibrant, egalitarian Jewish Renewal congregation. Our joyous worship is infused with singing, chanting and dance. We "pray with our feet" through tikkun olam. We study Torah, Kabbalah, teachings of Chassidic masters and other classic Jewish sources. A diversity of Jewish experience and expression is reflected in our membership; all are welcome. P'nai Or is a place where a Jewish spiritual perspective can flourish. Our intent is to make Jewish spirituality accessible.
SEPHARDIC
CONGREGATION AHAVATH ACHIM
3225 SW Barbur Blvd.
6686 SW Capitol Hwy.
Portland, OR
503-227-0010
BEIT YOSEF
4200 SW Vermont St.
Portland, OR
503-295-1170