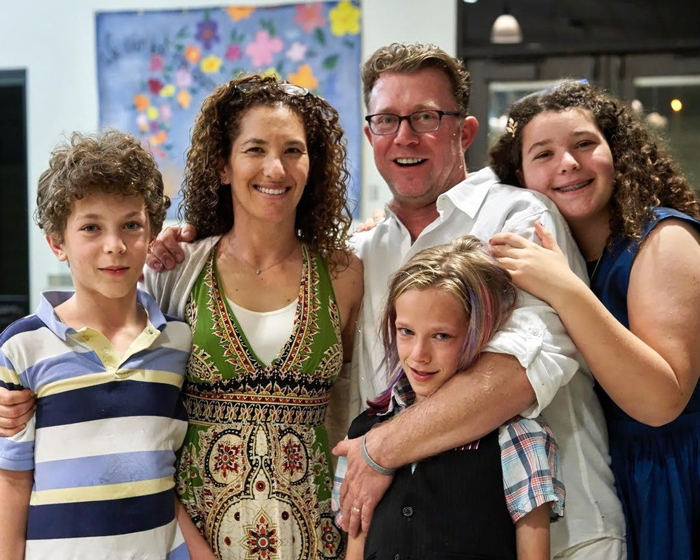 Photo: Rabbi Gary Ezra Oren, wife Sharone and children Kiwi, Nadav and Ya'ara.
On May 10, Congregation Shaarie Torah announced that its search for a rabbi is complete. Rabbi Joshua Rose, who became rabbi at Shaarie Torah in July 2014, is stepping down in June.
Rabbi Gary Ezra Oren will take over as Senior Rabbi of Congregation Shaarie Torah. Rabbi Gary, his wife Sharone, and their children, Ya'ara, Kiwi and Nadav, will join the community in stages over the next year, planning to be on the pulpit in time for the High Holy Days.
Shaarie Torah states, "that Rabbi Oren was a standout among the more than 10 candidates we looked at over the course of the many months of this national search. Though our paths didn't cross until late in the process, we are glad they did. All those involved – the search committee, the board, the staff, and the many affinity groups – feel like we found a very special rabbi who is just the right spiritual leader for our shul. Even more impressive than his outstanding pulpit and academic credentials is his keen interest in enriching and strengthening Shaarie Torah. Rabbi Oren is a person of depth and decency. In other words, a mensch."
"I feel incredibly blessed for the opportunity to serve as Congregation Shaarie Torah's next rabbi," says Rabbi Oren. "In addition to having the chance to work alongside amazing colleagues and committed lay leaders, and as someone who thrives by being in meaningful relationships with others, I'm excited to connect deeply with those who make up the CST family. I want to continue the long legacy of Shaarie Torah being a place for all to assemble; a place where all are included, and everyone feels valued. The Torah tells us that everyone is considered of equal importance in God's eyes. Every person, irrespective of age, gender or status, matters.
"I look forward to celebrating all of life's ups and downs together as we strive to deepen our Torah learning – growing our souls through tefillah, and helping CST take an active role in bettering our local communities. Sharone, Ya'ara, Kiwi, Nadav, Tank, Lola, and I are so excited to join you all soon."
Rabbi Oren was ordained in 2008 from Ziegler School of Rabbinic Studies and is currently serving as chaplain resident at Sharp Memorial Hospital in San Diego, CA. He was executive director of Hillel of San Diego and was the former vice president and dean of AJU's Whizin Center for Continuing Education. Rabbi Oren is an alumnus of California State University, Fullerton where he completed his undergraduate degree, and Tel Aviv University where he studied towards an M.A. of Middle Eastern Studies. Prior to his time as Dean of the Whizin Center, Rabbi Oren spent seven years serving as the Rabbi of Temple Aliyah in Woodland Hills, California.
Shaarie Torah states that they are excited to have Rabbi Oren join them. They know that he will bring fresh energy and ideas, a commitment to traditions, and the experience and vision needed to enrich and strengthen the congregation and help to position the shul for the future.