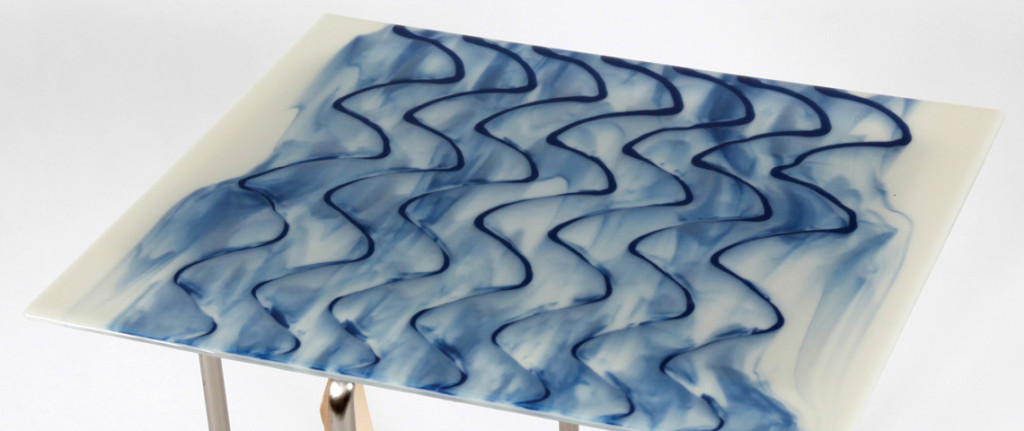 The Chair Affair annual fundraiser coming up this month is just one way the Community Warehouse helps homeowners and people in need furnish their homes in creative and practical ways.
DECORATE
Each year more than 90 artists transform cast-off furniture or household goods into works of art to be sold at the Chair Affair during the evening's silent auction.
"These are very unusual, one-of-a-kind pieces," says Community Warehouse Founder Roz Babener. Initially the annual fundraiser featured chairs converted into works of art that bidders could buy to add flair to a room or garden. But now the artists can select any cast-off item from the warehouse to create a unique piece people can purchase to support the warehouse.
"This is reuse," says Roz. "They take things that had a life and they repurpose them so people can get something unique and support the warehouse."
This year the Chair Affair will also feature tablescapes. The centerpiece, napkins and tablecloth of each tablescape also will be sold through the silent auction for people to use in their own homes.
The evening also includes a live auction featuring vacation packages, a stocked wine cellar and other big-ticket items. For instance, Meryl and Gordon Haber of Lakeside Bicycles donated two Dahon folding bikes, which the committee plans to wrap into a "Portlandia Package," with tickets or gift certificates – so people can ride their bikes to a show or out to dinner in typical Portlandia fashion.
Meryl, a former president of the National Council of Jewish Women-Portland section, says she helps the warehouse because "it's important to me to help families back into regular society. … Roz has done a fabulous job, so I'm happy to support the warehouse."
A paddle raise, or as it is known among Roz's friends, a mitzvah moment, is also part of the evening.
Altogether last year's Chair Affair raised $186,700 for warehouse operating expenses.
And more than 90 people took home creative pieces to give a unique flair to their home decorating.
NEW FURNITURE? DONATE THE OLD
When you buy new furniture for your home, consider donating your old pieces to the Community Warehouse so other families can furnish their homes. Items can be dropped off at either of the two warehouse locations or you can arrange for pickup of furniture you cannot fit in your vehicle. For a list of items the warehouse accepts and to arrange a pickup (there is a $30 fee to offset expenses), visit communitywarehouse.org/request-a-pick-up.
"If you buy new furniture for yourself, the items you are no longer using will be wonderful for one of our families," says Roz.
As the community's only full-service furniture bank, the warehouse provides household goods and furniture that families need as they move out of shelters, off the street or away from undesirable living situations. Last year the warehouse helped 2,481 families served by nearly 200 social service agencies furnish their apartments. The warehouse provided 3,199 mattresses, 3,056 pillows, 1,398 dressers, 1,185 kitchen tables and 3,786 pots and pans, as well as a host of other items families need to live and eat together in their own home.
FIND UNUSUAL ITEMS
Donated items that are not family-friendly are sold in the Estate Stores at both the Portland and Tualatin warehouse. Items such as antiques, art, large dining room tables and buffets, china sets and collectibles are sold at the store with proceeds supporting the warehouse. Outdoor furniture also goes to the Estate Store – "Our clients don't have backyards," notes Roz.
"Lots of young families setting up their homes shop at the Estate Stores," says Interim Director Jessica Thompson, noting those sales cover about a third of the operating budget for the furniture bank.
Many collectors and people looking for unusual items for their home also shop at the stores.
Through both the Chair Affair and Estate Store purchases, community members get distinctive items for their own homes, while enabling the warehouse to provide donated furnishings and household items to families in need.
Through the Community Warehouse, reduce, reuse and recycle is being played out to the fullest in Oregon – and everybody goes home a winner.
The CHAIR AFFAIR
WHEN: 6 pm, April 18
WHERE: Leftbank Annex, 101 N Weidler, Portland
TICKETS: $100 from
communitywarehouse.org/chairaffairtickets