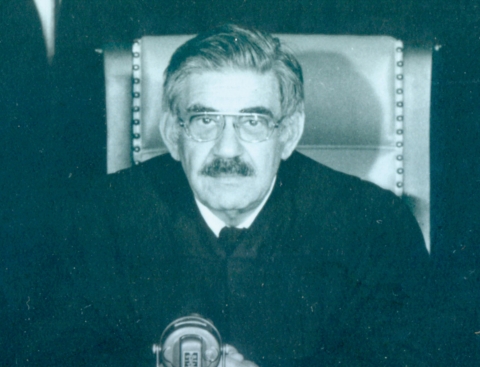 Herbert Schwab inspired many, terrified some and left an impressive legacy both in Oregon law and community service.
Among many other achievements, Schwab, who died in 2005, was the first chief judge of Oregon's Court of Appeals and helped shape and define what is today one of the busiest intermediate appellate courts in the nation.
"He was one of the state's great citizens," says Jake Tanzer, who served with Schwab on the Court of Appeals during the 1970s. "He had an innate sense of justice and what was right and he had the intellect to work it out."
In addition to his tenure on the Court of Appeals, Schwab served on the Portland School Board in the 1950s and later headed a committee to study de facto racial segregation in the city's schools. The committee's lengthy report, published in 1965, drew national attention.
Schwab also helped establish the Portland Legal Aid office and served as a Multnomah County Circuit Court judge before joining the Court of Appeals. After his retirement in 1980, he was appointed one of Oregon's two members on the Northwest Power Planning Council, now the Northwest Power and Conservation Council, which oversees power in four Columbia River Basin states.
After he and his wife, Barbara, moved to Cannon Beach, he served as a municipal judge there, as well as on the city council and planning commission. He was mayor of Cannon Beach from 1991-1994.
"He epitomizes the contribution people can make to society in many different ways," Edwin J. Peterson, a former Oregon chief justice, told The Oregonian. "He was one of the best judges I've ever known and one of the finest people I've ever known."
Born in Portland in 1915 to immigrant parents, Schwab graduated from Lincoln High School at the age of 16. He couldn't afford college, but decided to become a lawyer. He swept floors at the National Cash Register Company to help pay his way and graduated from Northwestern School of Law – now the Lewis & Clark College Law School – in 1939.
He encouraged his sister, Mildred, to follow his path in the law rather than pursue a career in music. She graduated from Northwestern a year after her brother and, after her own legal career, was a high-profile member of the Portland City Council from 1973 through 1986.
Herb Schwab joined the military soon after law school, serving in the Judge Advocate General (JAG) Corps and rising in the ranks during World War II. By war's end, he was an adjutant to U.S. Army Gen. Albert Wedemeyer.
The general encouraged Schwab to make a career of the military, but an incident in India convinced him otherwise: He walked into a restaurant in New Delhi, but had to step over a dead body in order to do so.
"I didn't think a thing of it," he later told Tanzer. "And I began to think: Do I really want to live this way?"
Schwab's daughter, Marty Schwab Harris, said he frequently told that story. "He felt he had become too inured; he wanted to get back to humanity."
After his return to Portland, he married Barbara Hervin Meyer, a widow with two young sons, and practiced law for 13 years before serving as a Multnomah County Circuit Court judge from 1959 to 1966. He returned to private practice briefly, played a key role in creation of the Oregon Court of Appeals and then served as its chief judge for 12 years, beginning in 1969.
According to Fred Leeson, author of Rose City Justice, "Schwab had a reputation as a judge who believed in plain language and speedy results."
"I like the role of resolving disputes and keeping the railroad running," Leeson quotes him as saying.
Tanzer, who joined the Court in 1973 when a sixth seat was added (there are now 10 judges on the Court of Appeals), said Schwab wanted the Court to have a clearly defined and distinctive role.
"Our job, he believed, was to decide cases," Tanzer said. "It's a broad distinction – but the Supreme Court would focus on doctrine and we would decide cases for people. Herb said that people are entitled to decisions and they shouldn't have to wait years for them."
Schwab kept track of court productivity and circulated the statistics. According to Tanzer, he didn't have to remind individual judges if they were lagging: He had a visual aid – a bookshelf behind his desk with stacks of cases awaiting written opinions, sorted by judge.
"It was brilliant and practical," Tanzer says.
Schwab could be gruff or impatient, as lawyers who were not quick to pick up on cues found out. One story, recounted in a colleague's memoir: Schwab held up his pencil, broke it in half and told an attorney, "That's what I think of your argument."
Another time, or maybe more than once, he turned his chair around during a court session while an attorney droned on. There are at least two different reports of why this happened, but no doubt that it did.
"Dad wasn't a mean person," says Harris. "But he could be impatient."
Betty Roberts, the first woman to serve on both the Oregon Court of Appeals and the state Supreme Court, described her relationship with Schwab and some of the other judges as rocky if not hostile, at least for several years after her 1977 appointment.
In her memoir, With Grit and By Grace: Breaking Trails in Politics and Law, Roberts says relationships gradually improved and that Schwab supported her appointment to the Supreme Court.
"I had respect for the position of chief judge," she wrote. "And Herb Schwab, as the Court's first chief judge, had done a fine job of organizing the personnel and work of the court."
Harris notes that her father was proud of the Court of Appeals – its efficiency and the quality of its opinions – but that he considered his work on the Portland School desegregation issue his greatest accomplishment.
The 249-page report of the Committee on Race and Education was completed over more than 13 months, spearheaded by Schwab and a committee of 38 whom he called "a cross-section of the conscience of Portland."
The Oregonian praised the report as "one of the most comprehensive ever made on the subject in any American city, regardless of size." It reviewed de facto segregation in city schools and made numerous recommendations, including a Model Schools program, to address inequities in opportunities and achievement.
At a celebration of their 50th wedding anniversary, Schwab credited his wife with encouraging him to become involved in community service. It was a passion they shared, working together on the Cannon Beach History House and the Cannon Beach Arts Association, among other projects.
One of his techniques, Harris said, was to hold regular "coffee club" gatherings, both during his time on the Court and in Cannon Beach. He would go to a coffee shop and invite others to join him for an informal chat about whatever might be on their minds.
"He just attracted people and he really enjoyed them," Harris said. "He had a booming voice, he was a great storyteller, very well read, thoughtful and incisive."
"He enjoyed the study of law, the concept that law is meant to make things fair," she added. "He really enjoyed the sessions where the judges would all sit around and discuss the cases, argue the points."
Harris, who now lives in her parents' home in Cannon Beach, has continued her parents' tradition of community involvement through the Cannon Beach Backpack Program, which provides supplemental food for elementary school students, the arts association and other endeavors.
"He was an advocate for fairness," she said. "And he was a mensch."
In an Oregonian interview in 1984, Schwab said that neither he nor his sister (who died in 1999) viewed public service as a sacrifice.
"It's been a pleasant life and a comfortable, satisfying one," he told a reporter after he was elected to the Cannon Beach City Council. "I don't think either one of us would want to be talked about in terms of sacrifice. We've done what we wanted to do."
Sura Rubenstein is a freelance writer in Portland.