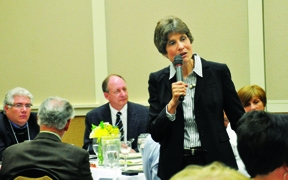 About 70 Jewish communal professional and lay leaders explored how legacy giving can ensure the community's future at a May 24 program hosted by the Oregon Jewish Community Foundation Professional Advisors Group.
"This is not about fund-raising. … This is about giving someone the opportunity to be remembered after they are gone," said Gail Littman, director of the Create a Jewish Legacy program.
Littman told community leaders they don't need to reinvent the wheel to create a legacy program. She shared some of the tools and experiences of the San Diego Jewish Community Foundation. She said one of the most important things she learned is the need to thank donors properly. Annual, capital and legacy donors should be thanked regularly and told what their contributions make possible.
She shared a short clip from San Diego's Book of Life video project that showed one legacy donor explaining why she had made a legacy gift: "We as seniors owe the young people the opportunity to make successes of their lives. … The reward you give yourself (by leaving a legacy) is probably one of the greatest rewards."
For more information, contact OJCF at 503-248-9328 or visit www.ojcf.org.
PHOTO: Gail Littman, vice president of endowments and communications of the San Diego Jewish Community Foundation, tells Oregon Jewish leaders how 20 organizations in her community have gained an estimated $211 million in legacy gifts from about 900 families since creating a community-wide legacy program in 2004.