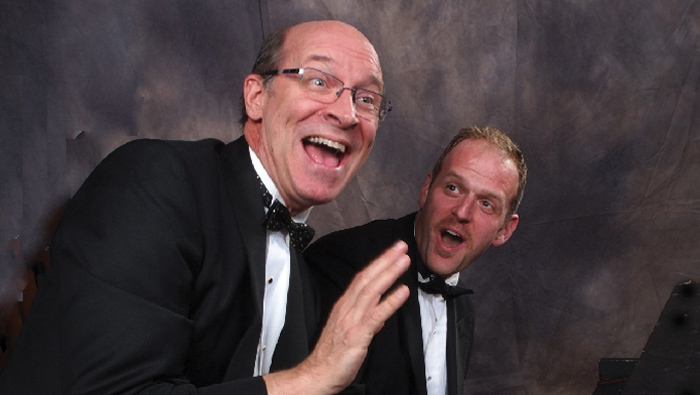 While the entertainers will be dueling, supporters will come together to show their "Love, Honor, Respect" for the residents of Cedar Sinai Park.
The March 4 benefit for the CSP residents will include hosted cocktails, appetizers, dinner and dessert.
Entertainment for the evening is The Dueling Pianos of Jim Fischer and Kevin Guitron. The evening's emcee will be David Lippoff, husband of CSP Board President Liz Rabiner Lippoff. Mother-daughter duo Beverly Eastern and Michelle Eastern Gradow reunite to chair this year's benefit for the second year.
"We have so many generous sponsors and supporters, and with their help we will continue our mission to honor our fathers and mothers," says Bev of the annual celebration.
Both co-chairs have a long history with Robison Home, the "legacy building" on the CSP campus, and with chairing the annual gala.
Starting in the 1970s, Bev and her husband, Stan, chaired the annual gala for at least 15 years. Stan and Bev also both served as presidents of the Robison board. Michelle has hosted the event several times over the past nine years. But last year was the first time the two women joined forces.
"When they asked my mom and me to do it together, it really made it special for me," says Michelle, who is president of the Friends of Robison (formerly Sisterhood) and has served on the CSP board for many years.
"The Robison Home has been part of our family for many, many years," Bev explained before last year's event. "I had a mother and an aunt residing at the home, and working for Robison has given all of us self-satisfaction in knowing that we have helped in some small way to improve the quality of care for our elderly."
Now Bev and Michelle are inviting the community to enjoy that same sense of satisfaction while also enjoying a great evening.
LOVE/HONOR/RESPECT
WHEN: 6 pm, March 4
WHERE: Pavilion Ballroom in the Hilton Portland
PRESENTED BY: the Harold & Arlene Schnitzer CARE Foundation/Arlene Schnitzer and Jordan Schnitzer
SPONSORSHIP: Contact Teri Patapoff at 503-535-4360 or patapofft@cedarsinaipark.org
TICKETS: $118
INFORMATION: cedarsinaipark.org/annualevent