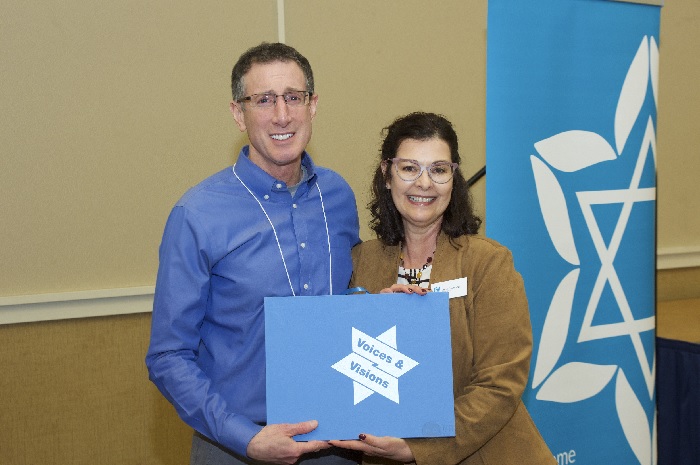 Photo: OJCF Board Member and former Chair Eric Rosenfeld and OJCF President and CEO Julie Diamond display a copy of Voices & Visions, published by the Harold Grinspoon Foundation. Photos by Naim Hasan Photography
What does Life & Legacy success look like? In Oregon and SW Washington, it looks like 10 organizations' legacy teams collaborating over the course of four years, talking to hundreds of community members and securing 516 legacy commitments. These gifts represent an estimated future value of $25.8 million that will benefit our community's Jewish organizations. The Life & Legacy program has shown our community that when we work together we are all stronger, and the Oregon Jewish Community Foundation couldn't be prouder.
"It has been OJCF's privilege to bring this effective legacy initiative to Oregon and SW Washington," says OJCF President and CEO Julie Diamond. "The foundation, in partnership with the Harold Grinspoon Foundation, has provided legacy education and financial support with incentive grants to the participating organizations. This has changed the philanthropic culture of our community. Legacy giving is now more integrated into our conversations and actions than it was just five years ago."
Bringing the Life & Legacy program to our community in 2013 was a shared effort. "Five years ago, OJCF's board, under the leadership of then Chair Eric Rosenfeld, recognized the significant impact the program could have on our community," says Steve Laveson, OJCF board chair. "Eric and Julie worked together to raise the necessary local funds from OJCF's board, fund holders and other community members to meet the Grinspoon Foundation's participation requirements."
Ultimately $300,000 was raised locally from donors and OJCF's Community Endowment Fund. The Harold Grinspoon Foundation, in turn, matched the funds and contributed about $305,000 to our community over the course of the past four years. Of these dollars, $280,000 in incentive grants flowed to the 10 local Life & Legacy participating organizations. Financial rewards now and later are a hallmark of the program and its achievements.
Our region is in good company and not alone in its success. The Life & Legacy program is now in 52 communities with 558 participating organizations across North America. As of the end of 2017, a total of 17,627 legacy commitments had been secured by partner communities with an estimated future value of $672 million.
Congregation Beth Israel, one of the local participating organizations, was fortunate to come to the program with a legacy initiative and Legacy Circle already in place; however, the CBI team welcomed the opportunity to receive training regarding how to both recruit and maintain legacy donors.
"The Life & Legacy program encouraged our community to come together both for workshops and to best determine how we can most effectively engage our community's stakeholders to secure our future," according to a statement from CBI Development Director Jen Feldman and Executive Director Josh Kashinsky.
"And, being totally honest, the incentive grants certainly helped keep the program at the top of our to-be-accomplished list," Jen adds.
While the official four years of Life & Legacy have concluded, the foundation's commitment to assisting the community's legacy efforts is ongoing. OJCF will continue to provide legacy support and education for all of its partner organizations, and the Life & Legacy organizations will be eligible to receive modest incentive grants to ensure that the momentum gained over the last several years is not lost.
"Life & Legacy has propelled OJMCHE to initiate conversations with museum friends about our long-term goals and aspirations," says Judy Margles, director of the Oregon Jewish Museum and Center for Holocaust Education. "With nearly 50 legacy commitments, we have reason to feel confident about our future well-being, and we are forever grateful to OJCF for including us in the program. We hope to double our legacy commitments over the next 10 years!"
Life & Legacy has impacted the way our community views endowments and legacy giving. Before OJCF brought the program to the area, after-lifetime giving and endowments were understood to be important but were not a priority. Now, with four years of the legacy initiative under our collective belts, everyone agrees that both are essential to ensure strong Jewish tomorrows. This is success indeed.
Gail Mandel is the legacy development and marketing manager at the Oregon Jewish Community Foundation.
Life & Legacy
Life & Legacy promotes after-lifetime giving to benefit local Jewish day schools, synagogues, social service organizations and other entities. Through training, support and monetary incentives, Life & Legacy encourages Jewish organizations to integrate legacy giving into their philanthropic culture in order to assure Jewish tomorrows.