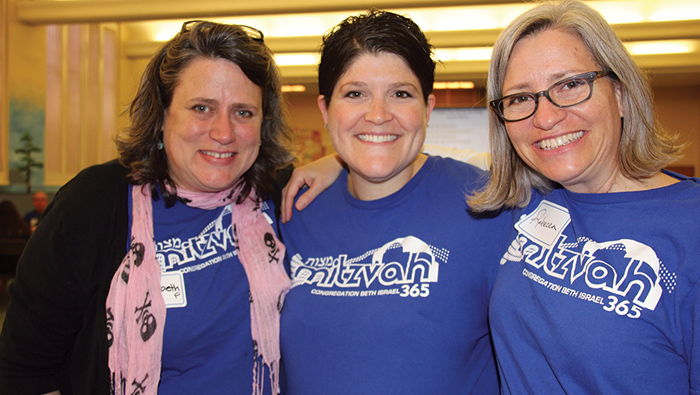 Rachel Joseph came on as assistant rabbi at Congregation Beth Israel in Portland right out of rabbinical school five years ago. But she already had a clear vision of who she was, what it means to be a rabbi and what kind of rabbi she wanted to be.
She was 35 years old – she'd lived a little already. In her 20s, armed with a keen sense of social justice and an Ohio University degree in interpersonal communication, Rachel headed to Washington, D.C., to fight the good fight. She started with the Religious Action Center for Reform Judaism and followed up with Americans United for Separation of Church and State. After eight years, she decided that, for her, meaningful work in social justice would need to go hand in hand with service to the Jewish community. She was ready to become a rabbi.
She knew a little something about rabbis. Her father, Rabbi Samuel Joseph, is a professor at Hebrew Union College with a Ph.D. in education. He travels the world helping rabbis, boards and staff improve their leadership and teaching skills. Rachel and her mom and sister would sometimes go along, and she watched him in action. Rachel's love of learning and her absolute dedication to family were solidified during that time.
RABBINIC VISION
Rachel had a clear view of what kind of rabbi she wanted to be. She wrote a vision statement during her fifth year at Hebrew Union College, and the themes that sang to her then still resonate now as she has risen from neophyte assistant rabbi to respected associate rabbi at the oldest congregation in Oregon. Those themes are community, connection and social justice. From her grad school vision statement:
"My vision is to build strong and vibrant Jewish communities … through the development of … deep, meaningful relationships (that create) deep communities of meaning."
"I will help (people) connect on a substantive level … thus realizing they are not alone but in a community with other people."
"Community and social justice should be the core values of the synagogue, along with the pillars of prayer and study. I want to motivate my own congregants to engage in the work of repairing our broken world through … partnerships with the greater community in which we live."
Today, the importance of community, connection and social justice are part of her answer to just about any question I asked her about her work.
Why is Judaism important in these troubled times?
"People (especially today) all feel some anxiety; we don't know where to turn. We look for the center, that calm in the storm, and nobody should have to do that on their own. A house of worship is the last bastion of hope.
People can come to us to find community and comfort, security and strength."
What do you say to young people who have drifted away from their Judaism?
"I talk about community, something bigger than you or your family. The Jewish community is a place where you can go, engage in dialogue, find peace and direction, wholeness and purpose. Finding meaning is what people want."
Much of your activity has been focused on social action. Why is that?
"As a minority, as a Jewish lesbian, social justice is incredibly important to me. In our tradition, we are required to leave this world better than we found it. That's what we're here to do."
FITTING VISION INTO BETH ISRAEL
CBI seems to be the right fit for someone with the three passions – community, connection and social justice – Rabbi Joseph espouses.
"In a place like this, where you have people of all ages, all stages, we can have a dramatic impact on our community and on our world," she says. "I believe that it starts where you are, but (within an inclusive, active community) it blossoms out in ways that we can't comprehend."
Ilene Davidson chaired the Social Action Committee when Rabbi Joseph started at CBI and has worked with her all five years. "Rabbi Joseph was absolutely instrumental in creating a vibrant social action community, with new membership and meaningful outreach to the community. The focus went from distributing money to actually having people engaged."
Ilene credits Rabbi with the creation of the Hineinu two years ago, an ambitious program designed to do just what Rabbi always envisioned: turn a congregation into an engaged community. "Hineinu" means we are here in Hebrew. "We created affinity groups to target specific interests within our membership," Ilene explains. "That is important because we didn't have an organized method of engaging the various constituencies within the congregation. Today there are groups based on age, based on neighborhood, based on family structure."
It culminated this spring with a very successful CBI "Shares Shabbat" with over 300 members hosting or attending Shabbat dinner on a single night.
One thriving and particularly satisfying project for Rabbi Joseph at CBI is the relationship they have forged with the residents of the 13-story Northwest Tower, Section 8 affordable housing that dominates the view outside her office window. Every day it reminds her that they are part of a neighborhood, part of a community. Congregants help with food and holiday celebrations but also with tutoring, advocacy, intervention and many other kinds of assistance that the residents might need as they struggle with a myriad of issues.
"They are our neighbors," Rabbi Joseph says. "There are lovely people there, and when horrible things happen – when people get displaced, a kid is about to drop out of school – we've built a partnership and a relationship. We can help." It is clear that both communities – Northwest Tower and CBI – benefit from the larger community they have created together.
Rabbi Joseph also values connecting one on one. "When my husband, Tom (z'l), fell three years ago, she would visit him at home and at the rehab facility," says Linda Georges. "She challenged his Judaism, his hobbies, his intellect. When he was dying, one of his last requests was to speak with her. She is so very compassionate, actually helping us fill out the forms to clarify his needs and wishes for his end of life … and then helping me follow his wishes even when they were different from my own." She is, Linda believes, "always giving to others before herself."
This focus on each individual extends to our youth, as well. Michelle Gradow tells of how wonderful Rabbi Joseph was when their daughter, Mallory, was preparing for her bat mitzvah. "She pushed her," Michelle says, but in a way that worked. "The kids adore her. She is a wonderful role model for them."
Rabbi Joseph is good at this, CBI member Ilene Davidson believes, because "she has a tremendous sense of justice, of inclusion. And she is fabulous to work with. She's respectful: you can have an open dialogue with her. She is willing to negotiate but is always true to her values."
BOARD OF RABBIS CHAIR: COLLABORATION
These qualities may have contributed to Rabbi Joseph's newest community assignment. On July 1, she became the chair of the Oregon Board of Rabbis, quite an honor for an associate rabbi. "Our board of rabbis is unique in that we have everybody sitting at the table together – Orthodox, Reconstructionist, everybody. It doesn't happen in some communities, but here we are very collegial." She plans to be, as she puts it, "a collaborative leader. I don't intend to drive the agenda myself but rather work together on what we want to focus on."
Portland, she says, is an interesting place. We distinguish between people who have always lived here and those who have only been here 40 years or so, but Portland is "a menschy community. There is openness, patience and acceptance, and I appreciate that."
Ilene says that goes both ways. "Rabbi Joseph has been wonderful in terms of welcoming everybody into the congregation." Diversity is a priority.
"My philosophy is 'Big Tent Judaism,' " says Rabbi Joseph. "You surround people with love, wrap your arms around all people at all times. It's about love, kindness, acceptance. All are welcome."
As Rabbi Joseph knew, even in rabbinical school, "I want to foster relationships that lead to connections … that lead to involvement and ultimately to sacred community where congregants feel comfortable lifting their voices in prayer, diving into exploration of our texts and joining together to pursue justice in our world."
Liz Rabiner Lippoff is a marketing consultant, freelance writer and community volunteer. LizInk.biz