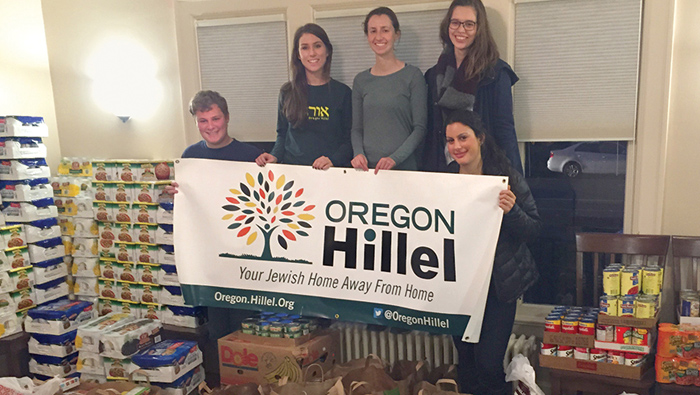 Recognizing that learning is a lifelong process, adults start or return to universities at any age to further their career goals.  Many adults also enjoy less rigorous adult education programs to expand their understanding  and knowledge about the religion, culture and language of the Jewish people.
Social and networking groups are another way to learn and grow throughout life.
COLLEGES
THE HAROLD SCHNITZER FAMILY PROGRAM IN JUDAIC STUDIES AT PORTLAND STATE UNIVERSITY
Natan M. Meir, Academic Director
Patricia Schechter, Acting Academic Director, 2016-17
University Center Building,
Ste. 465
1881 SW 5th Ave.
PO Box 751 – JST
Portland, OR
503-725-8449
judaicst@pdx.edu
pdx.edu/Judaic
The Harold Schnitzer Family Program in Judaic Studies fosters academic achievement, leadership skills and civic engagement through the interdisciplinary study of Jewish history and culture. Our faculty – Natan Meir (Lorry I. Lokey Assoc. Professor of Judaic Studies – modern Jewish history), Nina Spiegel (Rabbi Joshua Stampfer Assoc. Professor of Israel Studies), Asst. Professor Loren Spielman (ancient Jewry) and Professor Michael Weingrad (modern Jewish literature) – create an enriching, stimulating atmosphere for a diverse, engaged group of students.
THE HAROLD SCHNITZER FAMILY PROGRAM IN JUDAIC STUDIES AT THE UNIVERSITY OF OREGON
Deborah Green, Director
Susan Campbell Hall, Rm 311
1431 Johnson Lane
5273 University of Oregon
Eugene, OR
541-346-5288
dagreen@uoregon.edu
judaicstudies.uoregon.edu
Established in 1998, the Harold Schnitzer Family Program in Judaic Studies at UO provides a comprehensive undergraduate curriculum in the history, religion and civilization of the Jewish people. We offer two years of Hebrew language and literature. A Judaic studies major leads to a Bachelor of Arts degree; a Judaic studies minor is also offered. Students can study in small class settings with well-known professors and visiting scholars and can enjoy robust study-abroad programs.
SCHOLARSHIPS
ARTHUR P. KRICHEVSKY MEMORIAL SCHOLARSHIP
ojcf.org/receive/receive-a-scholarship/
Funding for students pursuing post-high school Jewish education through qualified programs at accredited educational institutions in the United States. Greater consideration to applicants showing the highest levels of commitment to Jewish study, community service and/or outreach.
REBECCA AND SADA TARSHIS MEMORIAL SCHOLARSHIP
ojcf.org/receive/receive-a-scholarship/
Tuition assistance for Jewish students, who are Oregon residents, for higher education, including college, university and/or graduate school. Tarshis does not provide funding for gap programs or overseas trips or study.
SUSSMAN FUND FOR UNDERGRADUATE STUDIES
jewishportland.org/ourcommunity/youth
Rachel Rothstein: rachelr@jewishportland.org
The fund was established by Lillian and Gilbert Sussman to provide grants to Jewish students from the Portland area for their higher education. Students pursuing undergraduate studies at an accredited college in the U.S. are encouraged to apply by May 1.
ADULT EDUCATION
BENAROYA JEWISH LEARNING ACADEMY
Rabbi Motti Wilhelm, Director
Chabad of Oregon
2317 SW Vermont St.
Portland, OR
503-977-9947
RabbiMotti@ChabadOregon.com
ChabadOregon.com/JLI
The Benaroya Jewish Learning Academy provides JLI courses locally. JLI is the world's preeminent provider of Jewish learning. CLE & CME accredited courses. An aha! moment in every lesson. See profile in Education section.
CONSCIOUS TORAH
2531 Chula Vista Blvd.
Eugene, OR
541-514-2571
EUGENE MELTON SCHOOL
1175 E 29th Ave.
Eugene, OR
541-485-7218
INSTITUTE FOR JUDAIC STUDIES OF THE PACIFIC NORTHWEST
2900 SW Peaceful Lane
Portland, OR
503-246-8831
INTRODUCTION TO JUDAISM CLASS
Oregon Board of Rabbis
Portland, OR
503-639-0853
JAN'S JEWISH LEARNING
Portland, OR
503-235-2416
NEVEH SHALOM ADULT EDUCATION
Mel Berwin, Director of Congregational Learning
2900 SW Peaceful Lane
Portland, OR
503-293-7306
Full range of options: Machon Ivrit Modern Hebrew Institute, Siddur Hebrew and synagogue skills, Shalom for the Soul, Torah and text classes, and "a la carte" learning. September sample sessions include "Alef-Bet on one foot."
PORTLAND KOLLEL
6688 SW Capitol Hwy.
Portland, OR
503-245-5420 ext. 613
CAMPUS GROUPS
AKIVA COLLEGE PROGRAM
At University of Oregon
541-221-2073
CHABAD HOUSE AT THE UNIVERSITY OF OREGON
Rabbi Berel & Rivkah Gurevitch
239 E 14th Ave.
Eugene, OR
347-272-5845
rabbi@jewisheugene.org, Rivky@jewisheugene.org
jewisheugene.org
Chabad seeks to create an environment where every Jewish student, from any background, feels welcome and accepted. We focus on the individual as well as the collective, offering a wealth of social, educational and spiritual programs.
CHABAD AT REED
Rabbi Dov & Chani Bialo
3355 SE Steele St.
Portland, OR
503-752-2258
RabbiDov@jewishreed.com
JewishReed.com
Building Jewish community by promoting Jewish pride, study and celebration for all Jews regardless of background or affiliation. Dozens of engaging events on and off campus educate and empower students to live the joys of Judaism.
GREATER PORTLAND HILLEL
PO Box 1547
Portland, OR
503-867-3646
HILLEL AT THE U OF O
1059 Hilyard St.
Eugene, OR
541-343-8920
HILLEL AT OSU
240B Moreland Hall
Corvallis, OR
541-343-8920
LEWIS & CLARK HILLEL
MSC 171
0615 SW Palatine Hill Road
Portland, OR
503-768-7082
YOUNG ADULT
JEWGENE
Eugene, OR
541-343-8920 ext. 101
JEWS NEXT D'OR
1972 NW Flanders
Portland, OR
503-222-1069
MOISHE HOUSE PORTLAND
503-781-9895
OJCF GIVING COUNCIL
1618 SW First Ave., Ste. 210
Portland, OR
503-248-9328
The OJCF Giving Council is comprised of young Jewish professionals who pool their charitable donations to give collaboratively. Members explore their common Jewish values as well as community needs and award grants to deserving organizations.
PORTLAND JEWISH EVENTS
Portland, OR
248-760-0743
URBAN JEWS PDX MEETUP
Portland, OR
SOCIAL/NETWORKING GROUPS
J-PRO OREGON
Jewish communal professionals
503-245-6219
JEWISH DAD'S NIGHT OUT
Portland, OR
503-293-7313
MOTHER'S CIRCLE
Portland, OR
503-293-7313
OJCF PROFESSIONAL ADVISORS GROUP
1618 SW First Ave., Ste. 210
Portland, OR
503-248-9328
OJCF's Professional Advisors Group is comprised of attorneys, accountants, and financial/wealth advisors. The group gathers for lunch meetings 2-3 times per year and provides educational programming, continuing education credits and networking opportunities for attendees.
NEXT GENERATIONS GROUP
nextgenerationsgroup.wordpress.com
A program of the Oregon Jewish Museum and Holocaust Education Center, these monthly get-togethers are for those who are and would like to meet up with fellow descendants of Holocaust survivors, refugees and war heroes.
PDX MOTS
Portland, OR
WOMEN'S PHILANTHROPY
Portland, OR
503-892-3015
SPECIAL NEEDS RESOURCES
KEHILLAH HOUSING AT CSP
(Special needs housing)
6125 SW Boundary St.
Portland, OR
503-535-4300
PARTNERS FOR INDEPENDENCE
Brian Fallon, Lifeline Program Director
1221 SW Yamhill St., Ste. 301
Portland, OR
503-226-7079 ext. 121
jfcs-portland.org
Through the Partners for Independence program, our skills trainers and behavioral consultants help people with intellectual and development disabilities access the resources they need to make well-informed choices about living, learning and working.
TIKVAH/JFCS
Portland, OR
Social/recreation for ages 18+
503-226-7079 ext. 121
YISMEHU, JEWISH LEARNING FOR THE VISUALLY IMPAIRED
4742 Liberty Road South #323
Salem, OR
503-391-7754