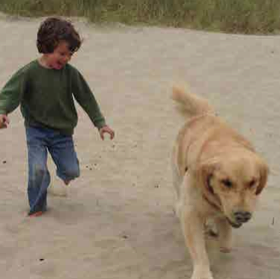 When Lucy, the Cohn family's dog, died suddenly of cancer two years ago, Lisa and her then 4-year-old son Michael wrote a story about their beloved pet to keep her alive forever.
Lisa had started writing about their wonderful Lucy, a golden doodle, to deal with her grief, but when Michael heard what she was doing, he created a full story line that has been published as Bash and Lucy Fetch Confidence. Illustrated by Heather Nichols of Portland, the book won a Mom's Choice Silver Award and was a finalist in the 2013 USA Best Book Awards.
Lucy isn't the only thing to live on in print and audio. The two authors want to instill confidence and other positive traits in their readers, while also benefiting animals.
Now available in paperback and as an audiobook, half of the proceeds benefit the Oregon Humane Society. At a book release party last year, the book raised about $300 for OHS. This fall Michael and his friends, Edward, Matthew and Adam Stipkala, read portions of Bash and Lucy at a fundraiser for OHS, along with a group of dog book authors who also read. The event raised more than $400 for the organization, which helps find homes for dogs from all over the country.
The desire to help others is a family tradition. Lisa's grand- mother, Margaret Cohn, z"l, was a cultural and human rights leader who co-founded Planned Parenthood, originally called Maternal Health Association, in Buffalo in 1931. Margaret Cohn held leadership roles in many organizations, including Temple Beth Zion Sisterhood, Jewish Family Service, Brandeis University Women's Committee and Camp Lakeland, where Lisa worked as a camp counselor decades later. Though the family now has a new golden retriever, Hudson, Lucy still lives on in their imaginations and readers' hearts in Bash and Lucy Fetch Jealousy, due out this month in time for Hanukkah. The two expect to continue the series to teach children about a variety of traits through the adventures of Bash and Lucy.
The second book was funded by a Kickstarter campaign, with some of the donors, including a boy and his service dog, featured in the book. Lisa says they offer the audiobook and book free to elementary schools in the hopes of sharing with young children Michael's enthusiasm for dogs, reading and writing. In addition to the message of confidence in the first book, Lisa and Michael also other teach young kids to believe they, too, can write a book or follow their dreams by using their "screen time" in positive ways.
Michael also shares his passion for books and dogs in an audio blog where he reviews dog books. The Scooby-Doo mystery series is his latest favorite.
Now 6, Michael has been featured on the Today Show, SiriusXM Radio, in Disney's Babble and other media for his love of reading and involvement in this project.
For more information on the books or the authors, or to listen to Michael's book reviews, visit BashAndLucy.com.
Just in time for Hanukkah Bash and Lucy Fetch Jealousy book release party!
What: Bbenefit for the Oregon Humane Society with raffle, caricatures and book sales, and performance by kids' musician "Mr. Hoo"
When: 4-6:30 pm Sunday, Dec. 7 where: Sniff Dog Hotel, 1828 NW Raleigh St., Portland