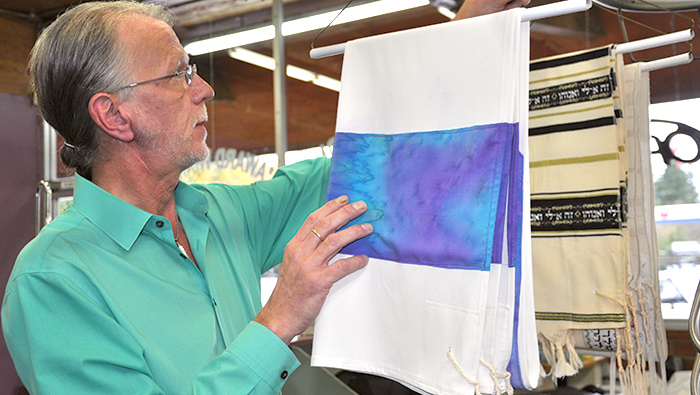 Dry cleaner Brian Olson feels a little slice of Shabbat every time he cleans a tallit – and he cleans a lot of them. For the past four years, Brian has cleaned tallitot for free for Portland-area synagogues.
He has done free cleaning for congregations Havurah Shalom, Neveh Shalom, Shaarie Torah and Shir Tikvah. Beit Haverim, where he is a member, doesn't have congregational tallitot, but Brian did clean the congregation's Torah cover. Many individuals also trust Brian to clean their tallitot and other religious items such as kippot, challah covers and matzah covers. On average, he cleans two to three tallitot every week – and each one gets his personal attention.
Brian's 45th Avenue Cleaners specializes in giving Jewish ritual objects the hands-on, reverential care Brian believes they deserve.
Before he opened 45th Avenue Cleaners in 1991, Brian says he worked with other dry cleaners, who just put tallit in the regular mix of dry cleaning for that day. Most cleaners have no idea that a tallit is a prayer shawl with spiritual significance. So when he opened his own business, he decided he personally would clean any tallit that came through the door.
He hangs each tallit in a special area and cleans it individually. Before he presses the tallit, he checks each of the knots on the strings, or fringes, tied to each of the four corners of a tallit with five knots in each fringe.
At first he would only work on tallit when he was in a positive mood. But he says he has learned the tallit can supply the positive energy he needs so that each one "comes out beautifully."
"There is an energy from the person who wears it," says Brian. "You pick it up and realize it is a holy garment. It brings me a little bit of Shabbat while I am at work."
A Jew by choice, Brian was introduced to Judaism by his partner, Andy Hamon, z"l, with whom he spent 20 years. When they first met, Brian says Andy was "culturally" Jewish. When Andy decided he wanted more, "he explored it … and brought me with him." The couple joined the South Metro Jewish Community, now Congregation Beit Haverim in Lake Oswego.
Following Andy's death in 2003, Brian became chair of Beit Haverim's cemetery committee. For several years, he went to the Lake Oswego Pioneer Cemetery before the High Holidays and cleaned all the headstones in Beit Haverim's section using water and a toothbrush.
Brian's tikkun olam efforts also extend to the environment. In the mid-1990s, he became Portland's first Certified Environmental Drycleaner. Now a solvent-free cleaner, he no longer needs the CED since that certification regulates the proper use of solvents harmful to the environment. Though solvent-free cleaning takes longer, he says he considers it worth it to use the most eco-friendly technology in the industry.
Over the years Brian has earned numerous awards from dry cleaning and environmental groups. His 45th Avenue Cleaners was one of 12 dry cleaners recognized nationally with the Model Cleaner Award from the National Waste Prevention Coalition. He received the Environmental Protection Agency Region 10 Evergreen Award, and in 2004 the Oregon Department of Environmental Quality recognized him for "exemplary public service."
"I was the first (Portland) cleaner to embrace the green ethic," says Brian, noting that in addition to the green cleaning techniques, he also recycles everything possible.
He married Calvin Carter at Beit Haverim in 2010 in a ceremony officiated by Rabbi Larry Halpern and Rabbi Alan Berg. After same-sex marriages were legalized in 2014, the couple had a legal wedding July 27, 2014. That wedding was officiated by Andy's daughter, who is ordained. Last year when Andy's grandson married, Brian and Calvin became ordained so they could return the favor and officiate at his wedding.
Since cutting back on his staffing during the last recession, Brian has worked such long hours that he seldom has time to attend services or volunteer in the community.
So he was delighted when a woman from Havurah Shalom called him in 2013 to inquire about the cost of cleaning all of their tallitot before the High Holidays. Though he charges individuals $18 to clean a tallit and bag, he told her, "I'll do that for free for the congregation."
"All of a sudden I'm active in the community again," says Brian. "I am using my business to provide the same kind of community work I used to do."
As other congregations heard of his offer, he's gotten very busy before the holidays. He says he will happily add other congregations to his mitzvah project, but he does encourage them to bring items in well before the holidays so he has enough time to get them all done with the attention they deserve.
He's expanded his cleaning for congregations to other hard-to-clean items, such as Torah covers and kippot.
"If it's for a congregation, I don't charge," he says.
Brian's commitment to Judaism and the environment provides twin blessings – reverently cleaned tallitot across town along with Shabbat peace for a busy man.
45TH AVE. CLEANERS: 4400 SW Multnomah Blvd., Portland | 503-244-9707