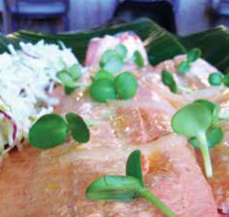 The long days of summer are winding down and the fall season is upon us. The sun sets earlier and the kids are back in school. This year Sept. 4 through 14 marks the Days of Awe – Rosh Hashanah and Yom Kippur.
Food plays an important role in celebrating Jewish holidays. Rosh Hashanah is a time to eat apples and honey symbolizing hopes for a fruitful and sweet new year. On Yom Kippur, fasting is required from sun down to sun down.
Families "break the fast" with a lighter meal usually prepared in advance. This typi- cally includes dairy products because they are easier to digest after a long and difficult fast. Bagels and cream cheese, noodle kugel, blintzes and coffee cakes are often served at the break the fast. Smoked fish, tuna and herring can also be included as part of this traditionally dairy meal.
This delicious poached salmon recipe can easily be made a day in advance and be waiting in the refrigerator for you serve as the center of your break-the-fast meal. As an accompaniment, julienned apples, thinly sliced fennel and spicy radishes make a sweet and colorful slaw to serve alongside. Round out your meal with a creamy savory noodle kugel or bagels and cream cheese. For dessert try purchased coffee cakes or fresh fruit, or try making monkey bread (see below).
POACHED SALMON WITH GREEN APPLE, RADISH AND FENNEL SLAW
2 whole salmon fillets
2 tablespoons kosher salt
2 cups dry white wine
4 cups water
2 lemons, sliced
1⁄2 small sweet onion, sliced
2 tablespoons favorite seasoning
Blend such as Old Bay
Preparation: Fill a fish poacher or another pan large enough to hold the salmon with enough water to cover the fish completely. Add about 2 tablespoons of kosher salt. Bring water to a boil, and then turn down to a simmer. The water should be bubbling, but just barely. Place fish in simmering water and poach for 10 minutes per inch of thickness of the fish. Remove fish to a glass baking dish. Meanwhile in another pan bring white wine, 4 cups water, lemon, onion and seasoning to a boil. Allow mixture to gently boil for about ten minutes. Pour hot liquid over fish and allow to cool slightly before covering with plastic wrap and placing in refrigerator. Allow fish to chill in the refrigerator for at least 12 hours before serving. When ready to serve, gently lift fish from poaching liquid and allow to come to room temperature. Serve on a platter with fennel and apple slaw alongside.
FOR THE SLAW
3 granny Smith apples, julienned on a mandolin
2 large bulbs fennel, core removed and thinly sliced
(save a few fennel fronds for garnish)
2 green onions, thinly sliced
1 bunch radishes, thinly sliced
1/3 cup mayonnaise
1⁄4 cup buttermilk
2 tablespoons honey
2 tablespoons apple cider vinegar
1 teaspoon dijon mustard
1⁄2 teaspoon celery seed
Salt and pepper to taste
Preparation: Place mayonnaise, buttermilk, honey, vinegar, mustard and celery seed in small bowl and blend until smooth. Season to taste with salt and pepper. Place apple, fennel, radishes and green onions in a bowl. Toss with dressing until evenly coated. Garnish fish with reserved fennel fronds.