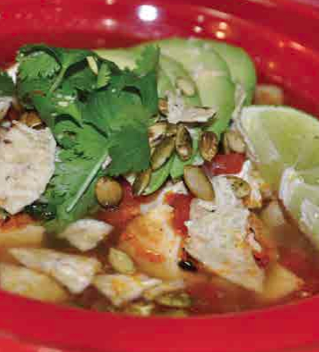 In "The Sound of Music" Julie Andrews explains, "when you sing you begin with Do Re Mi." While the Von Trapp family singers indeed possessed natural talent, the talented home cook knows that great food requires patience to coax optimum flavor from foods to produce perfect harmony on the plate. The first-year culinary student learns early on about the basics of stocks and mother-sauces. While boxed stocks are easy to come by on any supermarket shelf, one cannot dispute the difference a homemade stock brings to soups, stews, sauces and innumerable kitchen creations.
Stock begins with bones, vegetables, herbs and peppercorns. After slowly simmering, the solids are strained away, resulting in a rich, flavorful stock. While the words broth and stock may seem interchangeable, the difference is in the addition of seasoning. For broth, goodly amounts of salt or other spices are added to make a neutral stock taste delicious all on its own. But a good stock should not contain much superfluous seasoning. In this way the stock becomes a base that you can take in any direction you like.
Creating a rich, beautiful stock requires just a bit more care than throwing ingredients into a pot and turning the burner to high. Coaxing the flavor from a handful of ingredients is best done slowly. Once the contents are in the pot, most of the work is largely left unattended. Begin by roasting the bones and vegetables in a hot oven, producing caramelization that will add rich color and flavor to the stock. Roasting bones before adding them to the pot also coagulates the meat juices, which almost eliminates the need to skim the nasty foam that can appear when making a meat broth.
To begin your chicken stock, consider buying two whole chickens and removing the breast meat. The mild breast meat doesn't really bring much to the party and is much better used pan roasted in a finished soup or stew. Place the chicken carcass on a roasting sheet with uniformly chopped onion, garlic, celery and carrot. Roast in a 450-degree oven for about an hour. Place bones, vegetables and any rendered juices in a stockpot and cover with cold water and a bouquet garni of fresh parsley, fresh thyme, bay leaf and about a teaspoon of whole peppercorns. Bring just barely to a boil, and then reduce heat to a slightly bubbling simmer. Allow to cook uncovered for 4-6 hours before straining.
The vegetable stock also benefits from roasting first in a hot oven. Begin by preheating a large roasting sheet in the oven. Toss uniformly chopped onions, garlic, cabbage, fennel, celery and root vegetables such as parsnips, rutabaga, carrots or turnips in a large bowl with a bit of flavorful olive oil. After vegetables are roasted add to stockpot, cover with cold water and add some canned or fresh tomatoes and a bouquet garni. Bring to a boil and then reduce heat and simmer for 2-3 hours before straining
Quick Roasted Chicken Pozole
3 tablespoons olive oil, separated
3 cloves garlic, minced
1 10-ounce can Mexican-style tomatoes (such as Rotel)
1 teaspoon chile powder
1⁄2 teaspoon cumin
1⁄2 teaspoon Mexican oregano
8 cups plus
1⁄4 cup homemade chicken stock, separated
1 25-ounce can hominy, drained
2 skin-on boneless chicken breasts
Kosher salt and freshly ground pepper
Garnishes: Shredded cabbage | Thinly sliced radishes | Cubed avocado | Shredded cheese such as pepper jack, cotija or cheddar Grated jicama | Roasted pepitas | Crumbled tortilla chips | Sour cream
Preheat oven to 375 degrees. Heat a medium sauté pan to medium high and add olive oil. Sprinkle chicken breasts with salt and pepper. Place chicken breasts skin side down into pan. Turn heat down to medium and cook until skin is rich golden brown, 8-10 minutes. Turn chicken breasts and add 1⁄4 cup chicken stock to pan. Place in oven and roast until done, 15-20 minutes. Remove pan from oven and allow to rest before cutting chicken into bite-sized cubes.
Heat olive oil in a medium-sized soup pot. Add tomatoes and garlic. Cook, stirring occasionally until most of the juice disappears. Add chili powder, cumin and oregano and stir to combine. Add the 8 cups of chicken stock and season to taste with salt. Add hominy and cubed chicken just before serving to heat through. Serve soup in wide bowls and top with any or all of the suggested garnishes. Serve immediately.
Vegetarian Cheddar Biscuit Skillet Pie
These cheddar biscuits are made with just three ingredients: self-rising flour, cold whipping cream and grated sharp cheddar cheese. Thanks will be in order when you see how simple and delicious these biscuits are to make. It's worth having a bag of self-rising flour on hand just to whip these up for this skillet pie or anytime you crave a tender biscuit at breakneck speed. You're welcome.
Cheddar biscuits:
2 cups self-rising flour, plus a bit more for dusting 11⁄2 cups cold heavy whipping cream 1 cup grated sharp cheddar cheese
Vegetable filling:
2 tablespoons olive oil
2 tablespoons butter
1⁄2 sweet onion, finely diced
2 cloves garlic, minced
1 bulb fennel, diced in 1-inch pieces
1 parsnip, peeled and cut into 1-inch dice
10 ounces sliced mushrooms (I used chanterelles in season, but use what you like)
1 14-ounce can artichokes in water, drained and cut into quarters 1
10-ounce package cooked and cubed butternut squash (or peel, cut and cook your own)
1⁄2 cup frozen peas
1⁄4 teaspoon celery seed
1⁄2 teaspoon kosher salt
1⁄4 cup freshly ground pepper
1⁄3 cup all-purpose flour
4 cups homemade vegetable stock
1⁄4 cup heavy cream
Preheat oven to 375 degrees.
Place 2 cups self-rising flour in medium bowl. Add grated cheddar cheese and toss to coat. Add cold cream and stir gently until just combined. Turn out onto floured work surface and knead 10-12 times gently until smooth. Roll or pat dough to 1-inch thickness. Cut into rounds and set aside.
Heat 2 tablespoons olive oil and 2 tablespoons butter in a 10- inch, oven-proof skillet, preferably with straight sides. Sauté onion, garlic, fennel and parsnip about 10-12 minutes until soft. Add sliced mushrooms and sauté until most of their moisture is rendered. Season mixture with celery seed, salt and pepper. Sprinkle in flour and stir. Cook flour for 1-2 minutes to remove "raw' taste. Add vegetable stock and cream and continue to boil gently until creamy and smooth. Taste and season if necessary. Add artichokes, squash and peas. Brush biscuits with heavy cream and sprinkle with coarse salt such as fleur de sel if desired. Arrange biscuits atop filling an inch or so apart. Place skillet in oven and bake until biscuits are rich golden brown and filling is bubbling, about 20-30 minutes. Remove from oven and allow to cool for 10-15 minutes before serving.
Lisa Glickman is a private chef and teacher who lives in Portland. She has made TV appearances on COTV in Central Oregon and appeared on the Cooking Channel's "The Perfect Three." She can be reached at lisa@lisaglickman.com.