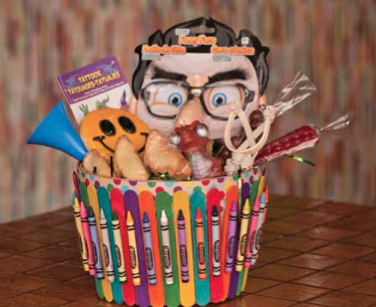 The first Jewish holiday I ever experienced was Purim. Think Halloween meets Easter, but much, much better!
We feast, visit friends, dress up in costumes and drink to excess – all while handing out our baskets of food called mishloach manot to members of the community. I fell in love with the holiday, and I fell more in love with my fellow Jews as I learned the deeper meaning of Purim.
We read Megillat Esther, which tells us how a Jewish Persian princess saved the Jewish people from the evil leader Haman. The Jews had been assimilating and distancing themselves from G-d, which made us vulnerable to those who plotted to destroy us. Through achdus (unity) and Kol yisrael arevim zeh bazeh (all of Israel are responsible
for each other), the Persian Jews survived and triumphed. We pass this message on during Purim as we make baskets filled with food and treats and give them to friends, new members of our community and to someone who has upset us or whom we have upset. We give money to charity, feed the poor and eat and drink together as we celebrate as one people.
So indulge and be holy as we celebrate together.
What to Include in Mishloach Manot
Mishloach manot can be sent in any container. However, each mishloach manot must contain at least two different kinds of food that are ready to eat. Popular items are hamantaschen, fresh fruit, chocolate, dried fruit, nuts, candies and baked goods. Drinks are also good things to include, such as juice, tea, coffee, sparkling cider and wine. In addition to food items, you can also put fun small gifts in a mishloach manot basket like groggers (noisemakers) or even small toys, especially if children will be receiving
the basket. Some families give mishloach manot baskets specifically for their kids and give them on Purim evening
or on the morning of Purim. Also, children love to make mishloach manot for their classmates and friends. This is a great opportunity for them to be creative and partake in the mitzvah of giving gifts of food (for a full guide to Purim visit: chabad.org/holidays/purim/article_cdo/aid/648312/jewish/ Purim-2014-Guide.htm).
How to Send Mishloach Manot
Many synagogues will organize the sending of mishloach manot, but if your community does not do this or you simply want to make your own Purim baskets, here's how:
Decide who you will be sending your baskets to.
Make a list of supplies. You can personalize each basket, or you can buy items in bulk and place one in each basket. Some enjoy coming up with a theme for their mishloach manot, such as chocolate lovers, Italian basket or sports fans.
Make Purim cards. Though cards are not required, it's nice to send a little "Happy Purim" card along with your mishloach manot.
Assemble your mishloach manot. Putting your baskets together is a great family activity or one you can do with friends.
Deliver your mishloach manot. Traditionally mishloach manot are delivered on Purim. If you have children, give them another opportunity to wear their Purim costumes while they make the deliveries with you!
Keep in mind that Purim baskets do not have to be extravagant or expensive. Ultimately, have fun and make it memorable as Purim is not all about the gifts, but rather what is in our hearts for one another.