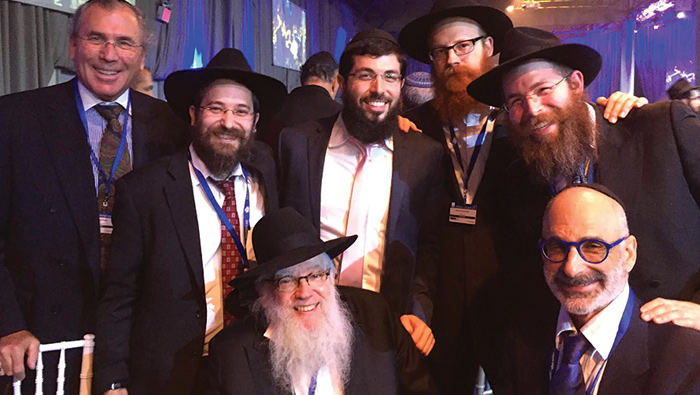 CHABAD CONFERENCE BANQUET – Attending the International Chabad Conference, Rabbi Dov Bialo, standing right, shares a banquet table with partners of Chabad at Reed College and Southeast Portland, as well as relatives representing Chabad in Roslyn, Long Island. From left standing: Roger Fisher, Rabbi Yaakov Reiter, Rabbi Menachem Bialo, Rabbi Yehoshua Werde and  Rabbi Dov Bialo; and seated are Professor Dr. Levi Reiter, left, and Dr. Ben Reiter.
Representatives from all of Oregon's 10 Chabad Centers attended this year's International Chabad Conference Nov. 4-9 in Brooklyn.
"I'm still under the spell of the amazing International Conference of Chabad Shluchim (emissaries – rabbis) which took place last weekend in Brooklyn," says Chabad of Oregon Rabbi Motti Wilhelm. "I had the opportunity to spend five days with over 3,000 colleagues from around the world, culminating in a gala banquet with over 5,000 participating, including a delegation from Oregon."
Wilhelm says that one of the common frustrations shared among the conference attendees is the many misconceptions and fears people have about Chabad. One of his colleagues shared these short "Myths and Facts about Chabad" to counter those fears.
MYTH: Chabad is for religious Jews. You have to be Orthodox to participate in programs offered by Chabad.
FACT: Chabad is inclusive and nonjudgmental, and our programs are open to all. The attendees of our programs are attended as diverse as the Jewish community itself with the vast majority non-Orthodox. Our programs are geared for participants of different backgrounds, including those with little or no prior Jewish involvement.
MYTH: Chabad's goal is to make me Orthodox/Chassidic/Chabad.
FACT: Chabad is not out to make anyone orthodox or chassidic. Chabad is an organization dedicated to engaging every Jew, regardless of background, affiliation or personal level of observance, and providing resources to help increase their level of Jewish knowledge, enthusiasm and commitment. Every Jew grows at their personal pace and every mitzvah stands on its own.
MYTH: Chabad is financed by its headquarters in New York.
FACT: It is Chabad policy that each center be financially independent. We are not funded or financially supported by our central headquarters. Thus, funding for local Chabad programs must be generated from within the community which it serves. No money or dues are sent to international Chabad headquarters in New York – all funds donated remain right here in our community.