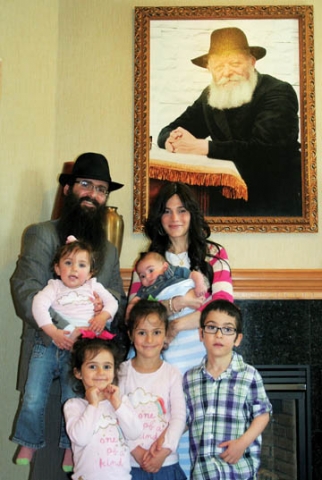 Everyone clapped when Luda Isakharov, 10, finished her presentation. Proud parents and children filled the bright, cozy room. It was the end-of-the year Hebrew school celebration, and each child talked about what he or she had learned during the year. Outside, a sunlit courtyard filled with children's toys had the remains of the day's festive buffet.
Welcome to Chabad Jewish Center of Hillsboro, the brainchild of Rabbi Menachem and Chaya Rivkin who landed here five years ago determined to build a strong and local community. While Jews had scattered throughout the region for years, only a long drive to Portland connected them to anything Jewish or each other. Now, weekly services, Hebrew school, a women's group, Torah study, bar and bat mitzvah preparation, a Jewish library and more bring everyone together. Best of all, with the help of philanthropists Ben and Rachel Federman, the congregation purchased property on Southwest Brookwood Avenue and announced the building campaign for Hillsboro's first synagogue.
"We weren't looking for a job; we were looking for a mission," Rabbi Rivkin said. His New York-born father served as a Chabad emissary to Karmiel, Israel, where Rivkin grew up. He met Rabbi Motti Wilhelm of Chabad of Oregon during rabbinical training in New York City. Rivkin and his wife decided Oregon was the place to be.
"What did the local community think when we got here?" Rivkin asked. "There was no local community. It was like jumping into cold water. We didn't have any resources, including financial – all Chabad centers are self-supporting. The first thing we did was start Shabbat services at our house and a weekly Torah class at Intel."
Both Jewish and non-Jewish employees enjoy Intel's on-campus Torah class. In addition, the large groups of Israelis that Intel frequently brings to Hillsboro find a welcome base at the local Chabad. "We are Chabad of Hillsboro, we are not Chabad of Intel," Rivkin said, adding they enjoy working with the temporary employees or even bringing kosher food to the lone visiting businessperson.
Like her husband, Chaya Rivkin looked forward to a new life in Oregon. In addition to her work as rebbetzin, she teaches at Maimonides Jewish Day School and serves as its coordinator for Jewish curriculum.
"My father is dean of a boys' college in Montreal," she said. "We grew up with this mindset of bringing Judaism wherever we can. We visited Florida, and were offered a place in Hong Kong, but when we saw Hillsboro, we took the challenge. We started from nothing and created something. Building a synagogue is always a dream, and you have to dream big."
Property recently purchased for the new synagogue includes an existing home that will be converted into a school and kitchen. Major renovations are required, including lifting the foundation and a new roof. During the second building phase, the couple hopes to build a traditional shul for services.
"We are here to help people connect to each other and to G-d," Rabbi Rivkin said. "All the people who come are not Orthodox. We don't label them or ask questions. We aren't building a synagogue. We're building a Jewish home for everyone."
_____________________________
Chabad Hillsboro, 111 NE Porto Way, 503-747-5363 or rabbi@chabadh.com
Services begin at 9:30 every Saturday morning and are followed by a traditional Shabbat Kiddush lunch.
Join the Jewish women's group 7:30-8:30 pm each Wednesday for tea, cake and Torah interspersed with special events like making pickles or cheesecake.
Contact the rabbi for private Torah or b'nai mitzvah classes.
If you would like to make a donation to the Chabad Jewish Center of Hillsboro campaign, visit their secure server at www.chabadh.com.