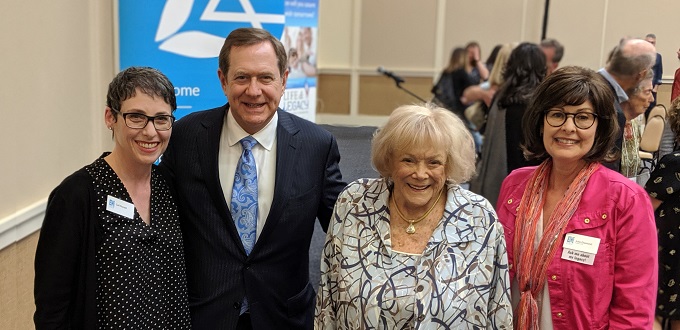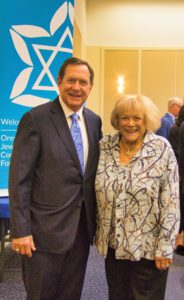 PHOTO: Above from left, Gail Mandel, Jordan Schnitzer, Arlene Schnitzer and Julie Diamond at the Annual Meeting and Legacy Celebration of the Oregon Jewish Community Foundation. At right, Jordan Schnitzer and Arlene Schnitzer were the Legacy Society Honorees along with Harold Schnitzer, z"l. Photos by Vincent Paru
In June it was OJCF's privilege to recognize and honor Arlene Schnitzer, Jordan Schnitzer and the blessed memory of Harold Schnitzer as the foundation's 2019 Legacy Society Honorees at its Annual Meeting and Legacy Celebration.  More than 120 people gathered at the Mittleman Jewish Community Center to hear about the foundation's recent activities, vote on the slate of OJCF's 2019-2020 board of trustees and to celebrate the immense generosity of Arlene and Harold Schnitzer z"l and Jordan Schnitzer toward the Jewish community.
"My mother, my late father and I are very appreciative to be recognized as the 2019 Legacy Society Honorees," said Jordan Schnitzer.  "While we support many causes in the greater community, it is our responsibility as Jews to help take care of our own."
During the evening's program Gayle Romain and Ivan Gold each paid tribute to Arlene, Jordan and Harold z"l, acknowledging their collective philanthropic impact on myriad nonprofits. In fact, since 1983, the family has given more than $35 million to support our community's Jewish organizations.
"The foundation is thrilled to have had the opportunity to honor Arlene, Jordan and Harold's memory during our 30th anniversary year," shares OJCF President and CEO Julie Diamond. "The family's generous support of Oregon's Jewish and general nonprofit organizations has changed the region's philanthropic landscape for generations to come."
At the annual meeting, the foundation also had the opportunity to thank Steve Laveson, upon the conclusion of his two-year term as Board Chair, and to welcome Josh Frankel into the position. For more information about OJCF's 2019-2020 Board of Trustees, visit ojcf.org