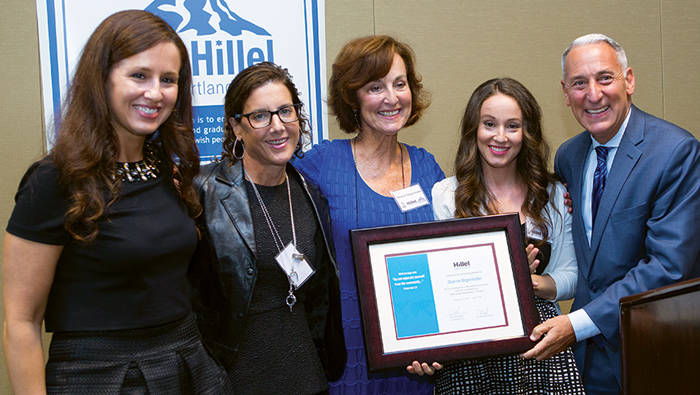 The impact Hillel has on Jewish identity on campus and the role Sharon Ungerleider has played in that mission was cause for celebration Sept. 7 in Portland. (See related story)
Members of the Oregon Jewish community joined together at the Multnomah Athletic Club in Portland for a special event honoring Sharon's commitment to the Oregon Jewish community and her $1 million legacy endowment supporting the Oregon Hillel Foundation.
The celebration attracted several prominent members of the Oregon Jewish community, including Jewish Federation of Greater Portland CEO Marc Blattner who explained the community turned out to "celebrate the generosity of Sharon Ungerleider … and to celebrate Jewish college life."
Hillel International CEO Eric Fingerhut took a break from overseeing more than 600 Hillels internationally to come to Oregon to express his gratitude toward Sharon. "Tonight is a very special night because, first of all, Hillels at University of Oregon and in Portland are very important Hillels," said Fingerhut. "They're growing, vibrant and the number of Jewish students that we are here to serve is growing. So it's very important for me to be here."
He added he came to help honor Sharon, "a legend in the entire Hillel movement."
A longtime member of the board of Hillel International and a strong leader for UO Hillel, Sharon recently announced a gift of $1 million in her legacy bequest and will to the University of Oregon Hillel.
"I wanted to come here and thank Sharon personally and honor her," Fingerhut said.
He also shared his hopes that the event shined a light on all the things Hillel does to help students "navigate the challenging moments that exist on college campuses today."
Noting that 85% of Jewish college-age young adults attend college or university, he said it is important they have both the support to feel secure on campus and be part of the larger community, while also finding a strong Jewish community.
"College is a time of forming identity," Fingerhut said. He added that as a pluralistic movement, Hillel helps students understand that "You are connected to a long line of Jewish people."
For 93 years Hillel has offered a place for students to feel "safe, comfortable and welcomed." In addition to providing enriching Jewish connections, he said Hillel also works to protect students "from what some see as a policy debate (anti-Israel BDS movement)," but one that spurs "aggressive attacks on Jewish students."
"We can't do this by ourselves," he said. "We need help and support. Sharon is a role model for that. But every one of us in our own way can do something to help support this movement."
Indeed, those seemed to be the themes for the evening: not just gratitude, but the idea that everyone can do their part to help Hillels – and the Jewish students they serve – survive and thrive.
One of the event's speakers was Josh Losner, a recent U of O graduate. A former AEPi president and Oregon Hillel board member, who now works in the realm of Israel advocacy, Josh flew in to express his gratitude to Sharon. He said Sharon is known for being a mentor to students who want to get involved in Israel advocacy, specifically the American Israel Public Affairs Committee, or AIPAC.
"We all do great things, but sometimes we forget to celebrate the end product. And the end product of this is (Oregon Hillel Foundation Executive Director) Andy Gitelson, is Rhonda (Kruschen, director) from PDX Hillel, is me, is you. It's all the people who have been empowered and all the people who have been motivated and influenced by Sharon Ungerleider. And so not only is gratification important – because, yeah, you know, at the dinner table it's great to thank your mom for dinner – but also, it brings the best out of people. It's uplifting. It makes people believe that they too can make a difference," said Josh.
As for Sharon herself, she wanted the event to move its attendees to look toward the future for Jewish youth. "I'm hoping we instilled a sense of passion for what an investment in Hillel can produce, not only in a community like Portland or Eugene, but really in the entire Jewish world. This group had a chance to glimpse a few students who are doing extraordinary work domestically and internationally to advance the future of the Jewish people and its connection to Israel," she said.
She stressed Hillel encourages students to build on their passions and connect to their history and culture.
"But most importantly I hope the takeaway is Israel as a central role, certainly not as a country but as something that unites our people. A sense of destiny. And I think the speakers we heard tonight spoke to that. And so I'm glad that I could be part of bringing that conversation forward," she said.
Sharon said she hopes other people at the event will step forward and get involved in Hillel and find a way to connect with Millennials.
"Become their friend like I have," she said. "It's about being a friend where you are, infusing the future, sending a message."
She concluded, "And it is a total blast. The takeaway is, this kind of work is really fun. And if you're a Jewish leader, go out and have some fun."
A journalism student at the University of Oregon, Andrew Goldberg is working as a communications intern with UO Hillel this school year.