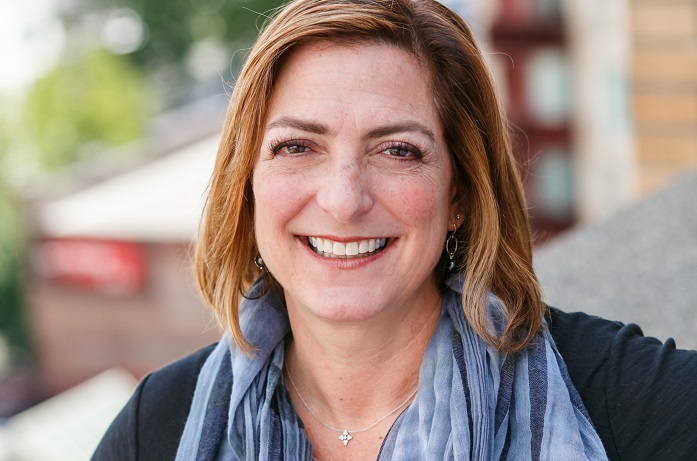 Emily Wanderer Cohen. Photo by Lonas Photography
The Sixth Annual Celebrating our Caring Community luncheon honoring the work of Jewish Family & Child Service will be held 11:30 am-1 pm, April 17, at the Multnomah Athletic Club, 1849 SW Salmon St., Portland. Lunch is complimentary, but guests are asked to make "a meaningful donation" to JFCS.
The theme of this year's luncheon is "Aging in Place," ensuring that seniors have the support systems they need to grow old in their own homes, on their own terms.
For the next 18 years, Baby Boomers will turn 65 at the rate of roughly 10,000 a day, transforming the institutions of aging. An AARP study found 90% of people age 65 and over hope to stay in their own homes as they grow old rather than move to senior housing.
"Aging in place is an issue of increasing societal and personal relevance," says JFCS Interim Executive Director Ruth Scott. "We hope that this theme resonates with everyone, regardless of age. It's a situation that virtually all of us will face at some point in time – whether it's our loved ones or ourselves."
"Our goal is to spark a discussion about what we need to do as a community to give people the support they need to grow old gracefully," she says.
Emily Wanderer Cohen, author of From Generation to Generation: Healing Intergenerational Trauma Through Storytelling, will be the keynote speaker at this year's luncheon.
"As aging in place gains popularity as an alternative to traditional health-care facilities, access to affordable, skilled care must keep up with that trend," says Emily. "What's more, skilled care for Holocaust survivors requires a special set of skills and a particular sensitivity to their trauma, which often reappears or intensifies in the later years of life."
The daughter and granddaughter of Holocaust survivors, Emily works with multiple generations of Holocaust and other trauma survivors to understand and heal their transmitted trauma through writing. She also speaks about her mother's history as well as how her mother's trauma affected her as a second-generation Holocaust survivor.
On her website (coachemilycohen.com), Emily writes, "Intergenerational trauma isn't just about what happened in the past; it's about what's still happening and what will continue to happen in the future – unless we stop the cycle."
JFCS offers multiple resources to help seniors cope with the physical and emotional impacts of aging. Following are three examples of how JFCS helps seniors age in place:
Most Holocaust survivors are now in their 80s and 90s, and the vast majority wants to grow old in their own homes, on their own terms. JFCS provided local survivors with a total of 14,350 hours of homecare services, enabling them to age in place with comfort and safety.
Licensed clinical social workers specialize in counseling for people coping with mood disorders and the complexities of the aging process. Common concerns include bereavement, isolation, trauma, anxiety, depression and family dynamics. The Counseling and Holocaust Survivor Services programs address the many issues related to trauma and aging, including the ability to make and sustain social connections; communication gaps and changes; age-specific coping strategies and behaviors; and the effects of trauma on memory and other cognitive functions.
JFCS partners with Multnomah County on PEARLS (Program to Encourage Active, Rewarding Lives for Seniors), a successful, evidence-based model that provides free, home-based counseling services to low-income seniors who are isolated or have physical limitations – all designed to help these individuals remain in their homes for as long as they want.
The annual luncheon helps provide the support JFCS needs to provide that support for seniors, as well as for other members of the community. An affiliate of the Network of Jewish Human Service Agencies, JFCS has been the "face" of Portland's Jewish community for 71 years. Thanks to the generosity of donors, this past year JFCS assisted more than 2,000 people through four programs: Holocaust Survivor Services, Emergency Aid, Disability Support Services and Counseling.
To continue and expand these programs, organizers hope to increase luncheon donations by 18% over last year, for a total of $130,000.
Renée, Irwin and Larry Holzman are the presenting sponsors of Celebrating our Caring Community. Victor and Toinette Menashe are the honorary chairs. Master of ceremonies will be Ida Rae Cahana, senior cantor at Congregation Beth Israel.
RSVP required by April 9; register online at jfcs-portland.org, or contact Kerry Goldring at KGoldring@jfcs-portland.org or 503-226-7079, ext. 111.