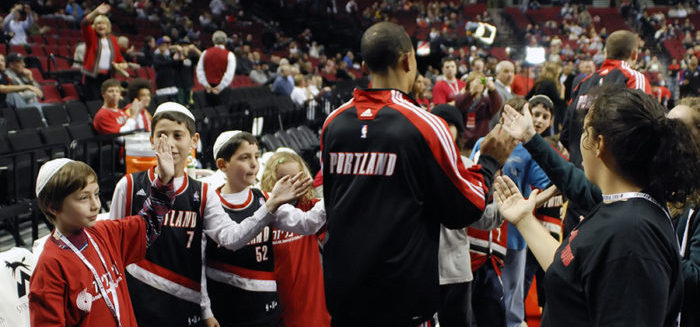 Celebrate Hanukkah this year with latkes, donuts, dancing and the blazers. Learn more about these holiday parties on our calendar.
Dec. 1
3rd Annual Portland Young Adult Latke Ball: Join us for the annual Latke Ball! Come celebrate Hanukkah with food, friends, games, drinks, and dancing.
https://orjewishlife.com/event/young-adult-latke-ball/?instance_id=160893
Dec. 2
Hanukkah Donuts + Dancing: Make decorations for your home, take part in Israeli dancing, and eat some delicious sufganiot (jelly donuts) at this family-friendly Hanukkah celebration.
https://orjewishlife.com/event/chanukah-donuts-dancing/?instance_id=160725
Dec. 6
Sufgan-Yoga: Family Hanukkah Fun: Join other families at Congregation Neveh Shalom as we explore the narrative of Hanukkah through yoga and fun. Stay after for the community dinner and celebration.
https://orjewishlife.com/event/sufgan-yoga-family-chanukah-fun/?instance_id=160902
MaccaMiracle: A "Jewkbox" Musical Hanukkah Party: Celebrate the festival of lights at Congregation Neveh Shalom in this fun retelling of the Hanukkah story through narration and a selection of pop, rock, and Jewish songs.
https://orjewishlife.com/event/maccamiracle-a-jewkbox-musical-hanukkah-party/?instance_id=162161
Jewish Heritage Night: The Trailblazers take on the Phoenix Suns on Dec. 6, the fifth night of Hanukkah. The night features a pre-game menorah lighting and Hanukkah party in the concourse, limited edition Hebrew Trailblazers T-shirt giveaway and post-game free-throw shots.
https://orjewishlife.com/event/hanukkah-with-the-blazers/
Dec. 8
Hanukkah Party with Rabbi Hannah Laner and P'nai Or: P'nai Or for songs, candle lighting, potluck dinner, and games for kids and adults! "The Last Night of Chanukah" CD by Rabbi Aryeh Hirschfield z"l for sale.
https://orjewishlife.com/event/chanukah-party-with-rabbi-hannah-pnai-or/?instance_id=162163
Rock You Like It's Hanukkah: Community Candle Lighting, Drinks, Food, Crafts, Schmoozing, Live Music & Dancing at Shaarie Torah!
https://orjewishlife.com/event/rock-you-like-its-chanukah-public-candle-lighting-party/?instance_id=160895