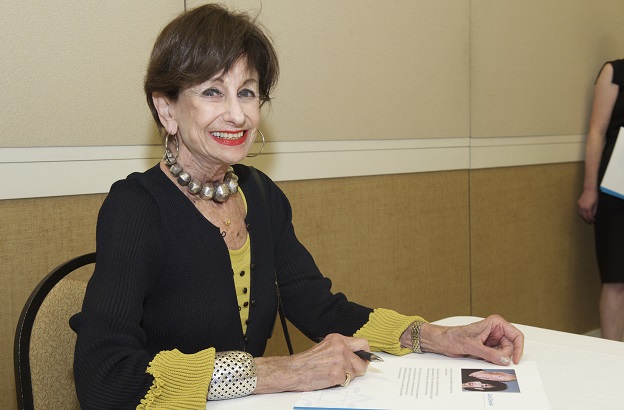 Carol Danish was taught at a young age – by both her parents and grandparents – that helping others and practicing tzedakah was a mitzvah.
"My family felt back then and still feels today the need to give back to create Jewish community, Jewish continuity and Jewish growth," Carol says.
She took their lessons to heart, and it impacted the way she has lived her life. When she became an adult at age 18, it was her turn to "step up." Carol's parents expected her to become active in the community and indeed she did. (See below for two honors she will receive for her efforts)
In the mid-1960s, Carol was sitting on between eight and 10 boards, both Jewish and secular. It was at this time that Carol's aunt asked her a pivotal question over a Passover lunch. "Why do you do all of these things for secular organizations when the Jewish people need you more?" Carol realized that her aunt was right, and that there were a limited number of people willing to step up and take a leadership role in the Jewish community. It was then Carol decided she would focus her efforts on helping her people. "At that time my children were growing, and I decided to devote myself to the Jewish community and Israel."
As she learned from her parents, Carol has never shied away from sharing the importance and joy of tzedakah with her children. "The most important words are l'dor v'dor – from generation to generation," Carol says. "I am revering the past by giving. I look to my parents and grandparents and say 'I am doing good.' I know that my children have heard me, as they are all giving back and assuming leadership roles in their communities. It's a lot of nachas."
When asked about her primary motivations for giving, Carol's answer is clear: children, education, the making of community. "I feel that young people are our hope and light for the next generation," Carol says. "I would like to see the community create more chances for children and parents to come together to learn. I think in Portland there are many untapped opportunities for Jewish life to thrive."
Debbie Plawner, Carol's daughter, is the board president at Greater Portland Hillel. "I spent many afternoons of my childhood under the MJCC boardroom table," Debbie says. "Even at 4 or 5 years old, I knew my mom cared deeply about helping others, even people we didn't know and might never meet. She taught me and my siblings that every person deserves a good life, and that it is our obligation when we see opportunities to improve people's lives to seize them."
Carol's philanthropy also extends to legacy giving, as she is committed to helping the community continue to do good work after she is gone. "There is a Hebrew word – hineni – here I am. I am here now and believe I am responsible for how in the future Jewish kids will be educated and how college students will come to Portland from all over and feel like they belong," says Carol. "I want to see the causes and organizations I support now sustain themselves and blossom for generations to come."
In recognition of her dedication to the future of our shared Jewish community, the Oregon Jewish Community Foundation has named Carol its 2018 Legacy Society Honoree. She will be honored at the foundation's annual meeting and reception on June 21.
"We are thrilled to have the opportunity to honor Carol. She truly leads by example," says OJCF President and CEO Julie Diamond.
Ultimately what motivates Carol's philanthropy and devotion to community is that she never forgets where she came from and the generations of Jews who came before her. Carol's daughter, Debbie, recognizes this drive in her mother and cherishes the lessons she has received from her. "The gift I treasure most and am still learning is summed up by my mom's favorite phrase – l'dor v'dor – or generation to generation. For my mom, every mitzvah connects her more deeply to her ancestors, from her mother, father and grandparents and also to her grandchildren and all the generations to come. That connection is the source of her strength, and it amazes me how much energy and light it gives her every day."
Gail Mandel is the legacy development and marketing manager for the Oregon Jewish Community Foundation.
HONORING CAROL DANISH – TWICE
2018 OJCF Legacy Society Honoree
Presented at the Oregon Jewish Community Foundation annual meeting and reception
5:30-7:30 pm, June 21
Oregon Jewish Museum and Center for Holocaust Education, 724 NW Davis St., Portland
Free; no fundraising.
RSVPs requested: nates@ojcf.org
2019 Kipnis-Wilson/Friedland Award Winner
Presented at the 2019 International Lion of Judah Conference
Celebrating the 25th year of the Lions of Judah Endowment
Jan. 13-15, 2019, in Florida
Jewish Federation of Portland's award recipient is Carol Danish, one of the founders of Lions/Women's Philanthropy in Portland.