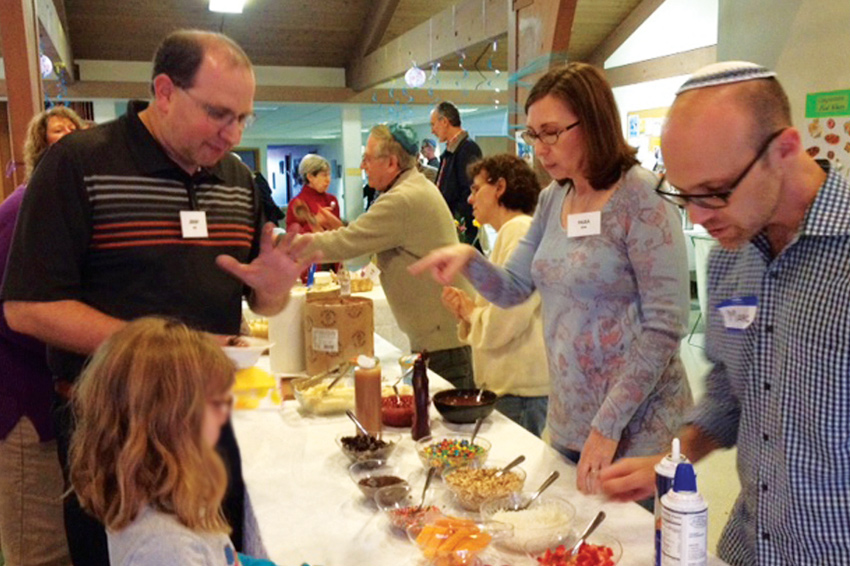 Founded in 1947 to serve the Salem/Keizer Jewish community, Temple Beth Sholom has had a full-time rabbi for most of its history until 2013. Now the congregation has embarked on a fundraising campaign as the next step to bring a full-time rabbi back to the only synagogue in the area.
Membership dropped from a high of nearly 140 families 10 years ago to fewer than 110 families today. In 2011 "61% of the membership did not feel TBS was moving in the right direction," a situation current TBS Board President Stephen A. Lipton calls "unacceptable."
In a report from TBS's 2012 Visioning Parlor Meeting, the board noted: "The number one way TBS could be most improved is with a full-time rabbi who has a vision for building a community in all realms and can bring everyone together."
The TBS board pondered a fundraising campaign for a full-time rabbi, but determined a long-term financial sustainability plan was needed before embarking on it.
Over four months of dedicated work, two committees developed a long-term financial sustainability plan. On Jan. 25, 2015, a board-approved fundraising plan was presented at the TBS membership meeting. The goal is to raise $300,000 through pledges payable over the next five years and through outright donations. Reaching that goal and taking the actions noted in the financial sustainability plan will provide TBS with the revenue needed to support all operations and a full-time rabbi long after the five-year period ends.
"In the first half of our six-month campaign, we have received gifts and pledges in excess of $150,000" announced Campaign Co-chairs Marc Overbeck and Paula Boga. "We are happy to say we are on our way to our goals being realized."
Hiring a full-time rabbi will enable the revitalization of Jewish life in the Salem/Keizer area, make a meaningful difference for many Jewish individuals and families, and will leave a legacy of a vibrant Jewish community for generations to come.
The congregation anticipates a full-time rabbi at TBS will enhance Jewish life through six key areas:
Youth Education: Actively engage our youth to build a lifelong commitment to Jewish values and observance.
Torah/Adult Education: Offer thought-provoking, meaningful experiences for expanding awareness and understanding of Judaism through adult education opportunities.
Spiritual Guidance: Create a supportive, accepting and nonjudgmental environment for individual and communal celebration of Jewish customs and rituals for people of all backgrounds and levels of observance.
Lifecycle Events: Provide rabbinic guidance and support for milestones in the lives of everyone in the Salem Jewish community, such as b'nai mitzvot, baby namings, weddings and funerals.
Pastoral Counseling: Extend caring support to individuals and families who need spiritual or emotional guidance.
Community Building: Grow a stronger congregation by embracing our diversity, bringing people together in connecting to our Jewish identify and building a greater awareness of the Salem Jewish community through public outreach and education.
To make a financial contribution to the TBS campaign to acquire a full-time rabbi, visit tbsholom.org.