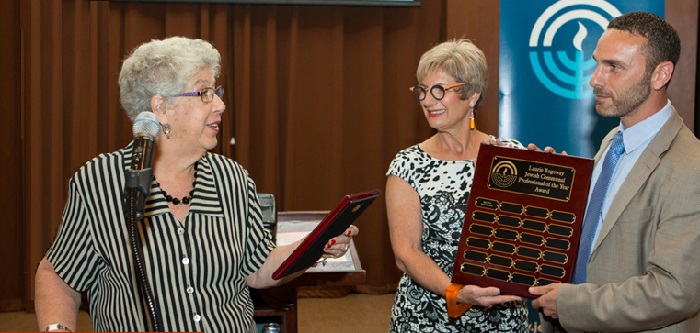 PHOTO: Laurie Rogoway and Kathy Davis-Weiner present the first Laurie Rogoway Outstanding Jewish Professional Award to Andy Gitelson of Oregon Hillel in 2015.
The Jewish Federation of Greater Portland established the Laurie Rogoway Outstanding Jewish Professional Award five years ago to honor our esteemed colleague and friend Laurie Rogoway, a pillar of Jewish professional leadership for over 30 years in Portland. Nominations are now being accepted for the 2019 award.
The purpose of this award is to recognize an individual currently working in a professional capacity at a Jewish communal organization in Greater Portland. This is for early to mid-career professionals (minimum 3 years in Portland Jewish Community). The nominee must demonstrate outstanding professional work and a commitment to the field of Jewish professional leadership.
The award will be presented at Federation's Annual Meeting on June 5. The recipient will receive up to $1,800 to participate in a professional development experience.
This is our call for nominations, and an opportunity for us to celebrate and recognize the excellence in Jewish Professional Leadership in our midst. Please fill out the form online here.
Note the nomination deadline: February 22, 2019, at  noon.
If you have any questions, please contact Caron Blau Rothstein, or 503-245-6449.