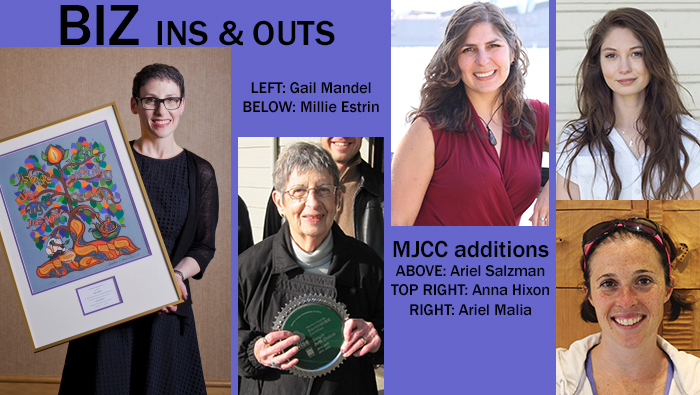 Gail Mandel honored for leadership legacy giving
Gail Mandel was awarded the national Gail Littman Leadership Award for outstanding leadership in integrating legacy giving into the culture of the Oregon Jewish Community at the 2017 National Legacy Gathering in Springfield, MA, co-hosted by the Harold Grinspoon Foundation and the Jewish Federations of North American. In recognition of the award she received beautiful artwork commissioned for the honor.
"I'm so proud of Gail's accomplishments and our achievements in far flung Portland and Oregon as part of the national success story of Jewish Legacy Giving," says OJCF Executive Director Julie Diamond. "Five years ago, this concept was a tactic in the foundation's strategic plan, today it is a reality! … This recognition is truly shared by all of us and we can thank Gail for her leadership and passion in making it possible for us to work together, learn together and celebrate together through Life & Legacy."
Nationally, in less than five years: 14,230 Legacy Commitments have been secured, with an estimated value of $559.6 million in future gifts to the Jewish Community. Harold Grinspoon Foundation's investment of $6.4 million has leveraged more than a half a billion in figure gifts to North American Jewish Communities. Five Life & Legacy cohorts now under way, with a total of 36 communities involved, plus 12 Hillels, other Areivim communities, and small federated communities.
Locally, as of March, 31, 2017, the 10 L&L organizations have achieved the following: 401 conversations; 48 group presentations; and 465 Legacy commitments secured that have an estimated future value of $20.1 million to the Jewish community.
503-248-9238 | ojcf.org
Temple Beth Sholom looks to reduce parking lot pollution
With the introduction of its new bioswale, Salem's Temple Beth Sholom has reached a landmark in its effort to improve sustainability. The project is contracted to Green Acres Landscaping for construction and completion.  Funding for this project is provided by the City of Salem Department of Public Works.
The bioswale, a landscaped area designed to capture silt and oily debris from pavement runoff rainwater, will be located on the south end of the TBS parking lot. Rainwater that doesn't soak into the ground eventually enters the stormwater system and is discharged into the Willamette River.
"We want to protect the Earth's ecosystems for our children and grandchildren," said Millie Estrin, Temple Beth Sholom Green Team member.  "It's not enough to wait for others to do it."
The bioswale represents a 15-year journey and continuing mission of TBS to improve sustainability now and in the years to come. TBS is a Marion County EarthWISE certified facility.
Physical therapy now available at MJCC
Physical therapy is now available at the Mittleman Jewish Community Center. Move Strong Physical Therapy is now located within the MJCC. Ariel Salzman, DPT, OCS, CMPT, is the owner and the sole physical therapist of Move Strong and her office will be near the fitness center, between the massage and IGNITE rooms.
Ariel was born in Humbolt County, CA, and raised in Athens, OH. She graduated from Ohio University with a bachelor's degree in exercise physiology and a minor in biological sciences. She then attended Pacific University in Forest Grove where she received her doctorate of physical therapy in 2005. Ariel has focused on orthopedics in the Pacific Northwest, treating many runners and triathletes on both the amateur and professional level. In 2012, she earned her Board Certification in Orthopedics and in 2016 she was awarded a manual therapy certificate from the North American Institute of Orthopedic Manual Therapy. Ariel is also certified in ASTYM soft tissue mobilization and orthotics casting. Ariel enjoys treating patients of all ages and activity levels, and takes special interest in the spine as well as treating the body as a whole to prevent re-injury.
When not in the clinic, Ariel is an Instructional Assistant at Pacific University School of Physical Therapy. She is active in Search and Rescue, and is a certified K9 handler in a local volunteer group.  She   enjoys camping, skiing, mountain biking and attending live music.
Though Move Strong is housed at the MJCC, it will operate as its own entity with all scheduling and appointments being handled by Ariel.
503-451-3750 | movestrongpt.com | info@movestrongpt.com
MJCC hires Ariel Malia as cultural arts assistant
Ariel Malia will be the new cultural arts administrative assistant at the MJCC. She will be responsible for providing administrative support including assisting in organization and planning of cultural arts programs, activities and special events including the center's Summer Concert Series, JCC Gallery Exhibits, Author Series and more.
Ariel spent the first 20 years of her life in Madison, WI, and the second 20 years here in Portland. She and her husband, Ryan, have two daughters, Fiona, 10, and Juniper, 8. Ariel's background is in family and adolescent therapy where she nearly 17 years in her own practice. Her favorite activity is going to see new movies (popcorn and milk duds are a must) and loves taking family hikes rain or shine.
amalia@oregonjcc.org | 971-803-7311
Anna Hixon joins MJCC as graphic designer/marketing specialist
Anna Hixon is the new graphic designer and marketing specialist at the Mittleman Jewish Community Center and Portland Jewish Academy.
Anna recently graduated from Washington State University-Vancouver with a bachelor's degree in digital technology and culture. While studying at WSU, she was a marketing intern for the Student Resource Center, where she helped design and market University events. Anna grew up in Vancouver, WA. She enjoys photography, hiking and traveling.
In Anna's current role at MJCC and PJA, she designs flyers, posters, digital designs and a variety of other marketing items to promote events, celebrations and programs. Anna is very excited to be a part of the MJCC and PJA community.
ahixon@oregonjcc.org | 971-803-7301