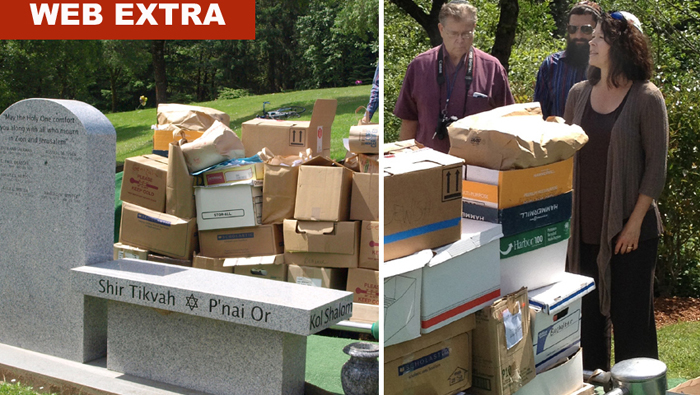 From left, Ken Bailey, Matthew Rolland and Rabbi Ariel Stone with the texts ready to be buried on May 31 Jewish Cemetery at Riverview.
On a sunny day at the end of May, more than 40 members and friends of Congregation Shir Tikvah gathered at the Jewish cemetery at Riverview. Following ancient tradition, they buried sacred texts that were no longer usable, creating a genizah b'karka or 'repository in the ground'.
More than 80 boxes and bags of materials – from Congregation Shir Tikvah, P'nai Or and Portland's wider Jewish community – were lowered into a deeper than normal grave and then covered with dirt.
Rabbi Ariel spoke about the sacredness and power of each individual letter being interred.  Quoting Darkey Tzedek, she said,"The letters are the life of all; when you pray through them, all Creation joins with you in prayer."
Dr. Oren Kosansky, director of the Rabat Genizah Project, and Rabbi Tzvi Fischer of Portland Kollel were also in attendance.