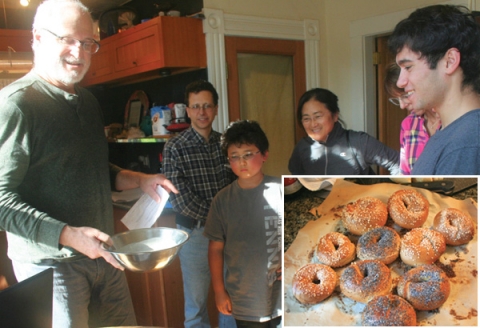 When I brought homemade bagels to work many years ago, the response was enthusiastic. Still one young woman said, "But Polina, these aren't real bagels are they? They're not like the ones in the store."
Ah, what has the world come to when Wonder Bread varieties replace the real thing. No worries. Help is on the way with Harley Leiber and his Buckman Bagel Institute in Southeast Portland. Here the expert himself teaches the art. I stopped by for a morning class.
Like many Jews, Harley has a history with bagels. His grandmother made them, and his sister picked up the trade. Harley got the idea while sitting in on his sister's bagel-making class held in the Bay area. When he posted Buckman Bagel Institute on his garage, students started coming. He hoped to limit classes to once a month, but demand got in the way.
"This is open source," Harley says. "I want everyone to learn how to make bagels. There's no reason people have to go around complaining. It's easy but labor intensive. It only takes three days."
Today six people show up for the class – four adults, one child and one teen. Dr. Marcia Freed brings a New Season's bagel to compare. Portland radiologist Dr. Ken Bookstein is curious about the process. Laurie Weisberg comes steeled with determination. Her husband loves bagels and clearly knows his stuff.
"When Einstein's bought out Kettleman's there was an uproar," she says. "My husband and his friends were so upset they considered opening a shop. He insists that bagels are boiled, seriously put in water. He likes a brown top and bottom – crispy but not cracker like – and wants air bubbles and a malty taste so you know it's not bread. He doesn't like cakey, puffy doughnuts! I used to make good bagels, but lately they look like dog biscuits. My goal is to impress my Jewish husband that his wife can make the best ever."
With careful planning Harley compresses three days of preparation into a 90-minute class. He begins by handing out directions and a list of ingredients. He favors barley malt syrup, soy milk and 14% protein unbleached bread flour, to which he adds vital wheat gluten.
We crowd into the small kitchen of his lovely 1890 Buckman-area home.
"If you take the starter out of the fridge, it needs to sit at room temperature for six hours," he says holding up a jar. "I like a small bubble. If you let the bubbles get big, it's too yeasty. I was sending people home with starter, but they left it on the counter and called up panicking that it wasn't bubbling. Now I have people make their own."
Ken asks for a source that would explain the biology of starters. "The best place is Wikipedia; look up poolish (a type of fermentation starter for bread based on yeast)," Harley says.
"A bagel is a way of preserving bread. They discovered that boiling produces a gelatinous skin that seals the protein in the flour."
The demo starts by adding ingredients to the starter, including two teaspoons of Fleishman's dry yeast. A major mistake, Harley says, is not thoroughly kneading the dough. Although KitchenAid manuals warn never to knead bread above speed two, Harley set his professional model on six. "This is 640 watts and has an overheat switch," he says as it groans. "It will probably turn off in a few minutes, and I'll have to wait a while. When my mother was here, the machine broke, so I did the whole thing by hand." The recipe easily adapts, he says, to accommodate mixers students have at home.
The result was a dry dough that Harley whacks open to show everyone the crumb. Students gather around as he divides it into individual balls, which he shapes into snakes and then bagels. One by one, he places them on a baking sheet covered with parchment paper and a dusting of semolina. After covering the bagels with a cloth (plastic wrap inhibits rising), he places them in the fridge. They would remain there overnight and come to room temperature before he boiled and baked them the next day. Meanwhile, another baking sheet on the table has uncooked bagels at the ready.
Now comes the fun part. A pot of water boils rapidly on the stove; the oven is preheated. "The longer you boil them the thicker the crust," Harley says as he drops a few bagels into the water. "The bagels should rise immediately. If they don't, leave them at room temperature a while longer." When the bagels double in size, turn white and form a gelatinous surface, Harley places them on a parchment-lined baking sheet, sprinkles them with poppy seeds and salt, and bakes them for nine minutes per side (total of 18 minutes). They are delicious and chewy – the perfect bagel. Several of us are ready to drive straight to Bob's Red Mill (bobsredmill.com) in Milwaukie for supplies.
"I was just curious how someone makes a bagel," Ken says. He found the class interesting but decides to pass on buying supplies to do it himself. "The process is complicated enough that I don't see myself making them. It's like hearing a great violinist, but I don't think I'll learn to play. I'm not surprised that producing a quality product is a long process given how many bad bagels there are. Most companies cut corners to make it profitable, and you need to take the opposite approach."
Harley remains a strong advocate. "If you know how to make your own, you will never eat commercial bagels again," he says. "The class is fun, and people go home with a new confidence. The first time I did this, I was petrified. After eight or10 times you get good. I still get upset when my dough isn't right. But then, when they float, your heart takes flight."
For more information or to sign up for a class visit facebook.com/buckmanbagelinstitute, call 503-442-9030 or email leiberharley748@gmail.com. Classes are $30 per person.