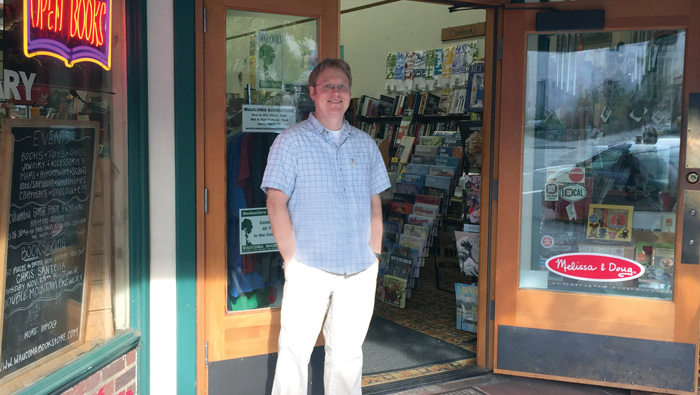 Walking around Waucoma, in the corner sale section I found a book set in Brooklyn about a Jewish couple who run an undergarment boutique in their home. By chance the owner hires a seamstress, a young woman who just got out of the Israeli Army. I loved this book. I have fallen in love, too, with the charm of Waucoma.
If you journey through Hood River this summer, be sure to stop in.
In 2008 Muir and Jenny Cohen purchased Waucoma Bookstore in Hood River. To the native peoples of the Gorge, Waucoma means "place of the cottonwood tree." Prior to the damming of the Columbia, this place served as an important gathering and trading spot for the area's native inhabitants.
Waucoma celebrated its 40th anniversary in 2016. Muir grew up going to the bookstore. As a kid he hated shopping, he called it a nightmare. But Waucoma or the library always excited him. His love of books never changed. His favorite memory of Waucoma was walking to the children's section and smelling the aroma of freshly ground coffee.
The following Q&A has been edited for brevity and clarity.
When did you decide to purchase Waucoma?
My wife, Jenny, was working as a financial adviser, and we had a plan that she would take over my dad's tax accounting business in Hood River. I was working as a software engineer and wasn't sure what I would do. I used to say when I returned I would buy a bookstore. Someone I told must have remembered. Around the time we were going to move, I got an email letting me know the Waucoma Bookstore was for sale.
Your folks raised you in the Gorge. Did you have a Judaism connection?
My parents are both from Detroit. I grew up in Parkdale, 20 miles south of Hood River. My dad, who is Jewish, grew up surrounded by a big Jewish community. After college and moving out to the Gorge, there wasn't much of a Jewish presence. We were a typical Hanukkah/Christmas family, occasionally celebrating Passover and Rosh Hashanah. More Jews moved to the area and a Havurah formed, and that's when we started to branch out from Hanukkah. A few kids got together when I was 9 or 10 and started to learn Hebrew. We stayed together as a group for a few years. I forgot most of what I learned. It was during those classes that I heard a story of The Judgment of Solomon, where two women claim to be the mother of the same child, and he must determine the real mother.
Something about that story struck a chord in me, and in high school I decided I wanted to be a judge. During my senior year I had a six-month internship with a local judge at the courthouse. The kink in my plan was I did not want to become a lawyer. I thought a lot about truly listening to what people were saying. I found myself becoming more of an impartial observer and started to value honesty more. The University of Oregon had another track that aligned my other passion, computers. I still try to be the impartial observer and approach every situation with open eyes.
Is there a story behind your name, Muir?
My parents met in college and during their summers they worked in Yosemite National Park. They named me after John Muir, who is known as the "Father of National Parks."
You're in the center of a vacation hot spot. How's that working?
We're really lucky being close to snow skiing, hiking, biking, kite boarding, windsurfing and breweries, wineries and cideries. The tourists who come yearly have made us one of their first stops. They have helped us weather the ups and downs of the economy.
How is living in Hood River?
It's great! I am so glad we made the move. My wife grew up in Portland, so at first I thought she was just humoring me when I said I wanted to move back for the slower pace. Now she has converted and values the small community atmosphere. Portland is close if she needs her dose of the city. I think I was in my sophomore year when I was driving the Gorge that I first truly understood how beautiful and special Hood River was.
What are your "must" books for your new baby, Keenan Joseph?
KJ was born on my birthday! Some must-have children books are The Lorax, Where the Wild Things Are, MIHU the Detective and The Mystery of the Missing Chamet.
What books fly off your shelves?
If a book takes off in other places it usually takes off here, as well. Nothing has beaten Harry Potter yet, but some big sellers are Boys in the Boat, Wild, Girl on the Train, The Oregon Trail, Astoria. Smaller titles that have done well here are Mink River, Indian Creek Chronicles and Curious Gorge, which is a local hiking guide.
What stands out as an interesting aspect of being a bookstore owner?
I like watching people come in off the street and get that first whiff of "book." Then their whole body relaxes and they begin to browse. The process is what made me fall in love with bookstores as I was growing up and on vacation. My dream was to be able to provide that same sort of experience to others; I get to watch it happen on a daily basis.
What are your thoughts on owning an independent bookstore and its survival?
We took over the store in 2008, and the economy was taking a dive. We are still here! We've expanded by bringing in gift items. Initially it was to make up for sales we were losing to eBooks. It just makes sense to have items that can complement a book sale. Over the past few years we hear customers coming up saying, "Oh Wow, I haven't seen a bookstore in years!" Being small helps. During the summer we have a new group of customers almost daily. Our little community sustains us, and we try to rotate our stock of unique gifts so the locals will always find something new when they come in. We also try to give back by donating items for raffles and auctions. We give a scholarship to a graduating senior from the local high school.
Do you have events at the store?
Besides hosting authors throughout the year, we have weekend signings. We have had readings at the Hood River Library and in the Columbia Center for the Arts. We partner with the Gorge Owned, Sense of Place Lecture Series called "Books and Brew," hosting book readings at different drinking establishments in town.
Waucoma Bookstore
212 Oak St.
Hood River, OR 97031
541-386-5353
books@waucomabookstore.com
waucomabookstore.com
Gloria Hammer divides her time between Portland and Hood River. Her interviews with interesting people (including entrepreneurs, a school principal and former Portland Mayor Vera Katz) appear periodically in Oregon Jewish Life.